If you are looking to generate impact from your research, please ensure that you engage from the start of your research projects with the University's Impact, Engagement and Environment Coordinator, Emma Sutton, and your School Impact Lead so that the impact can be tracked and evidenced on an ongoing basis.
Key points to consider when you start a new research project:
What will be the indicators of impact? How will success be measured throughout and what needs to be captured?
Complete a stakeholder analysis to identify the potential beneficiaries of your work
Clearly demonstrate a pathway to impact: what steps will you take to engage with your stakeholders and how will you measure any benefits to them?
Articulate the significance and reach of the potential impact
Use existing and well-understood baselines and gold standards to measure your impact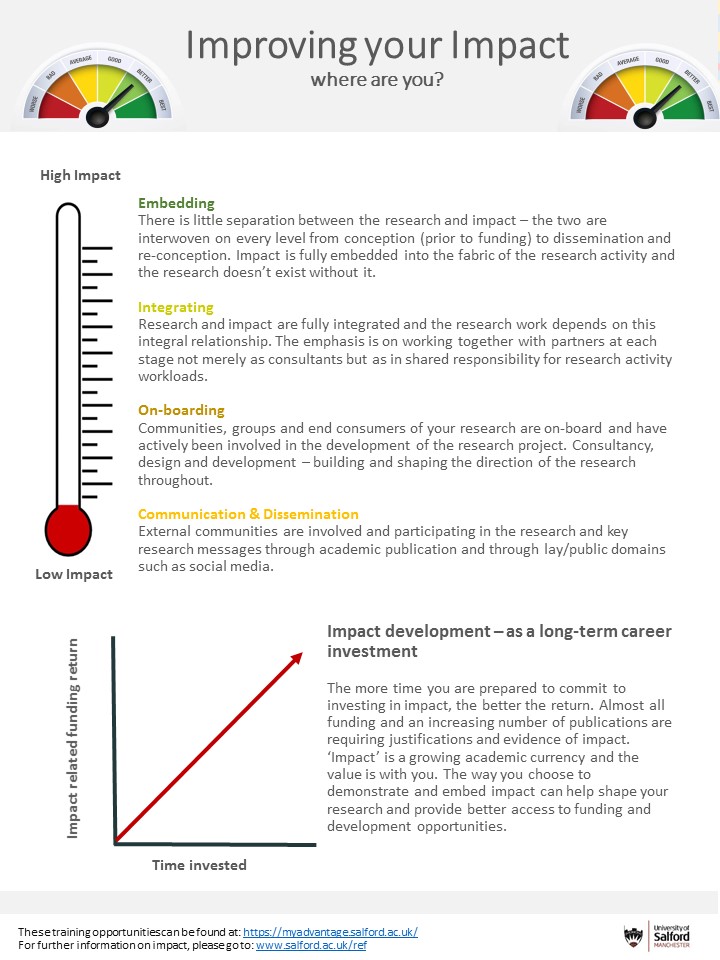 Stakeholder / Public Analysis
Completing a stakeholder/public analysis is a good way to get you thinking about the different organisations, groups, publics that could benefit from your research, their likely interest in your research, identifying key messages to send to them, their level of influence and so on.
Consider the following key questions:
1. Who might be interested in my research?
Consider which organisations, individuals, groups, publics are likely to want to learn more and/or participate in your research. These can either be groups that are already involved in your research or groups that you think might be likely to be interested in the outcomes of your research. Think about the nature of their interest.
2. How could they influence the attainment of impact from my research?
Consider whether any of the groups that you have identified have the ability to influence the way in which you can achieve impact indirectly, i.e. groups that want to achieve similar outcomes to you and who may be able to provide additional resource to achieve this. Conversely, you should also consider any groups that are likely to block your ability to generate impact because this would have a negative effect on their own activities. Think about how to engage with these groups in order to achieve buy-in and cooperation.
3. Who will benefit from my research and how?
Consider the nature and level of impact that each of these stakeholders will potentially have: for example, there will be groups that have high interest, but low influence and conversely groups that have low interest but high influence. It is important to identify which stakeholders offer the greatest interest and greatest level of influence so that you know where to focus your efforts.
Further Reading
A useful article to read on this subject can be found on the Fast Track Impact website (run by Professor Mark Reed). This lists the five things you need to get right if you want to successfully engage with publics and stakeholders for impact:
https://www.fasttrackimpact.com/enhance-your-impact
Professor Reed also provides an informative vlog on how to do stakeholder analysis as well as a useful template to get you started at the following link:
https://www.fasttrackimpact.com/post/2019/03/11/how-to-do-stakeholder-analysis
If you have any questions or would like to explore this further, please contact Emma Sutton, Impact, Engagement & Environment Coordinator at research-impact@salford.ac.uk
Alternatively, contact your School Impact Lead:
Arts, Media & Creative Technologies – Dr Pal Vik (p.m.vik@salford.ac.uk)
Health & Society – Professor Neal Hazel (n.hazel@salford.ac.uk)
Salford Business School – Dr Sudi Sharifi (business & management) (s.sharifi@salford.ac.uk) and Dr Paolo Sandro (law) (p.sandro@salford.ac.uk)
Science, Engineering and Environment – Professor Apostolos Antonacopoulos (a.antonacopoulos@salford.ac.uk), Professor Peter Walker (p.a.walker@salford.ac.uk) or Professor Mike Wood (m.d.wood@salford.ac.uk)
Further information on impact can be found on the REF intranet at: www.salford.ac.uk/ref