Our second University of Salford ESRC Festival of Social Science event saw participants invited to join two 'watch parties' on the evening of either Monday 8th or Tuesday 9th November, enabling viewers to watch the Motherload film roughly at the same time online and to submit any thoughts, feelings or ideas on Twitter (#MotherloadMovie) in order to inform the online discussion at last night's official ESRC Motherload event.
Subsequently, on Wednesday, 10th November a 1-hour Q&A session took place to debate the issues explored in the Motherload film in more detail. Panellists included leading experts in the field of cycle logistics: Chris Leakey from Manchester Bike Hire, Beate Kubitz from Cargodale and Glynis Francis from Chorlton Bike Deliveries. The Q&A was facilitated by our Healthy Active Cities team at Salford, who have carried out research into the use of e-cargo bikes (see https://blogs.salford.ac.uk/healthyactivecities/ for further details).
What is the Motherload film about?
'Motherload' is a film about the cargo bike revolution building around the world. The film follows Liz Canning's (the filmmaker) own story, going from being a keen cyclist to having young twins, then feeling the need to have a car and reaching a point where her cycling life felt like it was most likely over. Her life was transformed by the discovery of cargo bikes as a different way to get herself, her children, her shopping and everything else, around her city. In her enthusiasm she starts to connect to online cargo bike communities and decides to make a film about it. She meets amazing passionate advocates along the way from across the US, and the world. Her cargo bike becomes part of her own response to the climate crisis.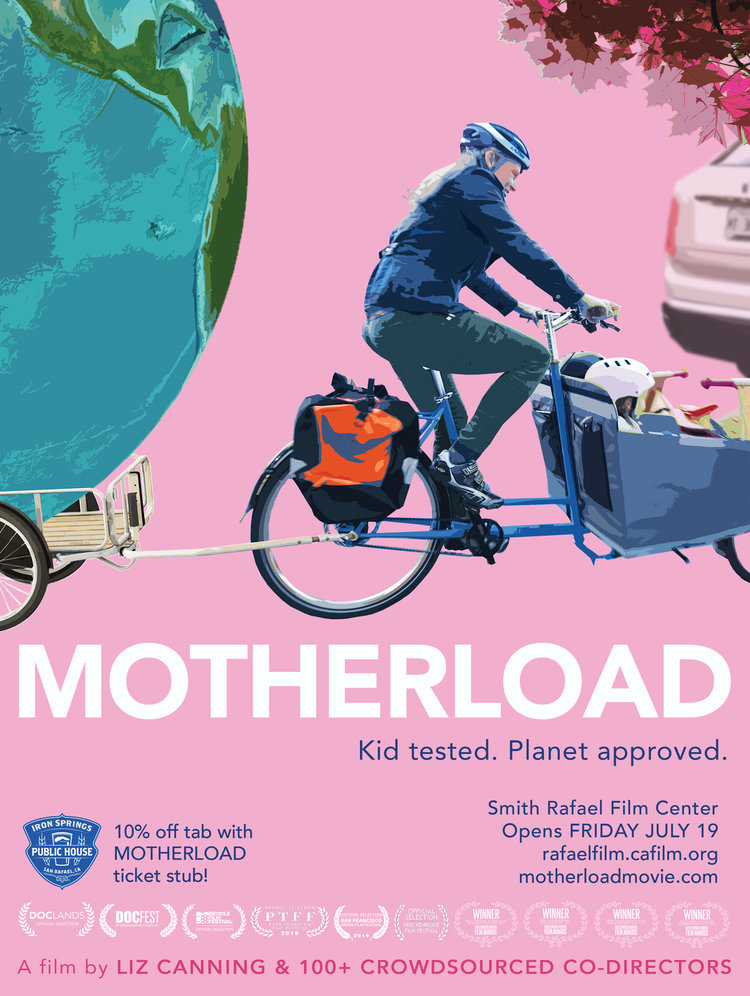 The lively panel discussion focussed on the language of positivity in the film and behaviour change around the use of cargo bikes as an alternative mode of transport, providing the infrastructure in the UK can be improved. Audience members posted their comments on the film, with many noting how inspiring it was, making them want to get out on their bikes more. Others found it very emotional to watch, stating that it resonated with their own experiences. The general consensus was that it was a great way to reconnect with our senses and improve our mental health.
Communities coming together was a central theme throughout the film and audience members liked the way in which communities were connected through the bikes, whether in the developing or the developed world. However, many stated that it was vital that the necessary infrastructure was put in place and this was an area where the UK is falling behind compared to the rest of Europe. Other barriers to adoption of cargo bikes were discussed, with concerns around safety (because of the poor cycle infrastructure), particularly in terms of children on bikes and families cycling together, and also the cost of the bikes, which was seen as prohibitive for many people – a suggestion was to have a better second-hand market to make them more accessible.
With COP26 and the climate change agenda in mind, the debate also touched upon the importance of thinking about how we move people and goods around in our bid to reach net zero and to improve our sustainability. Bikes are one solution to this problem. The key question is how do we campaign more effectively for a more mainstream move to cargo bikes as an alternative to cars for family transport?
The full Q&A panel debate can be viewed here:
We look forward to welcoming you to other forthcoming Festival events:
| | | |
| --- | --- | --- |
| Event | Date | Time |
| The Autistic Defendant in the Courtroom | 11th November | 1pm-4.30pm |
| Climate Change Conspiracies and COVID | 13th November | 11am-1pm |
| Exercise, Sleep and Word-Learning in Autistic Children | 14th November | 3pm-4.30pm |
| COP26 Universities LIVE | 15th November | 5pm-6pm |
| We Love Peel Park: Graphic Novel Launch | 18th November | 6pm-7.30pm |
| Pirates and Exploding Man! A Hazard Signs Interactive Intervention | 23rd November | 10am-12pm |
| Cognitive Restoration: The Effects of the Environment on Thinking | 27th November | 10am-5pm |
| Social Capital: Understanding its Value in Strengthening Resilience | 29th November | 10am-12pm |