Five weeks into my new role as Dean of Salford Business School and I find myself at an important juncture of (furious) activity. To date, my personal challenge has been to balance a combination of pressures.
As a leading business school, we must ensure that we are fully capable to meet the needs of our students – to develop their personal, professional and technical skills and knowledge for their careers.
These complex needs are set against the demand that we fulfil our role in the wider world by shaping global business and management education – in particular in the areas of digital business, social business and sports business – by shaping policy and business decision making.
Of course, this combined sets of challenges do not require the reconciliation of incompatible requirements but rather to emphasise that this work is closely connected and part of the University of Salford's new vision:
"By pioneering exceptional industry partnerships we will lead the way in real world experiences preparing students for life."
Summer at Salford Business School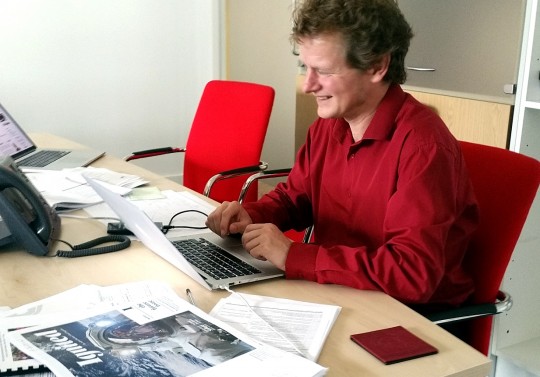 Salford Business School Dean: Dr Gordon Fletcher
While the popular belief is that universities in the UK pull down the shutters for the entire Summer nothing could be further from the truth at Salford Business School. Not only do we continue teaching our postgraduate and research students throughout Summer we are also working on research projects and preparing for our new and returning students who are due to arrive in mid-September.
This means finalising timetables, refreshing teaching materials, briefing teaching teams, updating ourselves about new University regulations as well as changes to UK Visas and Immigration rules. This year we are also preparing materials for the delivery of new Level 6 Business and Level 5 Law modules.
With the day-to-day housekeeping in order to ensure another year of high quality experiences for all of our students it is time to look even further into the future.
Salford Business School magazine: Ignited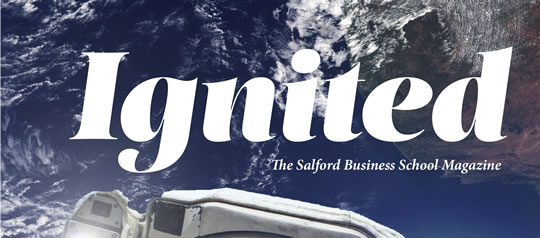 In a moment of conscious planning the future is also the theme for the first edition of our new School magazine – "Ignited".
"Ignited" is about sharing the knowledge and experience embedded within Salford Business School in a way that is accessible and relevant.
"Ignited" is available in printed form and is also published online. Presented as a range of short pieces from colleagues within the School this collection of insights proves that the future is:
complex
connected
international and
most definitely exciting!
As part of our real world engagement the magazine will reach out to a wide audience that includes the many organisations we work with regularly and our alumni network of decision makers. Business is changing rapidly and just "keeping up" is a very real challenge for us all. Supporting our stakeholders to remain relevant and fully aware of the changing landscape of business is an integral part of our mission, our contribution to business and a reflection of the impact that we have on our local, national and international communities.
The ongoing work to innovate how we teach and disseminate knowledge comes in a range of formats. Throughout Summer, colleagues have been working to disseminate their knowledge in new ways with the development of a commercial Massive Open Online Course (MOOC). When it is complete the course will be delivered through iversity and will focus on the many intersecting facets of Digital and Social Media Marketing.
Learners will be able to get a free taste of the concepts before potentially continuing on with a second more advanced MOOC or by joining our MSc Digital Marketing programme. The development is just a small hint of the future for teaching and learning in all universities.
Global markets and connectivity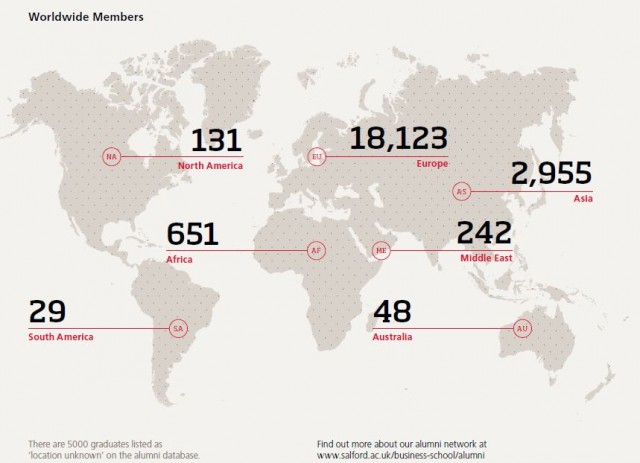 Salford Business School: Global Alumni network
The rising importance of digital marketing reveals the importance of connectivity in business around just a single discipline. However, recent events that started in stock markets in China over concerns for a slow down in that country's economic growth coupled with ongoing concerns about the dangers of a 'tech bubble' have proven that business is increasingly by default international. More importantly all business is connected. Not just in the sense of the use of technology but more deeply for the ways in which it seamlessly crosses national boundaries and then folds into a continuous need to re-examine internal structures.
Connected business challenge

The neat delineation of departmental silos in traditionally structured organisations are increasingly roadblocks to success rather than the efficient mechanisms for management that were once imagined. This is why Salford Business School colleagues have been set a challenge for this year:
Every module leader in the school have been asked to identify an organisation that they can collaborate with on a deep but sustainable level. For our students, 2015 – the year of connected business will bring real world business experience into every one of their modules.
What do you think is the best way for a university course to really interact with business? – please do share your comments below!
1 Comment
---