Each year, our Students Union (SU) arrange the Salford Teaching Awards. These awards are run completely by the SU and are voted for by students. This year, there were over 400 nominations for 150 staff from across the University.
At the Business School, we are absolutely dedicated to our students and to teaching excellence. We have been very successful in attracting industry and teaching awards and accreditations in recent years.
The special thing about the SU teaching awards however is that, it is not colleagues or externals that are judging, it is our students, who are ultimately at the heart of everything we do. At this year's SU Teaching awards, the Business School were incredibly successful, winning in many of the categories as follows: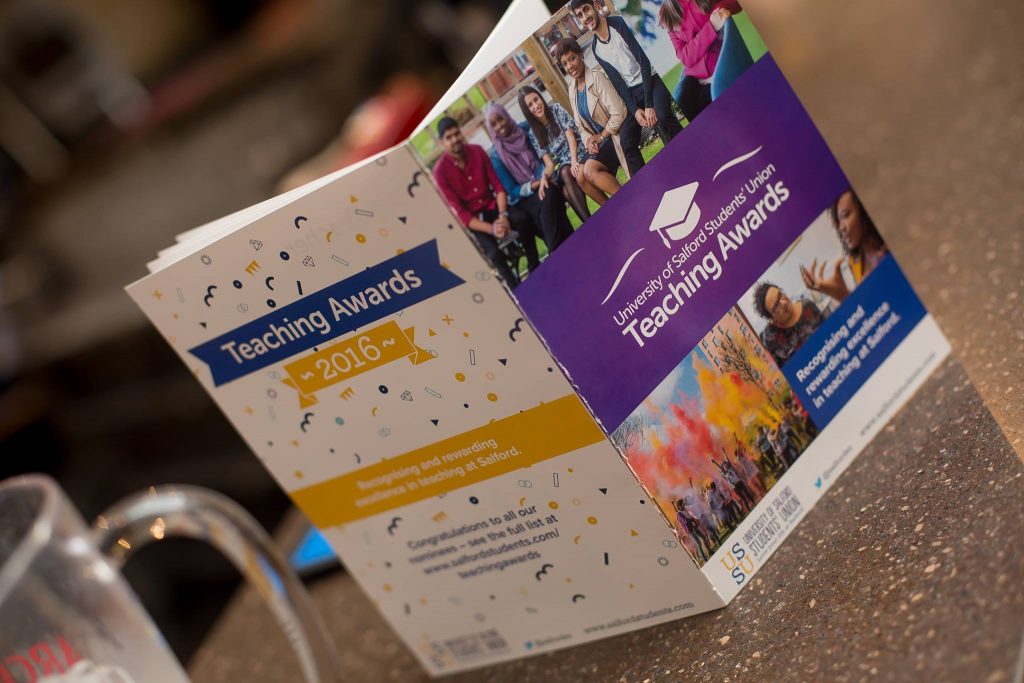 Ralph Darlington – Best PG Supervisor of the year 
Ralph's students said: "He has brought out the best in me through his adept and constructive criticism of my research work. He taught me how to read my work aloud to myself, which made me discover lots of flaws in my academic writing and structure of tenses. This has greatly improved my academic writing"

Ralph said:  "Over the last year, in my capacity as Director of Postgraduate Research in the Business School, I've taken a whole series of initiatives, in consultation with our PGR students, to try to ensure we provide as helpful, useful and enjoyable experience of the doctoral journey as possible. So I'm really delighted to have had such effort and dedication acknowledged in this fashion, thanks ever so much!!"
Chris Jones  – Best Support staff
Students said: "It's hard to explain how much it means that you can trust someone to go above and beyond for you, because you've seen them do it time and time again for other students. Chris is one of the best, most supportive, all round knowledgable people working within the University of Salford; he will always go that extra mile for students."
Stacey Gurrie –  Best Personal Tutor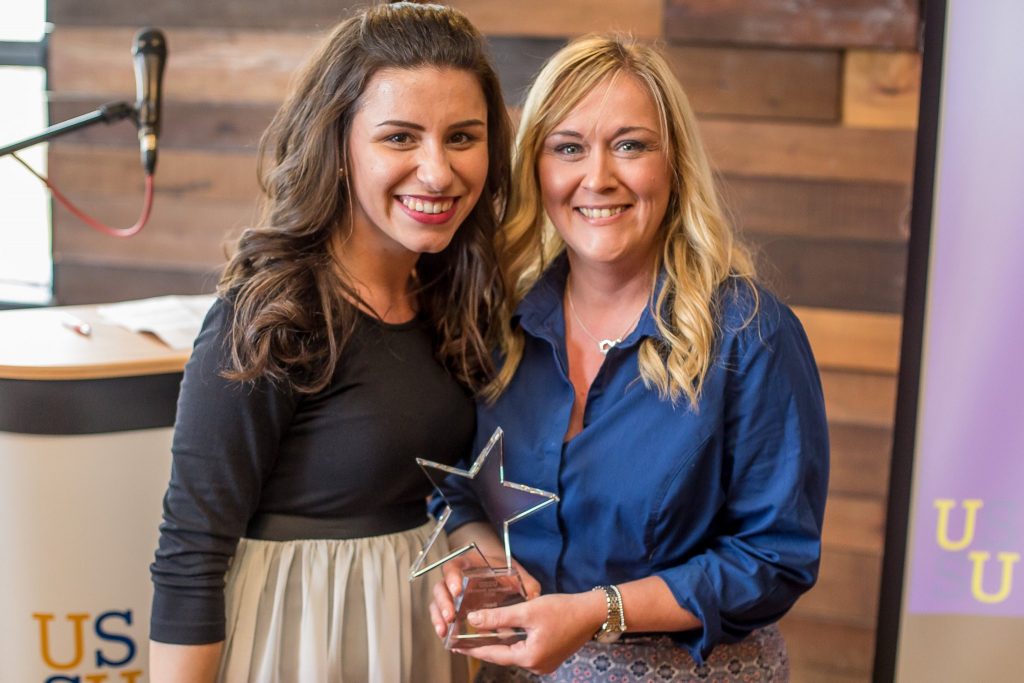 Stacey's students said: "Her strong sense of enthusiasm towards ensuring everyone had the support they needed to achieve inspired me…. Stacey's positivity and enthusiasm motivated me during a touch period"
Stacey said:
"I am absolutely delighted and overwhelmed to be recognised by our IFAE undergraduate students regarding my personal tutor role.  Personal tutoring is a challenging yet rewarding role.  I believe it serves a vital function in personalising the higher education experience of our business school students.  I proactively try to promote the academic achievement and personal development of all my tutees by monitoring their progress, taking a genuine interest in their academic, career and personal development and have found this works more beneficial for the students when our meetings are conducted face to face.  


I also encourage students to take full advantage of the opportunities available to them during their time at Salford Business School.  Students vary in their need for personal support.  Often I find students seek help from their personal tutor when they are experiencing difficulties.  An important part of my role as personal tutor is to support these students by listening, supporting their reflection on options and signposting the relevant services available.  I believe that personal tutors serve a vital role in enhancing students learning experience and am proud to be recognised by our students for my contribution."
Alex Fenton – Innovative Academic Practice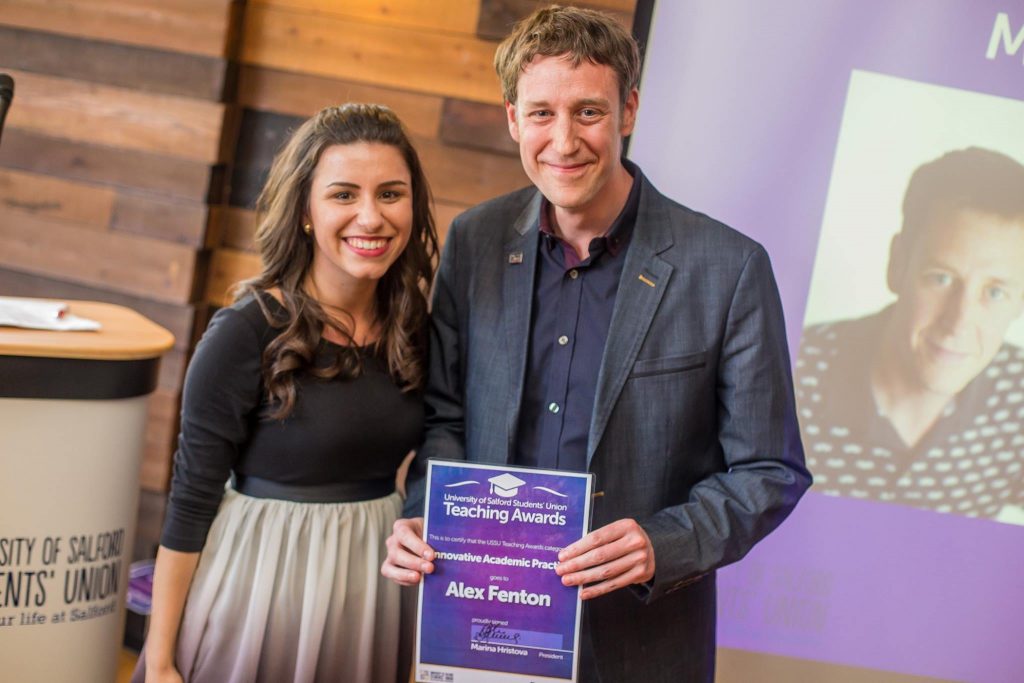 Alex's students said: "Alex is an inspirational lecturer who goes beyond the borders of formal education to provide students with exceptional opportunity to expand their knowledge by encouraging their imagination and creativity. Alex combines teaching methods to strengthen the student experience. His passion for digital and creative entrepreneurship is crucial to enabling students to develop."

Alex said: "After winning PG supervisor of the year in 2015, I am really blown away with this award and thankful to the SU for staging it and all of the students that voted. My colleagues in the Business School are just incredible at allowing us time and space to innovate and try new things to make our teaching more engaging and real world. Inspiring the next generation of  Digital and Creative Entrepreneurs through teaching experiences is something I am really passionate about. Through interactive and technology enhanced learning, events, competitions and speakers, it's our aim to create world class experiences for our students and a personal connection. "
Lizzy Przychodzki – Best Teacher in Business and law
Lizzy's students said: "She is always on hand to provide feedback on assessments. She has introduced bespoke 'toolkit sessions' for students in order to prepare them for life after graduation. Having welcomed excellent guest speakers such as judges and barristers, the toolkit sessions have been a massive success. I can't think of any other lecturer that deserves this award more than Lizzy."
Lizzy said:
"I honestly was thrilled to be nominated for a second year in a row, and so being shortlisted was just such amazing surprise to that.  And then of course to go on to win was in all honesty a real shock, and an honour coming from the students in particular.

For me this award mean such a great deal.  As a lecturer as your focus and efforts are all going towards the students in supporting them through their journey, and hopefully inspiring and motivating them on the way.  So that they acknowledge and feel that passion for the subject and dedication to them is incredible.  In my new role this year I have very much looked to ensure that I have provided Salford Law students with all the help and support that we could as a team generally and likewise through the introduction of bespoke Toolkit Sessions for Writing, Research and Career skills and this seems to have really made a great impact this year. Likewise with these sessions very much utilising staff from across students services, the law team and external contacts I have been able to show students just how amazing a support network they really have at Salford and this was something that was really important to me as well."
If you would like to hear more about the how Salford Business School fosters teaching excellence, please get in touch or see some more images and Tweets from the evening, which can be seen on this Wake.
For a full set of imagest see University of Salford Students Union Facebook page 
Comments Off

on Business School demonstrates teaching excellence
---