The recent announcement that the UK's Civil Aviation Authority (CAA) will work with Amazon to test drone delivery services has been met with a series of largely negative comments. The Sun called the experiment controversial and the Telegraph implied that some testing had already occurred around the Amazon Prime Air service.
The majority of reports did successfully identify the two major limitations to the commercial use of drones. The CAA does not permit the commercial flying of drones in urban areas unless the 'pilot' has 'permission to operate'. If you want to use a drone for non-commercial work and are unsure whether you need a permission, please see a short guide for non-comercial drone flights.
This permission is by no means trivial and requires expensive training from approved providers as well as the preparation of a flight manual. Even with this permission to operate there is the second limitation that a pilot must keep visual contact with their drone at all times.
Amazon's approach
Amazon's ambition and significant commercial leverage has enabled it to gain permission from the CAA to effectively relax both of these restrictions. Amazon's test pilots will not only be able to fly up to 10 miles they will also be in control of multiple drones at the same time. Amazon's corporate might also mean that the drones will be of a scale not generally available to consumers or other retailers. While Amazon's drones can manage a 5lb payload the best offering from DronesDirect can generally only manage the weight of a GoPro camera (which is around only 150 grams including the case).
This combination of special permission and highly customised equipment makes the use of drones appear quite irrelevant to small independent high street retailers. However, in this new partnership between the CAA and Amazon there is both threat and opportunity.
Threats for small business
The threat is more evident. If Amazon's trial turns into a more permanent permission to operate they will have gained a significant competitive advantage over small local retailers in an area where the online giant has previously failed. The combination of the promised 30 minute delivery window within a ten mile radius in large urban areas where land transport links are already gridlocked would make drone delivery attractive for many items all the way down to that ever elusive pint of milk.
This advantage would be further accentuated in urban areas where out-of-town retail parks and multinational 'metro' or 'local' supermarket chains have reduced the availability of the more traditional corner store. Also consider the weight of the last 'cheeky' takeaway that you had delivered to your door – 5lbs is a lot of Chicken Tikka Masala even with naans and 30 minutes delivery time plus cooking would better many existing services.
So the immediate threat is to traditional retailing on the high street and the corner store as well as increasingly familiar digital business newcomers such as JustEat.
Amazon's drones also threaten another existing business – although in this case it could be for the better. The problem of the 'last mile' in logistics is a well known issue with no leading solution. Amazon's online business model particularly feels the impact of trying to successfully get packages to its customers. Coupled with the frustration of not receiving a home delivery is the environmental impact of vans frustratingly returning to base with the packages that they started the day with. Drones avoid many of the challenges faced by road based delivery and a 10 mile radius of delivery coverage in an urban area is a lot of homes. Couple this with the potential for delivery at any time of day or night based on a request only 30 minutes earlier and there could soon be far fewer white vans on the road.
Opportunities for small business
But with every threat so there is also an opportunity. The current lack of a suitable delivery drone for other retailers is almost certainly a short-term one. There are a variety of home brew communities working on developing different approaches to drones with readily available technologies. The Airbus Cargo drone challenge is evidence of attempts at co-creating a solution while the Beer Delivery Drone is a more tongue-in-cheek example of recent efforts.
In other words the opportunity to own drone delivery technology will soon be an option for smaller, more local retailers. The DIY sentiment of these current developments will also help to keep the costs of the final product reasonable.
The opportunity for local and smaller retailers then is in being able to literally deliver on their own USP from their own outlet (whatever they may be) to local customers without the need for the van, the driver and the other logistical commitments of getting goods onto the road. The ThinkShopBuyLocal movement should be the most obvious beneficiary of drone delivery technologies. And in the context of local, offering drone delivery services for businesses that cannot afford their own drone service opens up a new opportunity for local entrepreneurs willing to invest in the appropriate technology and the permissions.
A drone delivery framework for us all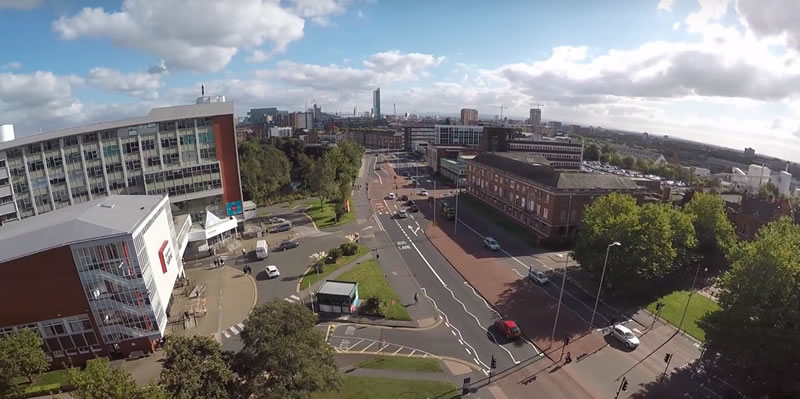 The greatest challenge to this opportunity lies in the exact nature of the partnership announced between the CAA and Amazon. The business opportunities for drones has to date been limited through the current operating requirements. There are drone photography services, agricultural reporting and news gathering as well as some experiments with landmine clearance but very little beyond these current applications.
If the current joint agreement is to road test the commercial opportunities and to then define a framework for drone services that we all can work with and utilise then expect to see the rise of urban drone delivery services very soon. If the CAA/Amazon partnership will solely benefit Amazon then we have just seen harbinger of further decline of the UK's high streets and increased monopolisation of retail.
This change in Drone Technology is one of the reasons for our Business Information Technology students as well as those on the MSc Digital Marketing  programmes to learn how to fly a drone and experiment with drones first hand:
Comments Off

on Drone delivery is important #DronyMcDroneface
---