Thinking of doing your Masters?
Want to be one step ahead of your competitors?
Want to push to the limit the international exposure of your study experience in the UK ?
Interested in a course grounded in International Business etiquette and equipped with Legal and Negotiation skills?
…MSc International Business with Law is the perfect choice.
This course is ideal if you want to develop your knowledge of business and law in an international context. Your learning will enable you to perform effectively in the development and implementation of international business strategy, which in turn will enhance your employability.
Here are 5 good reasons why you should study it at the University of Salford…
1. Internationally recognised Business School
You will be studying at Salford Business School which has been recognised by a number of international accreditations.

Salford Business School accreditations
You'll also become skilled at working alone and with teams to systematically and creatively apply theory and practical solutions that resolve international business problems. With modules on Marketing International Business, Strategic International Business Management, International Business law and International Corporate Law and Governance.
You will also be given the opportunity to benefit from a residential European study week which gives you an insight into the activities and organisations of a variety of sectors located around the region.
2. MSc International Business with Law course fees
The fee is affordable as Salford university offer Scholarships and discounts for postgraduate students e.g. The VC's excellence scholarship for students with 2.1 or a first class degree.
Postgraduate support scheme for Home/EU students. Salford University loyalty discount for returning alumni and Country Bursary scheme for specific countries.
3. MSc International Business with Law teaching
The course has 6 start dates (September, November, January, March, June and July) each year which means that you do not have to wait until September to start your course.
The teaching is made up of lectures, seminars and tutorials delivered in four blocks of three-day intensive study periods with assignments or exams in-between for each module. This flexibility allows you to work part-time and engage in other extra curricular activities.
The modules are taught by highly experienced lecturers and international business law professionals who share their experience and offer advice so you know you are getting a good value for your time.
4. MSc International Business with Law – Location
Salford Business School can be found at the newly refurbished Lady Hale Building located at the heart of Peel Campus. Some classes are delivered at Chapman building equipped with state-of-the-art facilities only a few minutes away from Manchester City Centre.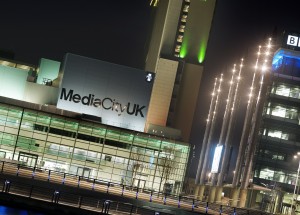 Media City UK campus
Most importantly, there are also classess at the Media City UK campus. Media City UK a vibrant place with BBC, ITV and other businesses as its neighbour. Media City UK is recognised as one of the most innovative developments in Britain – see campus map on how to get there.
5. Business Innovation Project (BIP)
Salford Business School has one of the most flexible post-graduate taught programmes in the UK – which includes the business innovation project module. This module allows you to choose from 4 different pathways for the last part of your study. These pathways are:
Dissertation
Live project
1-3 months Internship or
4-6 months paid Placement
all of which are designed to accommodate your career aspirations and enhance your professional practice.
Our Projects: MSc Marketing, Search and Social Media Marketing
This is particularly a good option for graduates with little or no work experience who want to make their CV stand out once they graduate.
Want More Info?
Take a look at http://www.salford.ac.uk/pgt-courses/international-business-with-law and share your comments below if you have any questions about this programme?
2 Comments
---