After over 4 years of assisting small and medium-sized enterprises (SMEs) in the North West of England by placing students and graduates in companies to carry out short-term paid internships, the highly successful Unite with Business project has now come to an end.
Being part of Salford Business School's business services offer, Unite with Business is also a great example of regional collaboration between six universities: the University of Salford, University of Central Lancashire (lead project partner), University of Chester, University of Bolton, University of Cumbria and Lancaster University.
Unite with Business was funded by the European Regional Development Fund and supported over 1800 businesses and created over 470 jobs.
Unite exceeded the paid internships numbers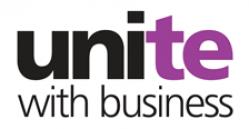 The University of Salford team included Pam Mullin, Chris Procter,  myself, along with invaluable support from Irene Troughton, Research and Innovation Manager, Rob Morris, Head of Research and Enterprise Development, and Salford Business School's Kerry Moores.
The paid internships target for our team was exceeded and we have also met all other project objectives.
We placed students and graduates with 223 businesses, over 90% of which are based in Greater Manchester. More than half of these paid internships were carried out by Salford Business School students.
Success stories
There are a number of great examples where the seeds planted through the Unite with Business paid internships have grown to bigger and better businesses as well as created new business ventures too.
The students who took part in these internships have improved their CVs and were able to use their experience to get jobs as well as create their own enterprises!
Craig Greenup at Radical Web Design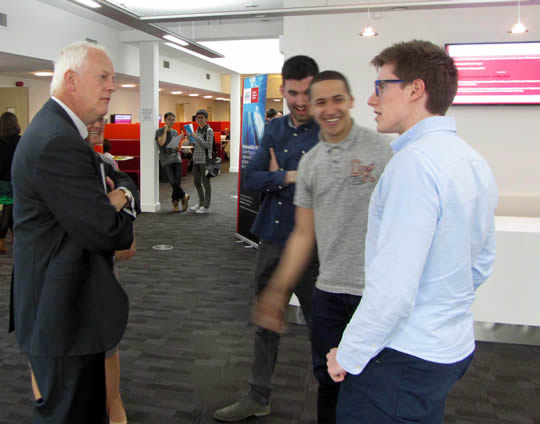 Paid Internships success story – Craig Greenup (front right) talking to Chris Procter (front left)

Key successes of the project include Salford Business School's Business Information Systems graduate – Craig Greenup.
Craig has gone on to set up a successful web development business, Radical Web Design, and continues to work with a number of companies who first worked with him via Unite with Business projects.
Mihail Georgiev at Peppermint Soda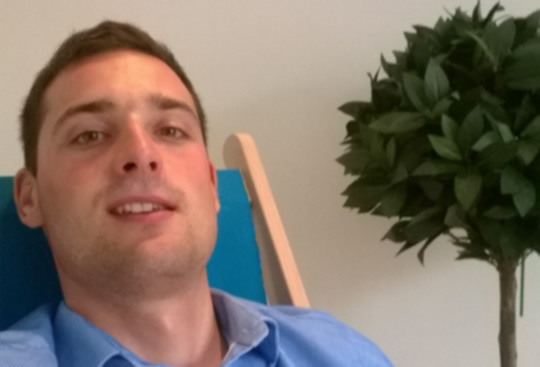 Paid Internships success story – Mihail at Peppermint Soda
Mihail Georgiev, Sport and Leisure Management graduate, worked for Hale based PR & creative agency Peppermint Soda.
Mihail undertook research which contributed to the report "North West Sport: What's its true transfer value in the UK and overseas?" by Peppermint Soda's client, Gateley LLP in collaboration with the Centre for Sports Business here at Salford Business School. Mihail said
"The internship has helped me to focus on what I really want and allowed me to realise the potential the sport market holds in Manchester in terms of capitalisation".
Since graduating Mihail has pursued his interest in the sport market and is now a trainee regional manager for a global martial arts organization.
Tom Gartley at Crushed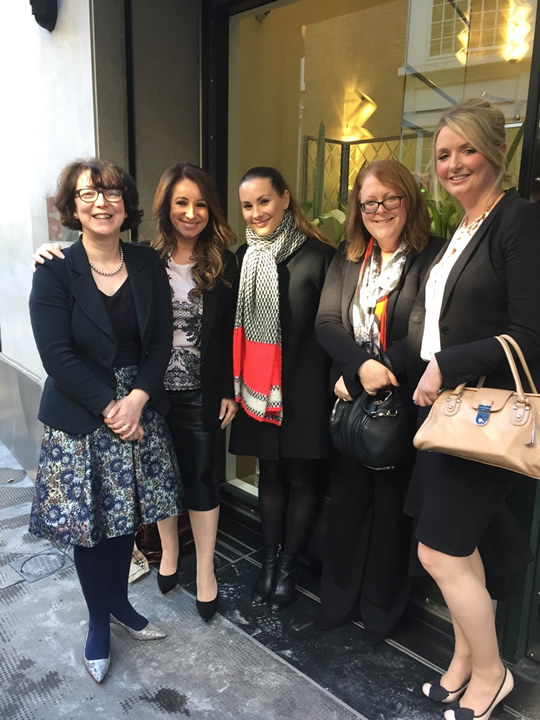 Three Women on a Wednesday (#WOW) Twitter competition winners of 2014. Photo left to right: Deborah Ewing-Chow (Crushed), Jacqueline Gold (CEO Ann Summers), Adelle Frejus (BKD), Jenny Salmon (Crushed) and Aimee Alexandra (Back in Business).

Crushed, an Altrincham based SME benefited from Unite support to recruit Tom Gartley, a Business and Management graduate. Tom was able to undertake valuable market research that supported their fruit snack product launch into Waitrose stores across the UK.
"My Unite with Business internship allowed me to gain a better understanding of how a small enterprise works and to gain experience that you can't normally gain with a normal part-time job". said Tom
Since the paid internship Crushed have grown and can now be found in other stores such as WHSmith.
Tom is now working as a graduate project analyst for the UK's largest independent regulatory and compliance consultancy and credits his paid internship with providing the commercial awareness required to secure the role.
And the winner is…
The most successful year for the project, 2014, coincided with Salford Business School's Year of the SME.
The work of the project played a significant role in the recognition of the School's work with SMEs via the awarding of the Small Business Charter and the Times Higher Education Business School of the Year.
Internships expertise and networking
The expertise and contacts developed via Unite with Business are still being put to fantastic use as part of business services offered by the Salford Business School Employability Hub. Businesses can access the skills and knowledge of Salford Business School students through paid and unpaid internships, student placements and live projects that are formal aspects of their degree programmes.
For example, Salford Business School undergraduate students can undertake a 12 months placement between their second and final year of study. A very popular option for many of our postgraduate students is to work with a business on an assessed live industry brief as an alternative to a dissertation.
Do you want to benefit from a paid internship?
The Employability Hub team are very keen to engage with businesses interested in working with our students as well as students who want to improve their career prospects.
You can get in touch by emailing sbs-employability@salford.ac.uk or calling 0161 295 5236. See for more information about paid internships, placements and other projects on our business services pages.

Comments Off

on Paid internships project legacy lives on
---