British Muslims are a vibrant, youthful, high spending community who know their brands. The 3 million UK Muslims have a combined spending power of £20.5 billion contributing £31 billion to the national economy annually.
Worldwide, the 1.57 billion Muslims, make up 23% of the world population. This represents one of the fastest growing consumer markets in the world in terms of disposable income, internet penetration and mobile phone usage.
Ramadan is the most important month in the Islamic Lunar calendar. As a ninth month this year it falls between 18th June to 17th or 18th July, and is a key occasion to reach out to Muslim customers.
Marketing to Muslims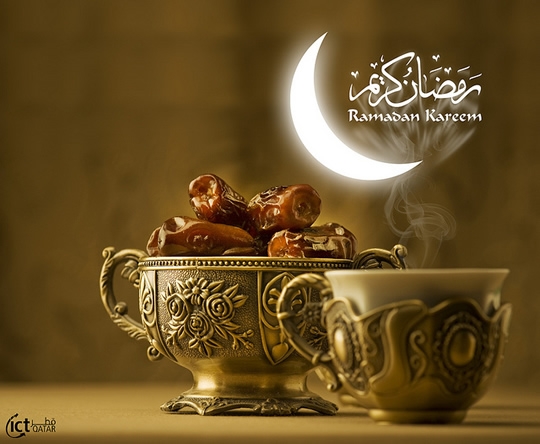 Ramadan Marketing (CC) by ictQATAR Ramadan Greetings
Following a Lunar calendar, Ramadan can last 29 or 30 days depending on the sighting of the new moon. It is obligatory for adult Muslims to fast from dawn to dusk. Since this year Ramadan falls in June and July, the fast will be long – up to around 20 hours in the UK.
Ramadan is the third most important obligation on Muslims. Its significance is heighted since the Muslim holy book, the Quran was revealed to the Prophet Muhammad during this month.  This means that during Ramadan, Muslims spend more of their time in extra prayers and practice greater charitable acts. To mark the end of Ramadan, Muslims celebrate the festival of Eid.
Some marketers are beginning to realise the potential of marketing to Muslims generally, and more specifically during Ramadan. However, there is still a lack of understanding amongst western companies regarding the opportunities that Ramadan and Eid can bring to their businesses. These opportunities can come from both Muslim majority and minority markets due to their socio-economic development and increasing purchasing power.
So, if you have Muslim customers and want to market to them more effectively during Ramadan, here are some helpful tips:
Ramadan marketing ideas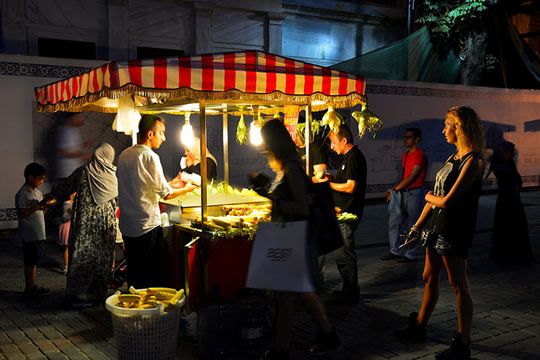 Ramadan Street Scene Istanbul Turkey (CC) by Harold Litwiler
1.     Understand the importance of Ramadan
Recognise that Ramadan is a unique time for Muslims all over the world, and that buying behaviour increases and changes during this month. Products such as food, clothes, electronics, and jewellery are in particular demand.
Educate and train your employees about the religious and cultural implications of Ramadan, specifically those staff involved at key customer touch points. For example, the second largest shopping centre in the UK, the intu Trafford centre in Manchester, is holding a marketing campaign "All You Need for Eid" from 17July to 19 July to celebrate Eid with special entertainment and workshops.
2.    Have a Ramadan specific campaign budget
Allocate explicit marketing budgets to target Muslim audiences with specific offerings. For instance, most companies in the Middle East region boost advertising spend during the holy month by up to 20 per cent.
3.     Develop an integrated marketing campaign
In the digital age, marketing campaigns are more effective when both offline and digital media are integrated to communicate the same message.  For example, this year the UK food retailer TESCO is running a campaign on its website with messages targeting Muslim audiences such as "Ramadan Mubarak" and "All you need for the occasion" with food offers from dates to halal meat.
4.     Be respectful
You want to attract the attention of your Muslim customers but by trying to have a catchy campaign some marketers may create something or say something that Muslims may find offensive. Marketers should be respectful to the Muslim religion and culture in all their campaigns.
If you are a business thinking about venturing into this market without cultural awareness it is recommended to seek advice from the Muslim community. Your local mosque is a good place to start.
5.     Associate your campaigns with religious features or iconic symbols.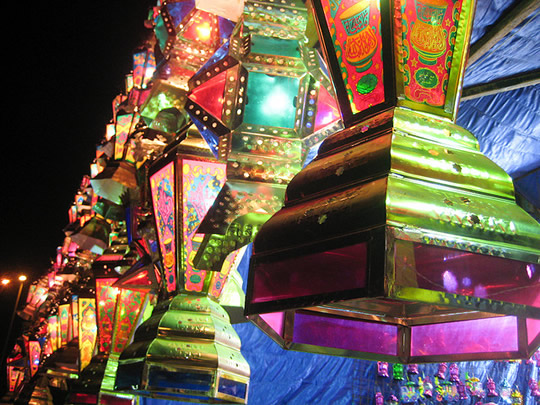 In your campaigns use iconic Islamic symbols such as the Crescent, Star, Dates and Mosques. For example, Burger King used a Burger in the shape of a Crescent in its campaign.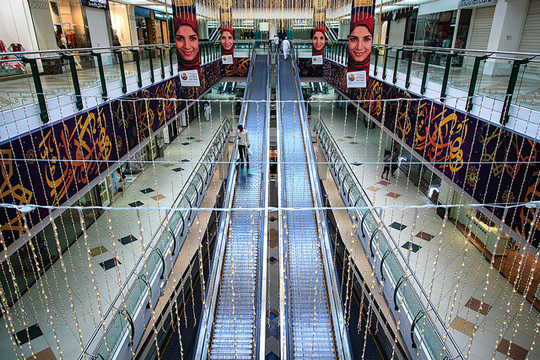 Ramadan decorations – Doha, Qatar (CC) by Omar Chatriwala
6.     Give more
Food is eaten only after dark and before sunrise and therefore needs to be highly nourishing for extended periods. Food retailers can help their Muslim consumers with recommended online nutritional recipe ideas and pre-packaged meal deals.
You may also consider associating and supporting a charitable organisation in your campaigns. For example see the Salford Business School Kidscan support during this time.
7.     Deploy the full range of Search and Social Media Marketing (SSMM).
Promote your products and services through effective Search Engine Optimisation (SEO), Social Media Optimisation, and off-line marketing. Use Analytics to understand the consumption behaviour of your Muslim consumers and to calculate the Return on Investment (ROI). There are free online courses available to help you understand and apply SSMM in your business.
8.     Appreciate the importance of Mobile as a medium
Mobile devices are increasingly becoming the choice of medium for consumers including Muslims, who are using them to search for information, for shopping and to socialise. Some agencies are designing for Mobile first, and then seeing how the campaign can be converted to the more traditional media such as TV and Print advertising.
9.     Use social media effectively
Create greater engagement with Muslims customers as they spend more time on social networking platforms during the holy month compared to other months of the year. It is reported that in the Middle East the use of social media increases by 30 per cent during Ramadan.
10.  When is Ramadan next year?
Remember that Ramadan occurs every year and unlike Christmas, its dates and timing changes every year since it follows a lunar calendar.
Ramadan can be a very lucrative period when marketing campaigns are well executed. Understanding the importance of Ramadan for your Muslim customers and how you can effectively market offerings to them by integrating Traditional Marketing and Digital Marketing can help your business increase your Return on Investment.
Have you experienced great Ramadan marketing?
Please do share your successful experiences of marketing to Muslims during this festive period in the comments section below.
3 Comments
---