In May of this year, the Salford MBA students were given the opportunity to take part in an MBA International Trip. The choices provided were Almeria in Spain, Hong Kong or Brazil. The latter destination was most appealing to me, not just because of the impending World Cup, but because as an emerging market there are great business opportunities.
With that said, I eagerly submitted my choice and hoped for the best!
Thankfully, I was successful and on Sunday 11th May at 6:05am, in the early hours of the morning, my MBA cohort eagerly boarded a plane at Manchester Airport and left for Brazil.
After many hours in the air, we finally touched down in Sao Paulo at 17:10pm. Excited, we all disembarked the plane before quickly finding ourselves stuck in a two hour queue at immigration (Painful is the only word to describe it!). However, this was not enough to dampen our spirits and once out of the airport, we climbed aboard our coach and set sail for the hotel.
So, the big question is, what did we get up to whilst on our visit?
---

The MBA International Trip
Upon arriving in Sao Paulo we were met by our program coordinator from the Austral Group,  who was fantastic and very knowledgeable about Sao Paulo! We received our schedule for the week ahead and as you can see, there was a lot to do…
Sao Paulo
Where we stayed: Slaviero Executive Jardins Hotel
What we saw:

Nazca – We had a tour of one of the main cosmetic producers of Brazil and received a presentation about their main challenges for innovation in this highly competitive market.
Colegio Bandeirantes – We received a presentation which covered the main challenges of Brazilian education and the need for further development in the sector.
Brazilian Business School (BBS) – At the school we had the opportunity to hear about the challenges of opening a business school in Brazil and the educational sector.

FIESP – The meeting focused around the educational challenges in the industrial sector in the Brazilian federation of industries.
RIOT – Whilst at the company, we talked about digital marketing, digital planning, mobile apps, Social CRM and other ways in which integration of brands and people is occurring.
Instituto Baccarelli – This was a visit to one of the most respected NGOs in Brazil, which was focused on teaching music to kids.
Geekie – Talked about the adaptive teaching and customization of teaching through new technology and online training.
Corinthians Football Club – Tour of the most successful Brazilian football team, here we have had an opportunity to explore their training ground.
Cosan – Whilst here, we received a presentation from one of the largest private groups in Brazil, with business in the energy sector, food, logistics, infrastructure and agricultural property management.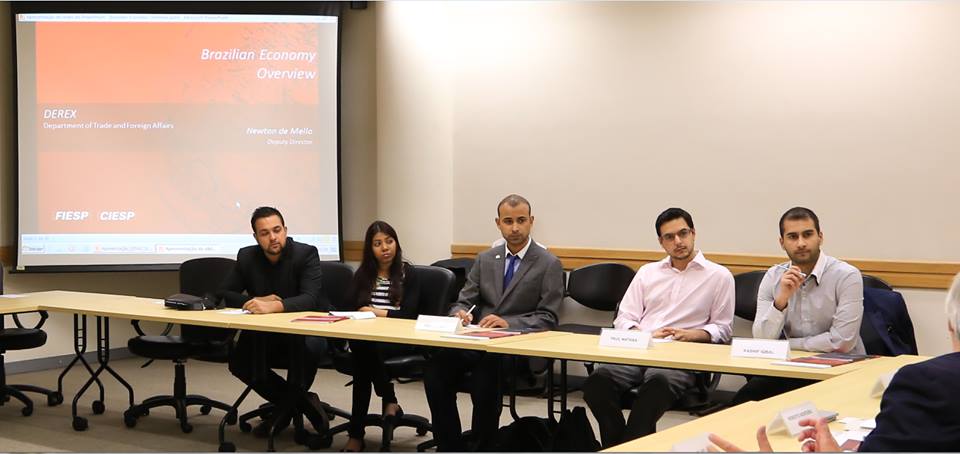 ---
After that action packed 4 days, we took an internal flight over to Rio!
---
Rio de Janeiro
Where we stayed: Pestana Atlantic Hotel
What we saw:
Lots of beach!
Lots of mountains!
We only had 2 days in Rio, but the time spent there was amazing and fully worth the wait. Even with such a tight schedule, the group managed to visit the Tujuca National Park, as well as the famous Christ Redeemer, (I highly recommend it!).
The trip finally came to an end on the Saturday, and we got on a flight back to Manchester at 14:40pm, arriving into the UK on Sunday morning.
---
Salford MBA international trip to Brazil lessons learned:
Brazil and the MBA International Trip was an experience not to be missed and I'm glad I had the opportunity to go.
Whilst there, I was able to see first hand the huge divide between the richest and the poorest and ultimately how important affordable education is for the youth of the country.
In stark contrast to the hardship faced by many, the country itself is truly picturesque and should be a top tourist destination for any keen photographers!
As I had hoped, it made me realize that there is a wider world outside my door, with business opportunity for those willing to go after it. Especially those with management consultancy skills. With that being said, Brazil is definitely on my list of places to revisit.
Want to hear more about this trip?
To hear more on my Brazil trip experience or if you have any other questions regarding the Salford MBA programme, connect with me on LinkedIn and Twitter.
Comments Off

on Salford MBA International Trip to Brazil
---