21 June 2016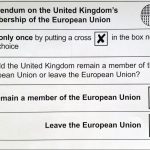 The vote this week on whether to leave the EU is one of the biggest decisions we will face in a generation. Here a series of experts from the University of Salford give their views on what the ramifications in areas such as employment, health, travel and the economy could be.
It might just help you make up your mind when you reach the ballot box. None of these individuals tell you how to vote but all support the view that the decision either way will have major repercussions for all UK residents and beyond.
Whatever your view – vote and make your voice heard on the 23rd!