1 October 2014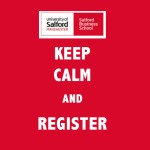 Salford Business School is opening its doors at our cutting edge showcase space at MediaCityUK campus to YOU!
Whether you are a young entrepreneur or a seasoned professional you will find a great networking opportunity to inspire your digital business thinking at our Creative Entrepreneur 2014 event. Meet young entrepreneurs amongst our students, members of staff or many of our external contacts. Want to see what creative ideas there are around? Join us at this open innovation space on Wednesday 3 December from 9.00am to 5.00pm.
You will witness an amazing showcase of masterclasses, have your questions answered by panel sessions, join in some of the demonstrations, admire installations and performances that will inspire, entertain and inform you. You will have a great place for networking meeting some of the students and staff from the University of Salford including the award-winning Centre for Digital Business, Creative Hive and MediaCityUK team.
Whether you are already an entrepreneur, or thinking of joining the next generation of entrepreneurs and intrapreneurs, this event is for you. The event is fused with the digitally-connected economy, helping you to help us celebrate the year of creative ingenuity of Small and Medium-Sized Enterprises (SMEs). This event is for those in the know and those that want to learn more.
Not sure if the event is for you? Here are our top 10 reasons to register and attend this great event: