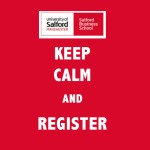 Salford Business School is opening its doors at our cutting edge showcase space at MediaCityUK campus to YOU!
Whether you are a young entrepreneur or a seasoned professional you will find a great networking opportunity to inspire your digital business thinking at our Creative Entrepreneur 2014 event. Meet young entrepreneurs amongst our students, members of staff or many of our external contacts. Want to see what creative ideas there are around? Join us at this open innovation space on Wednesday 3 December from 9.00am to 5.00pm.
You will witness an amazing showcase of masterclasses, have your questions answered by panel sessions, join in some of the demonstrations, admire installations and performances that will inspire, entertain and inform you. You will have a great place for networking meeting some of the students and staff from the University of Salford including the award-winning Centre for Digital Business, Creative Hive and MediaCityUK team.
Whether you are already an entrepreneur, or thinking of joining the next generation of entrepreneurs and intrapreneurs, this event is for you. The event is fused with the digitally-connected economy, helping you to help us celebrate the year of creative ingenuity of Small and Medium-Sized Enterprises (SMEs). This event is for those in the know and those that want to learn more.
Not sure if the event is for you? Here are our top 10 reasons to register and attend this great event:
1. See a Masterclass from one of the UK's most innovative speakers
You will see a keynote from Dom Burch, one of the UK's most innovative thinkers, who is the Senior Director for Marketing and Innovation at Asda Supermarkets. Dom is an amazing speaker – a former Saatchi & Saatchi executive and also Head of Social Media for Asda, Dom will inspire and entertain you at the same time – the perfect combination!
Here is a glimpse of what Dom was thinking about the use of Facebook just four years ago: Dom Burch
2. Discover MediaCityUK – It's well worth it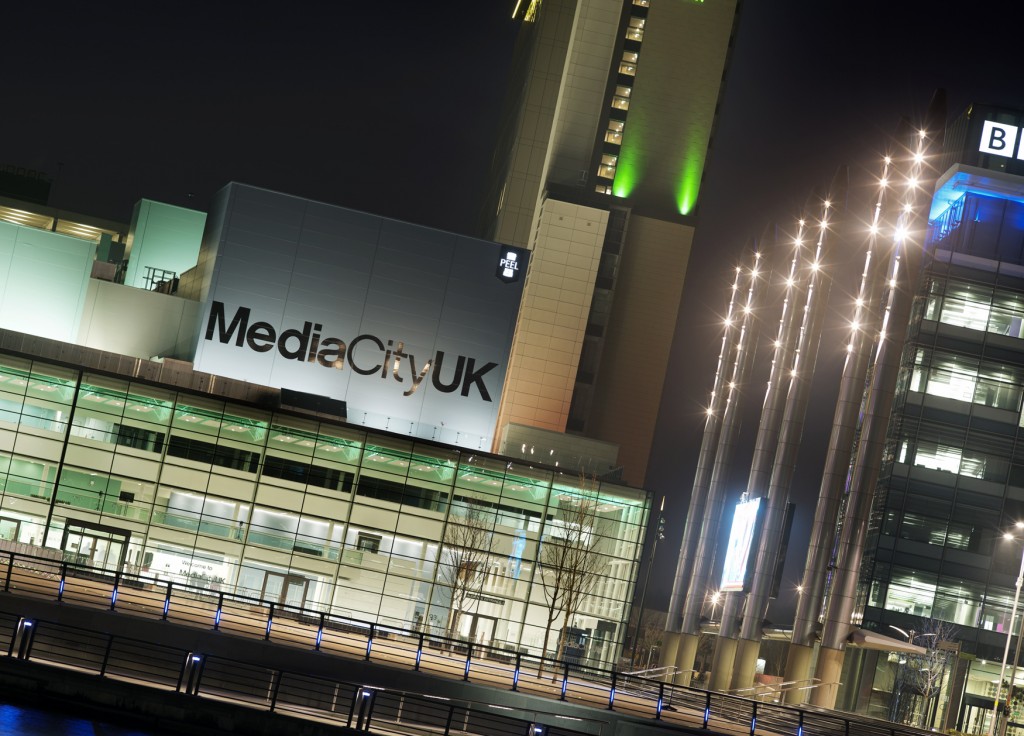 The University of Salford is based at MediaCityUK in the Orange Tower (it is not orange!), next door to the BBC, and we share a building with ITV.
Our MediaCityUK space features cutting-edge technology, multi-touch tables, Christie MicroTile walls and a Digital Performance Lab featuring one of the largest HD screens in Europe. The technology in the space will showcase creative and entrepreneurial projects and brilliant minds  coming together for an astonishing showcase of creative entrepreneurialism. Here is a brief introduction to the MediaCityUK facilities captured as part of a virtual open day: MediaCityUK campus University of Salford
High profile speakers are combined with local favourites and interactive sessions. Take in the stunning views of MediaCityUK, with a breathtaking view over the water from the suspension bridge to the Lowry and Imperial War Museum North.
3. Participate in some incredible panel discussions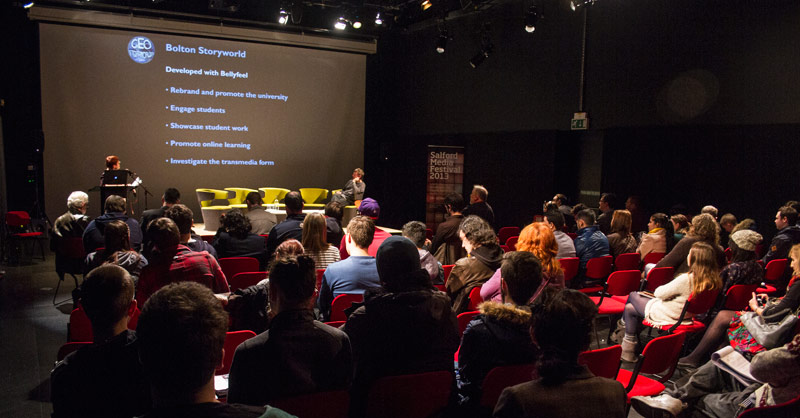 Panel session in the Digital Performance Lab, MediaCityUK
You will  meet some amazing industry speakers and have a chance to get your questions answered by some of the leading academics and industry professionals who are working with Salford Business School on a regular basis. There are sessions on The future of digital, Creative women entrepreneurs, Cyber security, Online retail, Balancing the creative and entrepreneurial and much, much more. Attending the event, you will see innovative ideas and more on the theme of the Creative Entrepreneur (full programme here).
4. The event is free and you get a free lunch!
So there really is such a thing as a free lunch! Free is good right? Our objective is to educate, inform and entertain you.
During the lunch session there will be an opportunity for you to network with business owners and meet some of the members of the Challenge Academy team from the international UC-Crowd project. This project is applying a crowdsourcing concept to foster collaboration between companies and academia. You will be some of the first people in the UK to see how this project might help you! Here is a short preview… Challenge Academy
The event is free, but there are limited places, so secure your place first before you share this blog post!

5. Meet your future employer – realise your ambition!

Between our Careers and Employability stands, Unite with Business, 25 industry speakers and official networking sessions with visiting Small and Medium-Sized Enterprise (SMEs), you could meet or find out about your future potential employer. As a student, if you attend the day you will learn how you can open the dorrs to internships, graduate jobs and the right information and connections to allow you to embark on a successful career path.
6. Meet talented potential employees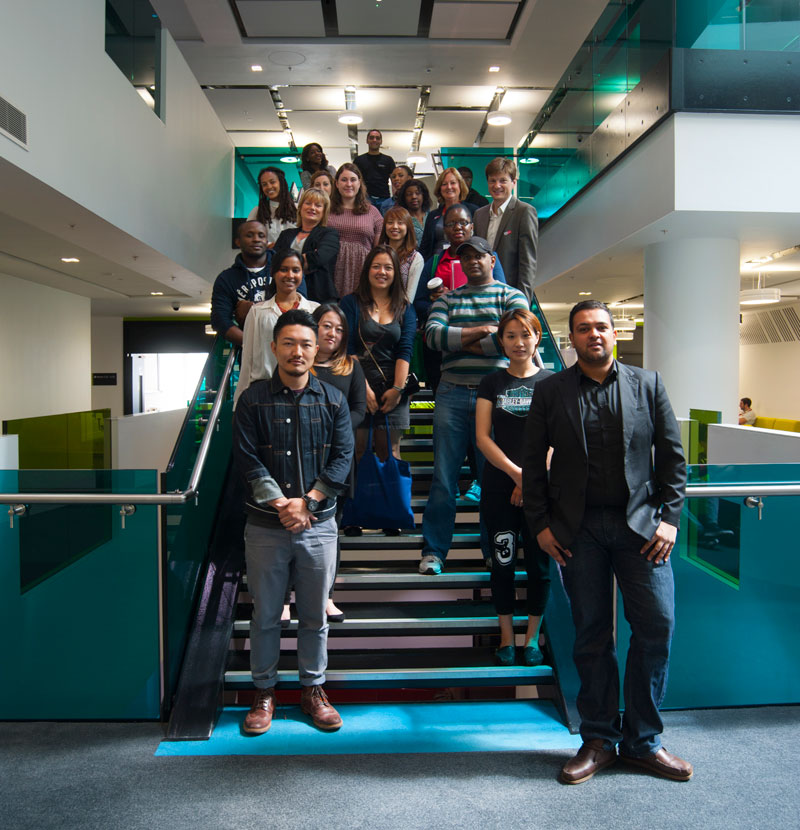 University of Salford students and staff at MediaCityUK
As a representative of a company or any other organisation looking for employees, this event represents an excellent opportunity to meet graduate talent to help you deal with 21st century business challenges in the global, digitally-connected economy. Between our speed networking and inspiring talks, you will be able to meet your potential next recruits and speak to our careers teams, who will be able to put you in touch with even more students.
In addition, our Business Innovation Project (BIP) stand will be best placed to connect you with our brightest Masters students via internships or live projects. Seek out Kerry Moores at the BIP stand who will show you how easy it is to connect with talented MSc students to help you with real projects. See here an example of the MSc Marketing team who have worked last year on a project to create a Massive Open Online Course (MOOC) in International Business Development: Live Project students
7. See performances and installations
If you are right- or left-brained, we have installations on the ceramic camera, a social media play in our Digital Performance Lab and a session from amazing photographer and artist Andrew Brooks on striking the balance between the creative and the entrepreneurial.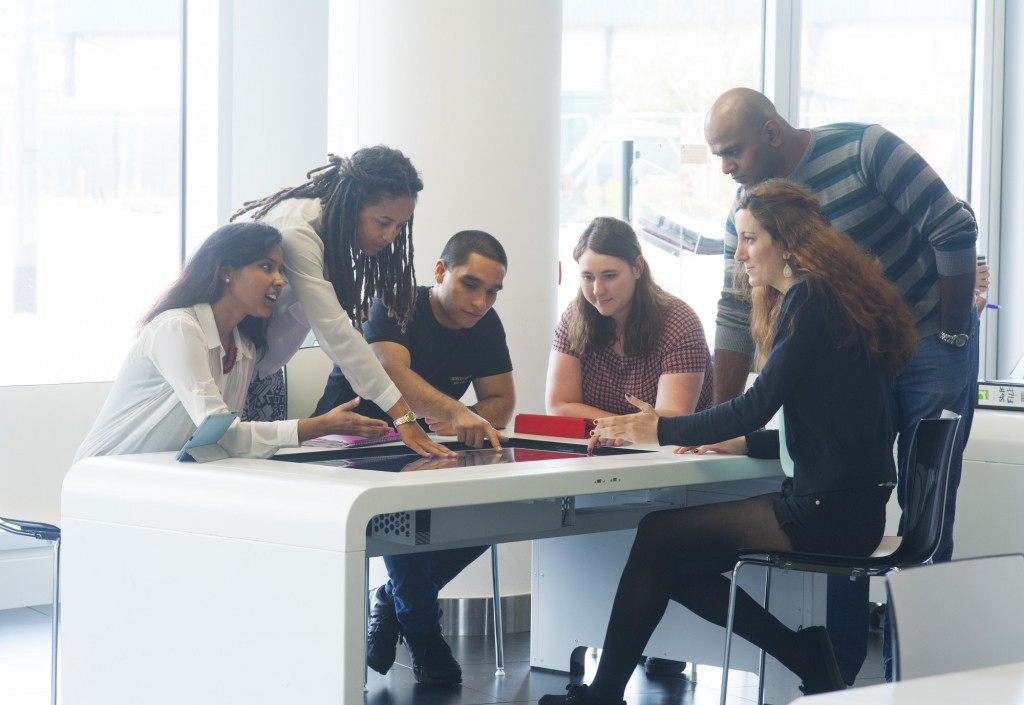 Students enjoying touch tables at MediaCityUK – Photo by Andrew Brooks
8. Discover the next Innovative idea and win prizes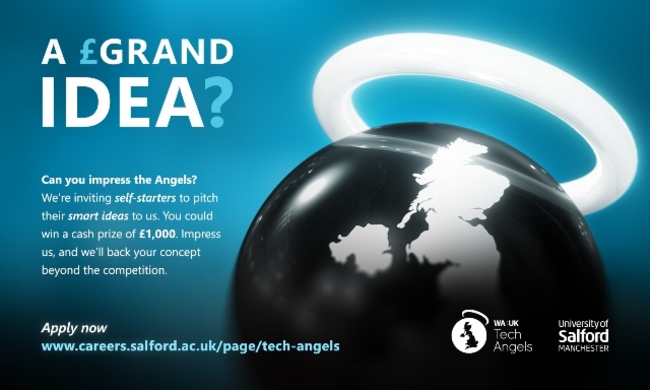 A grand idea – win £1,000 for an innovative idea
Our WA:UK Tech Angels culminates in a Dragons' Den session in the Digital Performance Lab, with the best idea receiving a £1,000 prize.
In addition, we will be showcasing some innovative digital ideas on our multi-touch tables as part of the Innovation Bazaar, presented by Salford Business School's final year undergraduate students. These teams of students are on the Business Information Technology and Business with Economics courses and they would be delighted to discuss their business ideas with you and hear your feedback!
9. Get interactive!
If you love social media, the whole day will be a joy for you. Tweets on the #CreativeEnt hashtag will be shown on our amazing Christie tile wall and you'll have the ability to connect with and follow our 25 industry speakers and more.
In addition, our social media play in the Digital Performance Lab will open your eyes to a life with and without social media. Prepare to be amazed and get interactive. There will be a chance to get interactive also with our multi-touch tables, Christie MicroTiles, Google Glass and some amazing Sensemitter technology we are working on.
10. Be part of history
Creative Entrepreneur 2014 is the first event of its kind – we are breaking new ground and we would love you to be part of it! This will be a great networking and educational experience, allowing you to immerse yourself into all things digital and creative.
If you would like to be part of the event in other ways please do contact Alex Fenton and we can have a chat about ways to make this event even more fantastic!
Don't miss out!
Register for free at this amazing event while tickets last and secure your free place. If you are late we will add you to a waiting list!

Can you think of any other reasons why you and others should join this event? Please help us by adding your thoughts below and sharing this blog post on your favourite social network!
Comments Off

on 10 great reasons to attend Creative Entrepreneur 2014 #CreativeEnt #MediaCityUK
---