Jonathan Moncur is in his final year studying BSc Architectural Design and Technology at the University of Salford. Last week I met with Jonathan and talked to him about his course, his extra-curricular activities, and life at Salford in the middle of the lively coffee shop in the New Adelphi building.
Hi, Jonathan! Why did you choose to study Architectural Design and Technology?
When I was in my final year in college, I did some work experience at the local council, and part of it involved working in the planning department. I was able to look at the new houses and developments, and it was very exciting. I wanted to be the person who designed them, so that is why I picked this course.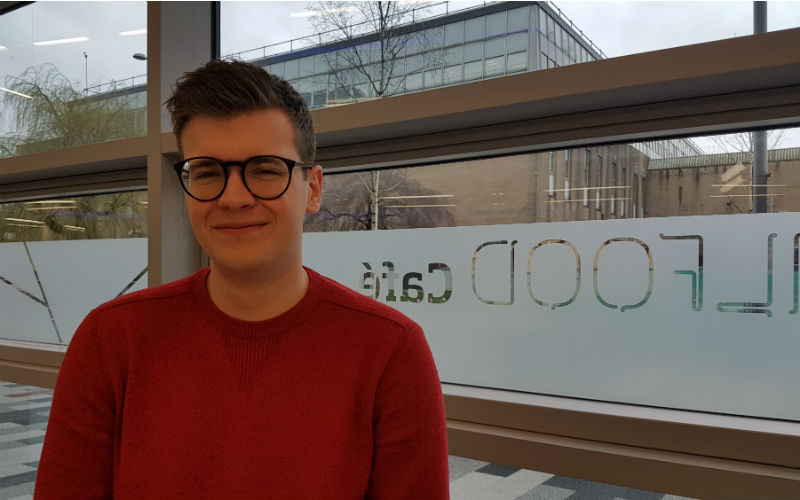 What do you enjoy most about the course?
I am mostly keen on the design aspects, especially the early stages when we get a brief to design a house, or a building, or a bridge. We have a blank piece of paper and have to start doodling, designing and adding to it until it becomes a finished product.
What are you working on in your final year?
For the final year, I've got a short dissertation, which is about 7,000 words, then I have three design projects. For example, one of the projects is a bridge to go over the River Irwell and has an art gallery on it.
Also, the University has established a partnership with Malaysia, so one of the projects was to design buildings in Malaysia. Many exchange students from Malaysia came over, so about half of the class are Malaysian students who are pretty cool.
How does the University help you find work experience?
At the end of the year, there is a big show at our campus at MediaCityUK where local architects from Manchester firms are invited to meet with students and view their work.
Each student gets the opportunity to showcase what they have done through the year. For instance, a part of my course is to produce large A1 posters to give a brief idea about the projects we have done. Some people choose to make physical models. It is an excellent opportunity to establish relationships with industry.
Do you take part in any extra-curricular activities?
I've been part of the Shock Radio student radio station at the University of Salford for three years.
I got involved because I like listening to the radio, in the car or when at home studying. Then when I came to university, just by chance in my first year everybody I lived with was studying radio and TV based courses, and they went on to be the Head, the Secretary and one of the lead managers of Shock. When I started, I was just a guest on some of the shows and helped out, but now I have my own show. It's an interview-based show, so I interview bands and DJs.
How much interaction do you have with students on your course?
It is quite interesting because half of the people are from Malaysia, exchange students, and there are people mainly from Greater Manchester and a lot of different age ranges.
Some of the people on the course are already in the construction industry, and they are studying part time. We spend loads of time in the design room, working on projects and discussing ideas – everyone is helpful. For example, I couldn't have done one of my last projects without the help of another student.
Why would you recommend the University of Salford to others?
Come to Salford, I've had the best few years I could imagine. In my first year, I made a bunch of good friends, and we are still hanging around now. The campus has changed and developed, and it is very cool, and the University is getting better and better.