Got a birthday coming up? Got those results you wanted? Bored and just want to get out of the house?
Manchester's got you covered. Ditch the same old birthday meal, forget about the same old plans you repeat year in year out – grab your friends and check out these top 10 attractions for a good time!
Escape Manchester and jump straight in to the Amazon rainforest. Treetop Adventure Golf is a great one for those of you with a competitive streak!
Located on TOP of the Printworks, you're not too far from home and you've got VUE cinema along with a selection of restaurants right under your nose.
If you're willing to go all out – you can book a party with them ranging from £16-£18 per person with loads of added benefits!
It turns out you don't have to be a kid to enjoy a bouncy castle.
If you haven't heard of Inflata Nation, the only way to describe it is quite literally as a warehouse filled with plastic and air – the ideal place for you to bring your inner 8-year-old self back to life.
Whether it's the ball pit or the inflatable slides that take your fancy, this place has the potential to give you and your friends a pretty challenging workout along with heaps of fun!
If you decide to book in for a party – Inflata Nation offer a social space and food for when you're all jumped out, so you can chill out and re-fuel.
Ever heard of someone who doesn't like bowling?
Didn't think so.
If you fancy good food and entertainment all at once – this is the place for you. Better yet – Dog Bowl offers Dog Tags for us students. A Dog Tag will get you half price bowling, 25% off food AND free pool.
Thank you student ID card, thank you.
Manchester often feels convincingly cold enough to be on par with the type of temperatures you'd experience in the Alps. We get the blisteringly cold winds, and the occasional spread of snow – but the closest thing we have to a mountain is Beetham Tower.
So we get the cold, minus the fun.
Luckily, Manchester is home to Chill Factore – the UK's largest indoor snow slope – all year round! Ski, sledge or snowboard- you can show off (or fall over) to your hearts content!
I would definitely spend most of my time on the floor, but hey – practice makes perfect.
When you think about the Trafford Centre, it's pretty easy to narrow your thoughts to the wonderland of Selfridges, the array of pricey shops a student can only dream of shopping in – and the vast range of restaurants that make it almost impossible to pick only one to eat at.
That's all great and everything – but have you considered jumping on the 100 bus and heading there for a day filled with all your favorite childhood activities?
If you're a thrill-seeker and enjoy a bit of healthy competition – you may want to check out Laser Quest and The Rock, BELONG or the arcades at Namco Funscape. Similarly to bouncy castles, these activities are basically scientific evidence that adults never really grow up.
Trampolining comes with a heap of benefits if you do it regularly enough.
Whether you can somersault or belly-flop, you'll be doing something good for your body! Luckily for us Salford students – Jump Ninja is only a 10 minute drive (or 30 minute walk if you're willing) from the main campus.
Jump Ninja has so much on offer for you to get stuck into. From open jumping, interactive climbing walls and a full-on ninja assault course, you can really get your heart pumping with this one!
If you've got 'great team-work skills' or 'excellent at working under pressure' down on your CV, I challenge you to put those statements to the test at Escape Hunt.
Personally, I've never done anything like this – the idea of being 'trapped' in a room isn't quite my idea of fun. That's just me though, if you're braver than I am – head down to Escape Hunt and let me know what you think!
Tempted? Check out their student discount. Good luck!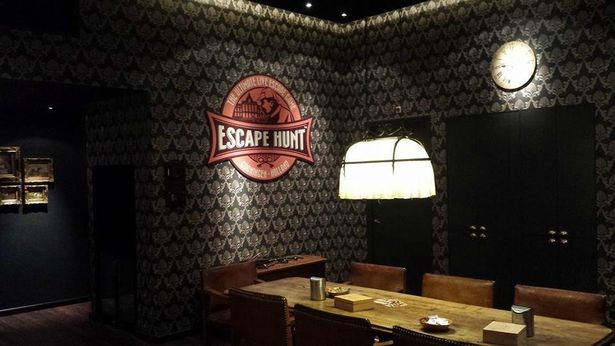 One thing I really, really, really miss about being at home is my car. If like me, you couldn't bring your car to uni and you're missing the feeling of being behind the wheel – look no further!
Luckily you don't need a licence for this place, and you definitely don't need to stick to the speed limit – with plenty on offer this is guaranteed to be a memorable day out!
You can get up to the top speed of 40 mph, and complete a lap in as quick as 45 seconds – so go get your friends together and see who has the most skill out of the pack.
It always amazes me how convincing the actors are at these types of activities – if you want to get some adrenaline pumping, this one's for you.
Once again, this isn't my idea of fun, more my idea of a nightmare. I can barely stand to watch Shaun of The Dead (joke, i'm not quite that bad) but hey, if you want to experience a real life zombie attack for your birthday then be my guest!
Surprise and entertain your friends all at once, who else can say they spent their birthday surviving a zombie apocalypse?
Roxy Ballroom is a venue full of fun, ranging from pool to ping pong – it is quite literally a play area for adults (minus the bouncy castles, lasers and trampolines). Not only that, they serve up some good food so you can make the most of your afternoon/evening out on the town.
If you are saver savvy, they offer an app so you can start bagging some discounts from the get-go!
So there you have it! I'm sure there's plenty more weird and wonderful activities to get you out and celebrating, gone are the days where a Nando's will suffice.
Leave a comment below if you decide to visit any of these venues and let me know what you think!