The great thing about studying at university?
There is SO much support to help you get your foot in the door. 🔑
Take Rhys and Ellie for example. They are two third-year broadcast journalism students who helped cover the 2019 General Election.
Who did they help?
ITV Granada! And they got paid for the privilege.
Along with Rhys, Ellie, and several others working for ITV, students were also working for Sky News and the Lancashire Evening Post on the night. Read on to find out how these opportunities come about, are they really that common? 👀
What was your role within Granada's General Election 2019 coverage?
Rhys: We were briefed at the beginning of the week on what the newsroom was looking for and how we could help them bring together the best coverage possible. The news editors wanted us to go to our assigned counts and capture shots from around the room which could visually depict how stressful it was for a lot of people there. It was also our job to film the results being announced and grabbing an interview with the winning and losing candidates once the count had finished.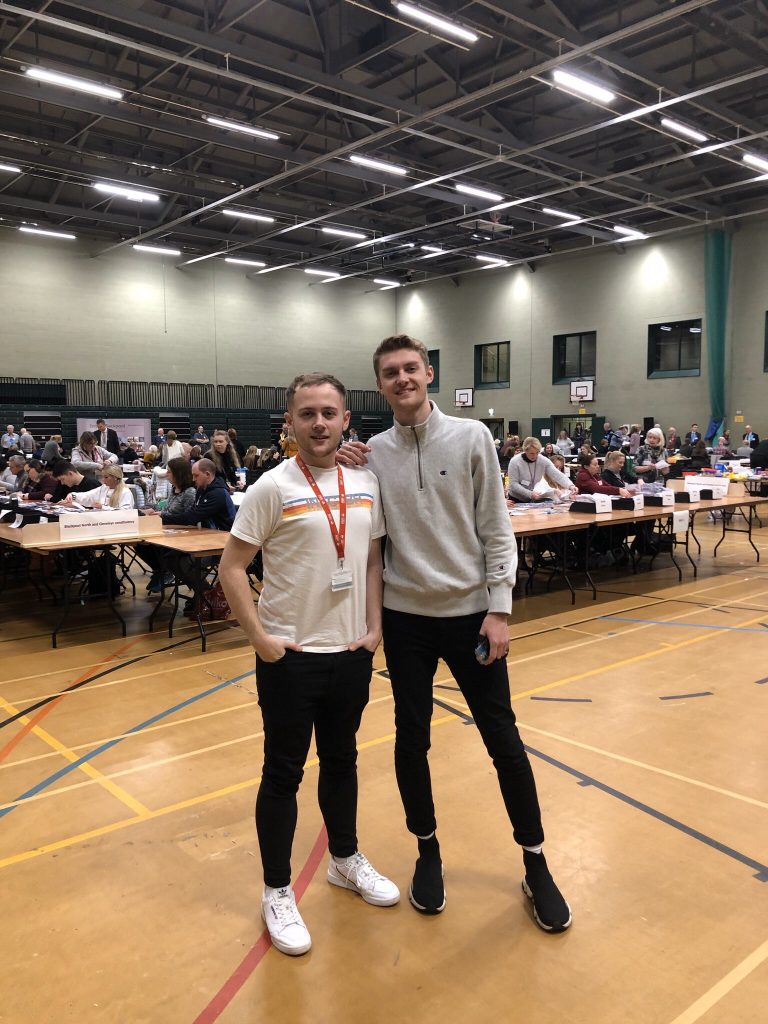 Ellie: I provided coverage for Stockport, Cheadle and Hazel Grove alongside a fellow broadcast journalism student. We had to set up our equipment, report back to an editor at ITV with the statistics from the night – such as the constituency turn-outs and winning vote numbers – as well as the results. We also had the chance to interview the party candidates.
How did you get the opportunity?
Rhys: I was told about the opportunity by Paul Duckworth, one of the University's full-time journalism lecturers. He has close industry links with ITV Granada Reports as he'd previously worked there as a programme and news editor. It's a real privilege to be taught by someone who can introduce you to people in the industry, especially at such an exciting time politically. As well as gaining industry experience, I got £50 for a two-and-a-half hour shift!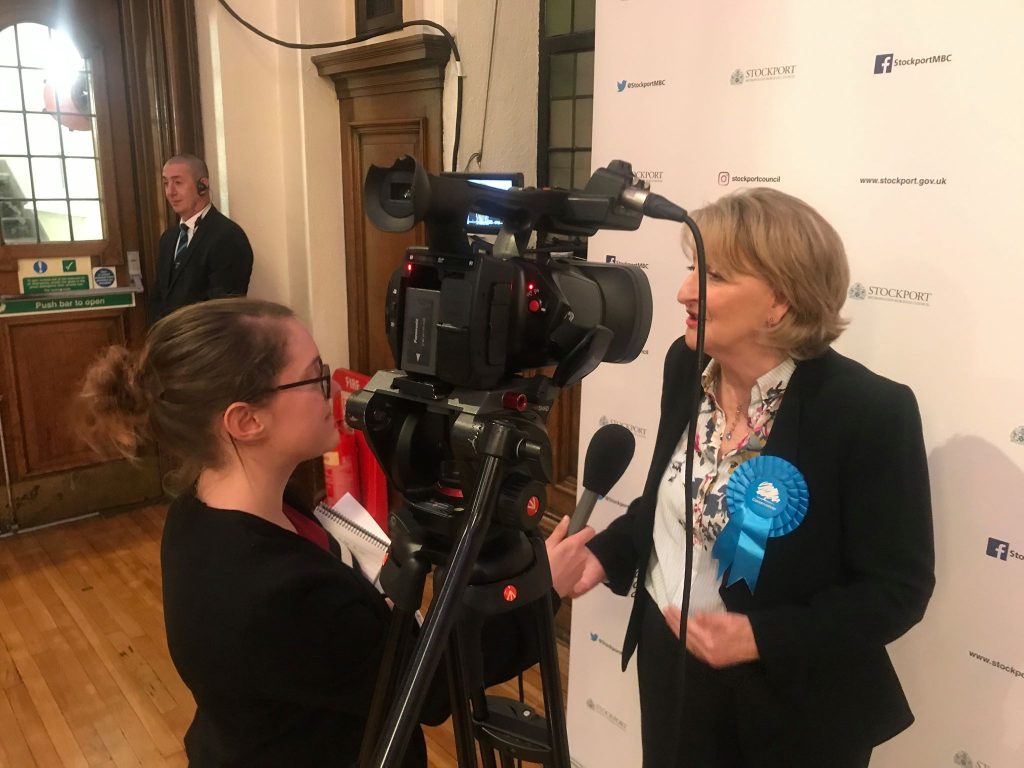 Ellie: A few of our lecturers work for ITV Granada, so we found out about the opportunity through them. They e-mailed all the journalism students to see who was interested in taking part. I remember jumping at the opportunity. When I first put my name down, I thought it was a voluntary role – and I was fine with that. But, after a briefing with the editors at ITV, we found out that we would all be getting paid for our work on the night. That was a nice addition and it felt as though we were being recognised for our work.
What did you learn?
Rhys: The whole evening was a learning curve for me. I don't think I'd anticipated how tense the atmosphere would be and how emotional it can be for people. Although I'd interviewed several MPs before in my career, the interviews had never been in such testing environments which as a journalist you are very in-tune with. I think in those hours I learnt how to respond and adapt to a unique and conflicting environment while having to deliver some of my most professional work to date.
Ellie: General elections are intense! There was a lot of waiting around, which was a good chance to network with journalists. There was also a lot of thinking on our feet, especially when it came to grabbing candidates for interviews. I felt like a 'proper journalist' and it was an amazing experience. There was also a real sense of solidarity, knowing that journalists across the country were also staying up all night to report on the election and we were all watching the action unfold together.
Do you often get the opportunity to work with external industry professionals within your course?
Rhys: On the journalism course, if you want to work with external industry professionals, the opportunities are definitely there. If you're serious about making an impression and wanting to go into the industry, you'll naturally find people noticing your enthusiasm. I've had the chance to work with 5 News in London during the October 2019 Brexit deadline week. From this I used work in my portfolio to bag a placement at the Liverpool Echo where I wrote and published several stories across the week.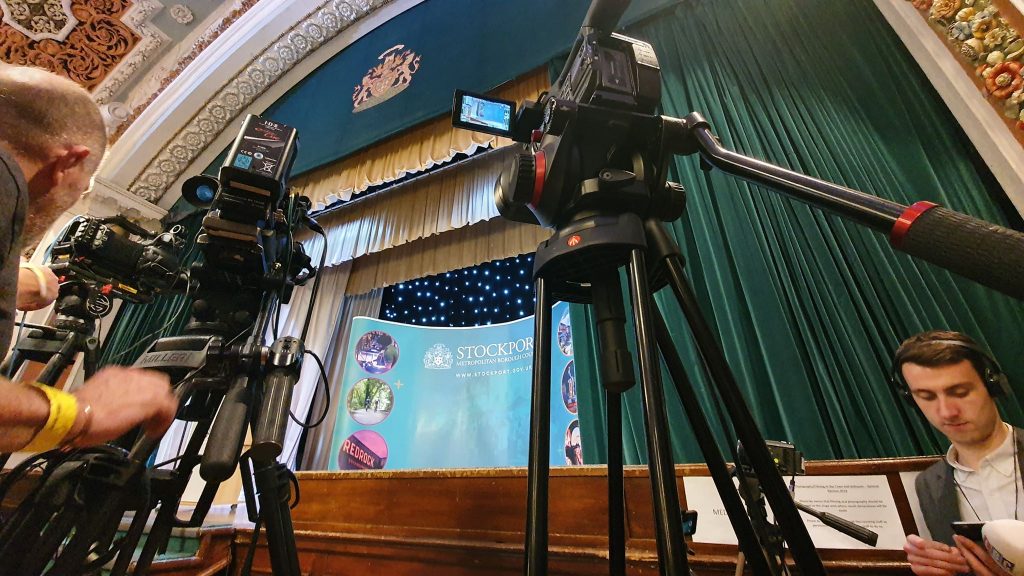 Ellie: We often get the chance to work with industry professionals through the course. Being based in MediaCity, you have broadcasters like the BBC and ITV all around you and there are often industry events going on, which are accessible to us. It's a great opportunity to network.
How do you think experiences like this will benefit your future career?
Rhys: They're already benefitting my future career. It's because of opportunities like ITV Granada Reports that I've become accustomed to how the industry works and am gradually becoming more aware of what they might be looking for. It also gives me the practical and technical experience required to walk into a job interview and stand a decent chance of success.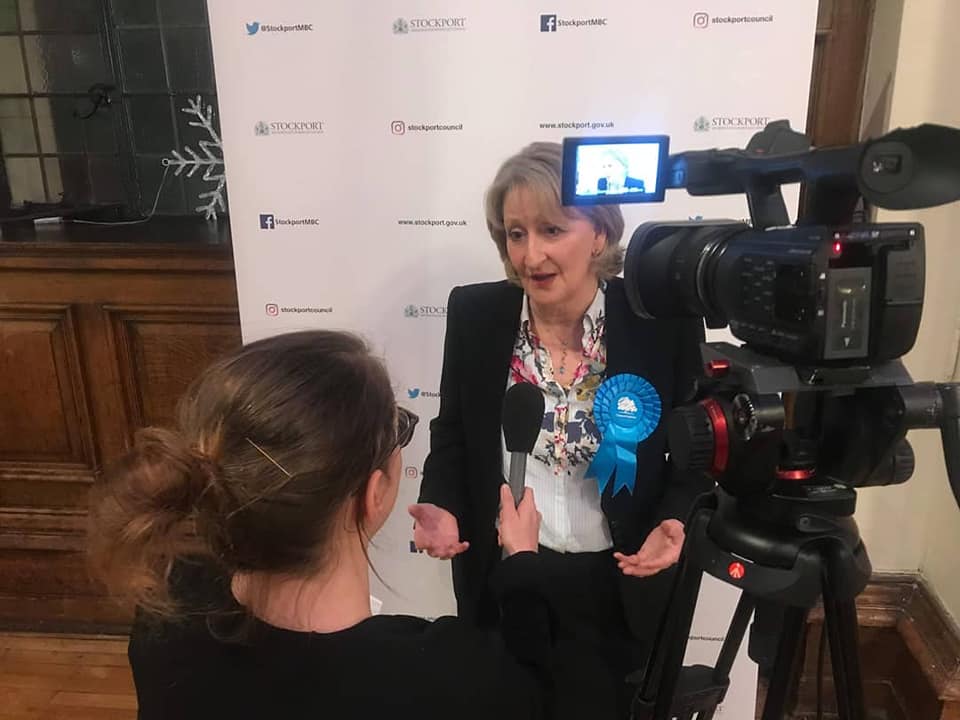 Ellie: By working on the general election, I was exposed to a new way of reporting and was put out of my comfort zone. This has helped me to gain confidence and to further push myself as a journalist, from being more open and confident when approaching sources for a story, to having more self-belief when I pitch story ideas. With a profession like journalism, you can learn a lot being sat in a lecture hall, but the real learning comes from applying what you're taught to the real world. Having these opportunities helps students so much to network and develop themselves professionally and forging these connections now means that we are working and navigating in that real world, outside of the bubble of university. I feel as though our lecturers really encourage us to put ourselves out there and work hard to maintain professional relationships outside of university.
What advice do you have for someone thinking about studying broadcast journalism?
Rhys: I can't recommend the course enough. If you're thinking that broadcast journalism might be for you, then I'd say visit the University first, make sure you get a good feel for it and if you do then go for it! The skills you learn as a broadcast journalist are so transferrable that by the time you graduate, you'll be considering options that won't have crossed your mind ever before.
Ellie: Go for it! Understand that it's a mix of practical and theory work and you need to be prepared to do both – not just one or the other. When you're here, throw yourself into it as much as you can – you have nothing to lose! Also, your lecturers and other university staff are there to support and help you – if you have any issues or questions, don't be afraid to be ask them! They want you to succeed and will do all that they can to support you. After all, there is no such thing as a stupid question!
Salford Now, the student-led news outlet also provided their own multi-platform coverage, read about my experience here.
Think journalism might be the degree for you? 🎓Check out the pathways available below👇