February 4 2021 marks 21 years of World Cancer Day since its creation on February 4 2000 at the World Summit Against Cancer for the New Millenium. Cancer is something that many of us know about however it's not something that is often spoken about, especially within the younger generation. I was able to speak with Seren Hughes and Bethany Applebee from the Manchester based charity, Cancer Awareness for Teens & Twenties (CATTs) who are running monthly workshops for Salford students to help raise awareness around the signs and symptoms of cancer.
In the United Kingdom, 14 young people aged between 15-29 are diagnosed with cancer every day, yet since the coronavirus outbreak began last year cancer referrals have dropped by 75%.
Something that surprised me is that the discovery of cancer can be traced back to Ancient Egypt in around 1600 B.C, that's a long time ago! So, cancer is definitely not something new, but it's still something that affects so many people. Whether you have experiences of it yourself or through someone you know, you may well have come across it. In the modern day however, the cancer survival rate is improving, having almost doubled in the last 40 year.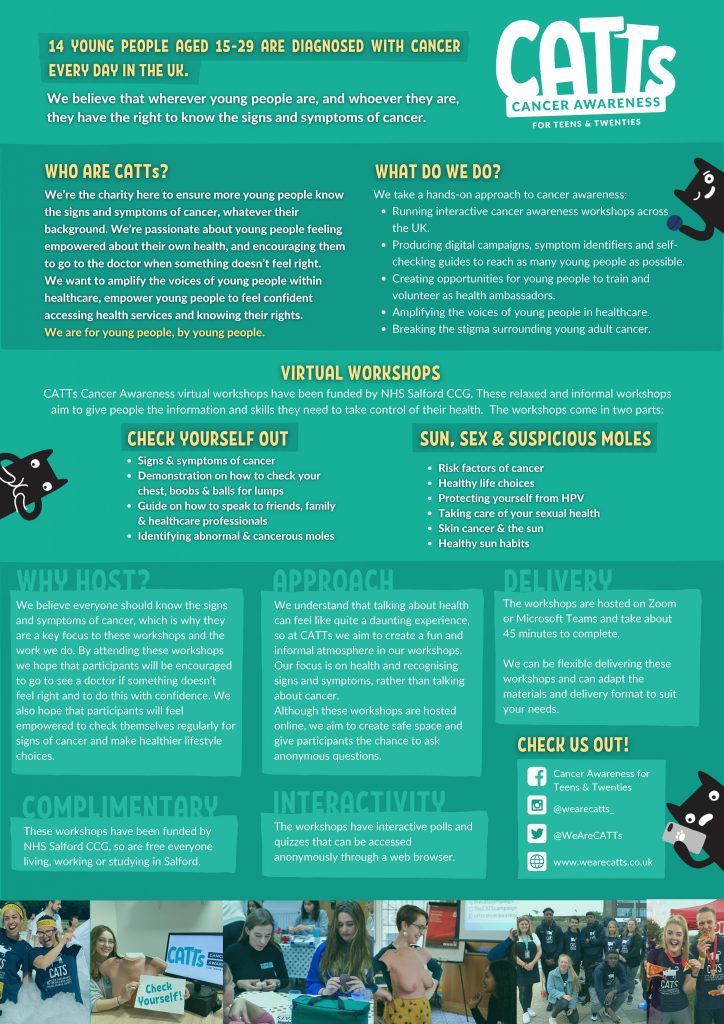 CATTs aim is to raise awareness of the signs and symptoms of cancer but to also encourage young people to feel empowered about their body in addition to feeling comfortable talking to a doctor about their personal health.
CATTs was set up in 2014 by James Adams who was a medical student at the University of Manchester. Through his own experiences of cancer as well as knowing there was a lack of awareness around the signs and symptoms of cancer, James created the CATTs society at the University. The society then grew into a charity with other universities across the country setting up their own societies.
Seren Hughes, who is currently an MSc Public Health student at Salford, set up Salford's own CATTs society whilst studying for her undergraduate degree in 2018 before joining the charity as their Head of Engagement after graduating. Seren explained to me more about what the charity does for young people.
"Whilst our main mission is to raise awareness of the signs and symptoms of cancer, what comes with that is giving young people body empowerment and getting them to feel confident in themselves to be able to check themselves regularly."
Seren added: "We educate on the risk factors that comes with HPV (Human Papillomavirus) which you can get vaccinations for and protect yourself from through having safe sex."
Last March, CATTs began their virtual workshops project where they have been able to continue to raise awareness of the signs and symptoms of cancer.
The charity has often worked with students in Salford and on Wednesday March 3, CATTs are running their 'Check Yourself Out' workshop for Salford students. Bethany, CATTs Community Engagement Lead who runs the workshops told me more:
"The workshops are really fun and informal. It's a safe and open space where everyone is encouraged to speak their mind. There is no such thing as a stupid question!
"We talk about the signs and symptoms of cancer and the main signs to look out for. We also have an open discussion about how people feel about talking to others about their health, their friends, their family, their doctor. I do a demonstration on how to check yourself.
"We look at moles and at skin cancer and how to recognise them. We talk about body empowerment and being able to feel comfortable to look at yourself in the mirror, so that you can check for things like moles."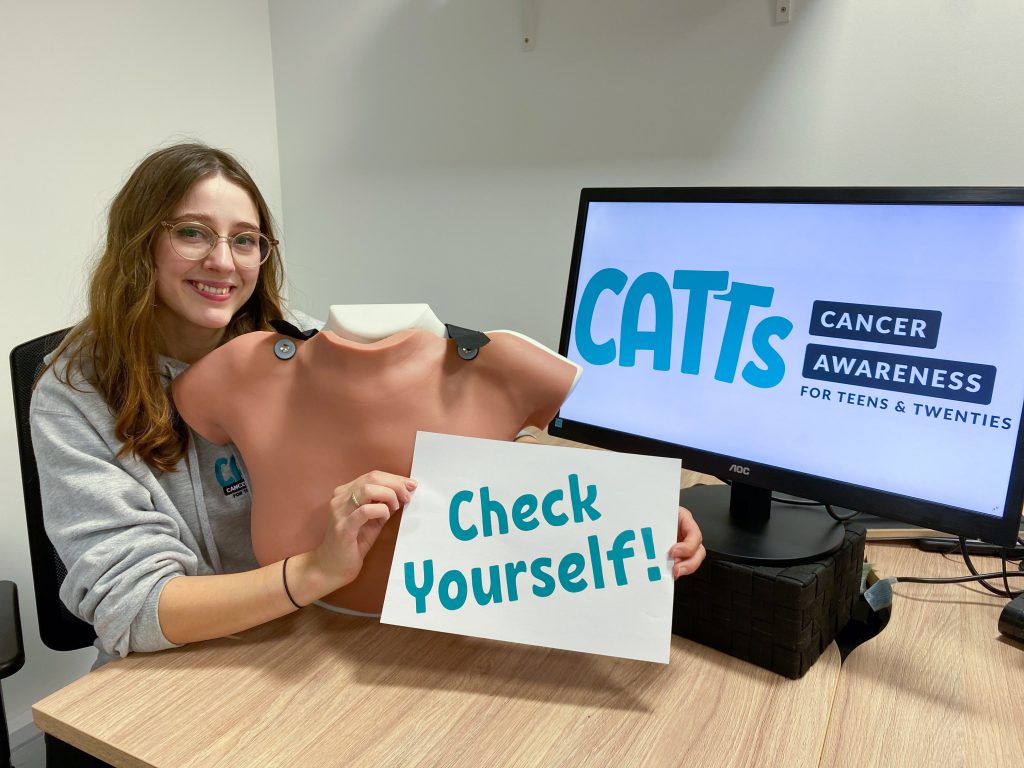 It's normal to feel hesitant or nervous about speaking to a doctor, I know going to the doctors is something that I worry about and it can be even harder to speak to a doctor during Covid times.
With the impact of lockdown, times have been even more difficult for students and you may often have other things to think about. CATTs believe that although coronavirus has dominated the health headlines in recent months, it's just as important for young people to speak to their doctor if they have a problem. Beth told me: "Generally speaking to a doctor has dropped with young people.
"They can find it difficult to speak to the doctor anyway but when we first went into lockdown, there was such strong messaging about how you shouldn't go to the doctor unless it's necessary and important and I think people in general find it hard to think of their health as important, you just sort of put it aside and think it'll get better in a month or two."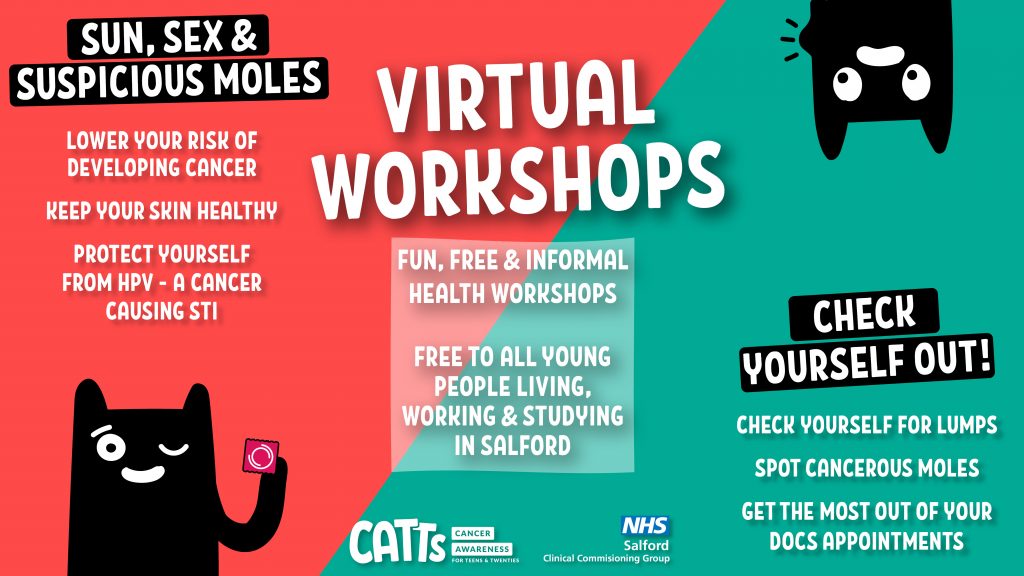 The 'Check Yourself Out' workshop aims to help young people feel confident and comfortable in speaking to a doctor if they ever needed help. Beth added: "We give young people the tools to communicate with a doctor and how to show when something is really impacting your life which is one of our main messages."
The upcoming workshop takes place on Wednesday March 3 between 2-3pm. To register, visit the event page on the Eventbrite website.
Find out more about CATTs at wearecatts.co.uk.