Sanjay, who had some corporate marketing experience before choosing Salford for his postgraduate studies, shares with us how he was able to land a role in digital marketing at Starkey as part of his course here at the University of Salford.
HELLO SANJAY, CAN YOU TELL US A BIT ABOUT YOURSELF?
Hi, my name is Sanjay Shrestha, I am from Nepal, and I love all things marketing. I also enjoy hiking and photography. I have a background in corporate sales and marketing and am currently on a 12 month digital marketing placement as part of my MSc in Digital Marketing.

WHY DID YOU CHOOSE THE UNIVERSITY OF SALFORD?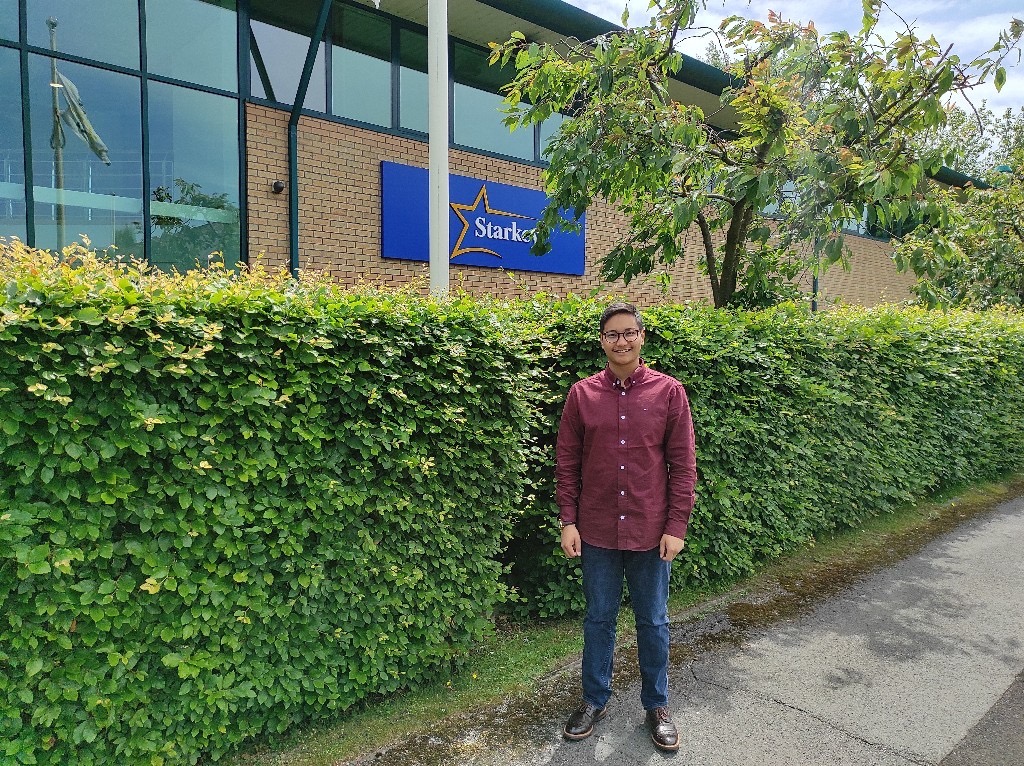 I chose the University of Salford for my postgraduate degree in Digital Marketing because the structure of the course offers a modern form of teaching which is up to industry standard. Also, the University of Salford offers a placement year which allows me to practice all the theoretical knowledge I've learned from the course. I know that practical knowledge is the foundation of a good digital marketing career.

DID YOU HAVE ANY PRIOR DIGITAL MARKETING EXPERIENCE?
I worked in corporate marketing for four years, so I had some marketing experience, but I realised that the old traditional way of marketing is fading out. Therefore, if you are trying to reach people now and create a memorable brand, you need to go to where they are spending a lot of time: social media and search engines. Also, regardless of where you are in the world, the skillset is relevant, and you don't have to know media companies to perform digital marketing. As long as you know the main search engines and understand the platform, you can perform well.

HOW DID SALFORD BUSINESS SCHOOL GUIDE YOU TOWARDS YOUR PLACEMENT YEAR?
My department helped organise sessions to help create a resume that is updated and meets the demand of recruiters. I also had help with a good cover letter and optimising my LinkedIn profile for the best results. Also, I learned a lot from my digital marketing course at Salford which helps me in my current role.

WHEN DID YOU START APPLYING FOR PLACEMENT OPPORTUNITIES?
You get the opportunity to start a dissertation or a placement after you have completed your taught modules. So the best time to find a placement opportunity would be when you are on your last module.
CAN YOU SHARE YOUR EXPERIENCE WITH JOB HUNTING FOR THIS PLACEMENT OPPORTUNITY?
Job hunting is a quite personal experience, and it was very challenging for me. I got three offers after multiple interviews. When you start out in digital marketing, finding a company to give you the opportunity to practice what you have learned might be difficult. This doesn't mean that finding a placement opportunity is impossible.
I advise that students without marketing experience should get voluntary experience to help give them some marketing insights. This will help you gain the confidence and exposure needed to work as a marketer. In addition, when job hunting, apply for as many digital marketing roles as possible. Be open-minded and don't be afraid; for me, I didn't have any experience with hearing aids, which is the product I am working with now, but I was open to learning.

SHARE YOUR EXPERIENCE WITH YOUR CURRENT ROLE NOW
Since digital marketing is constantly evolving, it is good to stay abreast with trends. I have learned a lot now from this placement opportunity. Previously, I had some theoretical knowledge, but I can practice things I know and boost my skillset in my current role. So I had to follow those steps. I watch a lot of YouTube videos and practice what I've learned at work. I also repeat successful campaign strategies on a large scale.
DO YOU HAVE ANY OTHER ADVICE FOR STUDENTS?
It is good to take additional courses online to help with certification and boost your prospects in the job market. I advise students to get the Meta Blueprint, Hubspot and other free online training online. Also, run some ads so you can learn how best to optimise them for success.