Tehreem from Pakistan stumbled into a content marketing role after deciding that she didn't want to use her degree in engineering. She came to Salford to further develop her career in digital marketing. Read on to find out what she has to say about her marketing career so far and how her master's course is preparing her to go to the next level.
A change in career direction
Growing up in Pakistan, there is limited exposure and zero career guidance. If you get good grades at school, you are expected to become either an engineer or a doctor – anything else isn't worth mentioning. So, with a sound result card, I decided to study engineering, because, if I set off a circuit board, it won't cost someone their life (in most cases).
Jump one year into my engineering degree and I was miserable, because, as it turned out, I was not meant for a career in wires, PCBs, and circuit boards (that's all I remember of my 4-year degree). I would have dropped out if it wasn't for my parents convincing me to 'go through the tunnel' and finish what I started. And it's a good thing I got my bachelor's degree, even if I didn't pursue it, as it opened different avenues for me in digital marketing. I made a vow to myself that I won't enrol on a master's degree unless I figure out what I'm passionate about.
By nature, I'm a right-brained creative person who is crazy about travelling, enjoys reading fiction, and photographing historic buildings, landscapes, and special moments (my Instagram can tell you better). At that young age, engineering felt restrictive.
Launching a career in marketing
Right after my graduation, I was fortunate enough to stumble upon content writing. I worked for an agency where we crafted blogs, web pages, eBooks, and other types of content for businesses in different industries. It was an amazing opportunity to read up on a bunch of stuff and acquire random (sometimes useless) information, like how to make kombucha, why was ketchup once marketed as a medicine, and whether snails have teeth! But it also taught me valuable skills of identifying and writing for 'people' rather than search engines, which is the mantra for digital marketing.
Over the years, this content writing gig turned into editing, which eventually led me to learn about curating and marketing content through organic channels using SEO and social media. This led me to work at a B2B SaaS company where I got immense exposure to different aspects of B2B digital marketing strategy. From content creation to dissemination and lead generation through different B2B content marketing strategies and email marketing – I learned different facets of B2B SaaS marketing. The company created data solutions, which also helped me realise the importance of data when strategizing, executing, and monitoring digital marketing campaigns.
Without a formal degree in marketing, all my learnings were through HubSpot academy, SemRush, YouTube, and trial and error. I was lucky enough to work at an organization that had the room and patience for experimentation, as marketing mistakes can be costly.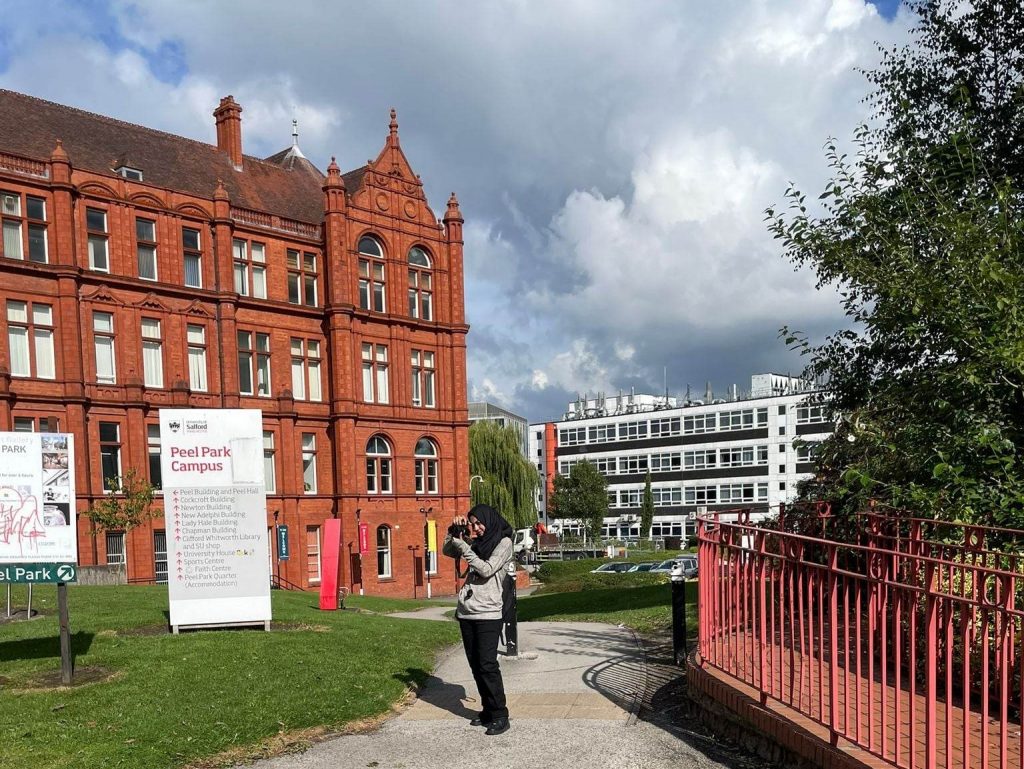 Entering Salford Business School
The next step seemed natural – getting a degree in the field of my interest to further grow in digital marketing. That's when I enrolled in CIM-accredited MSc. Digital Marketing program at the University of Salford.
Three months into my degree and I can see why it's one of the leading universities in the UK. In this short period, I have acquired actionable knowledge, such as:
Conducting an in-depth analysis of a brand to identify its digital marketing channels and their gaps, and further optimizing those channels for maximum visibility
Analysing a brand's competitors to identify its strengths, weaknesses, and opportunities
Creating a digital marketing strategy keeping all this information in focus
Exploring a brand's customer marketing strategies and identifying its pain points and gaps to further optimise it
Establishing a brand's digital footprint through SEO and social media marketing by creating conversion-optimised landing pages and a robust content strategy
Increasing a brand's visibility by optimising it for the desired digital platforms.
That's just the tip of the iceberg.
As Salford Business School students, we get access to a range of professional tools, like Mintel Trends, and paid reports generated by Statista and other renowned websites.
The University of Salford has also helped me polish my soft skills through various masterclasses for communications, leadership, etc., gave me industry exposure by inviting industry leaders, and helped me network with potential employers through career fairs inviting industry leaders for seminars. This gives me an opportunity to expand my network and meet relevant people in my field.
The Journey Continues…
I still have 2 more modules and Industry Collaboration Project left to get a master's degree, but I'm confident that the remaining months will be as fruitful and rewarding as the initial ones. Once I complete my master's degree, I hope to secure the position of a B2B digital marketer with a SaaS company.
It took me around 8 years to figure out my career aspirations and with the help of Salford Business School, I'm on my way to making my dream a reality.