Manchester and Salford are famous for many things: the architecture, the culture, the music, and most famously of all…the University of Salford! Days out in the city can be expensive – especially on a student budget, but they don't have to break the bank. We've put together a guide to help you explore your city for free, whether you've got a spare hour, a morning or a full day.
In an hour
Got some time to kill between lectures? Or want to inject some culture into your lunch hour? There's a number of spots around campus to keep you entertained and inspired.
Salford Museum and Art Gallery
Right next to our glorious Peel building, you'll find Salford Museum and Art Gallery. As it says in the name, it's a museum and gallery devoted to the history of Salford. As well as exploring local artworks, history and artefacts, you can also take a trip back in time to a replica of a Victorian street that's well worth the visit.
Working Class Movement Library (WCML)
Across the road from Salford Museum and Art Gallery is the Working Class Movement Library (WCML). The WCML holds a collection of books, pamphlets, banners and more that tell the story of activism over the last 200 years. Pop down and learn something new about the social and political progress of the working class movement. You can even join a tour every Friday at 14:00 and discover the history of the building.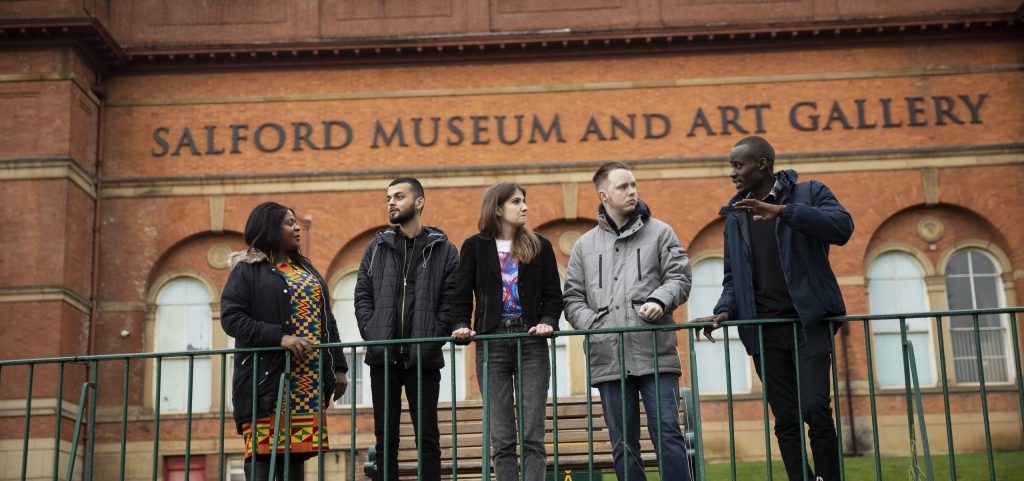 In an afternoon
Peel Park campus is only a 20 minute walk into the centre of Manchester. If you've finished your lectures by 11:00 and want to take a break from your studies, here are some ideas for how to spend the rest of your afternoon.
Chetham's Lunchtime Concerts
Avid music lovers, this one's for you. Just two minutes from Victoria Station in Manchester, Chetham's School of Music hosts free weekday lunchtime concerts where you can unwind and listen to performances from their talented, up and coming students. There's a range of recitals for you to attend such as piano, violin and even opera!
Hop on the Irwell Sculpture Trail or the Salford Trail
We're really lucky to be surrounded by so many green spaces around Salford. If you fancy a screen detox and some fresh air, we suggest checking out:
Irwell Sculpture Trail – Stretching from Bacup to Salford Quays, this impressive trail is 33 miles long and you can find 70 artworks by locally, nationally and internationally renowned artists along the way. But fear not, if the 53km trail isn't for you (totally get it), there are bitesize cluster routes that you can take such as the 'Chapel Street clusture' and the 'Ordsall cluster'.
Salford Trail – Admire our local heritage and countryside with rural walks around Salford – there are ten routes to choose from. There's even a specific walk from Peel Park to Salford Quays, perfect if you're heading out from either our Peel Park or MediaCity campus.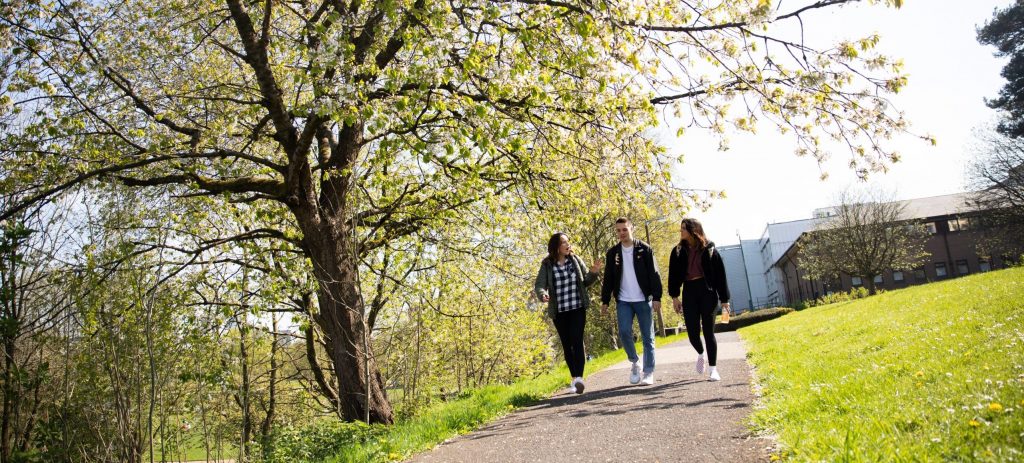 In a day
No plans this weekend? There's only so many times you can re-watch episodes of Friends. Here's some ideas to help you get to know your city better.
Free walking tour in Manchester
Why not familiarise yourself with the wonderful city that's on your doorstep? The Free Manchester Walking Tour has something for everyone and is a great chance to hear all about the city's rich history. You'll stop off at famous spots including the Royal Exchange Theatre, China Town and the John Rylands Library. Once you've finished the three-and-a-half-hour tour, you can go back to your favourite spots and explore them for yourself.
(It's good to keep in mind that, although the tour is free, the company receives no funding or subsidies so, if you love it and can afford to, try to leave a tip.)
Visit Salford Quays
Our MediaCity campus isn't just the home of television and radio networks including BBC and ITV, there's also lots of cultural spots to check out here too. If you're heading over from Peel Park, hop onto the 50 bus for free with your student ID and see the sights that Salford Quays has to offer! There are a number of free things to do in the area such as:
We hope we've sparked some inspiration about where to explore next in Manchester and Salford without having to spend a penny. For more money saving tips and resources, head to our webpage.