The University has won a national award of £50,000 for a project which will help save energy and insulate homes.
Working with Arcada University, Finland, academics from the School of the Built Environment (SoBE) scooped the winning concept in a competition run by BRE, the world-leading building science centre.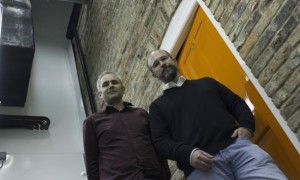 The challenge was to develop a tool for rapid and accurate measurement of the thermal performance of walls in homes.
The competition was held as part of a major project funded by the UK Department of Energy and Climate Change (DECC) – and the concept will now go forward to develop a next stage product.
The Rapid U-Value Meter reduces the time taken measure the thermal performance of an element, such as a solid wall, from a number of days to under two hours.
Seven million homes
Launched in June, the DECC competition aimed to improve the thermal performance of the UK's seven million homes. Insulating these types of homes is one of the greatest challenges for energy efficiency policy, but it also potentially offers some of the most significant energy and carbon savings for occupants.
Policies to deliver this work rely on modelled estimates of savings from solid wall insulation, but a tool that measures the heat transmittance through walls will mean savings that are based on robust, up to date and accurate data.
New trials 
Professor Will Swan, Head of the Applied Buildings and Energy Research Group in SoBE, who worked on the project with Richard Fitton from the School of Computing, Science and Engineering, said: "The effective measurement of our buildings is an essential part of closing the performance gap – the gap between actual and modelled performance."
"Salford are at the centre of trailing new methods, moving building performance from the research field to trying to make it business as usual. The Rapid U-Value Meter is a major step in the right direction."
Leave a comment
---