Prof Ghasem Nasr will be attending the Aerosol & Dispensing Forum conference in Paris on 3rd and 4th February 2016 where he will deliver a presentation focused on: Innovation Ecosystem "The Evolution of Salvalco Eco-Vale". The talk will cover innovation and definition, innovation ecosystem and framework within the aerosol industry, developing innovation strategy and process and the innovative eco-valve.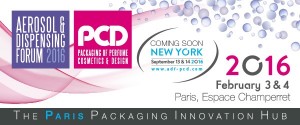 Over 5,800 brand packaging experts from about 70 countries, and more than 300 manufacturers and service providers from the Aerosol Technologies, Dispensing and Beauty Packaging, convene during these two days!
Leaders and influencers engage in informative programs with speakers, developed in collaboration with major brands packaging experts and scientists.
The visit of the forum  is considerably enhanced by well-known Speakers that provide lectures in Technical Advancements, Innovations and Collaborations as well as the leading performers and forward-looking trends.
A strong focus on Innovation and Education open the pathway to the future of packaging and similar manufactures.
Exchanges are prolific; participants take stock of advances and project launches, technical progress, Innovations in the pipeline and trends.
For further information: http://www.aerosol-forum.com/fr/conferences-programme.php
Leave a comment
---