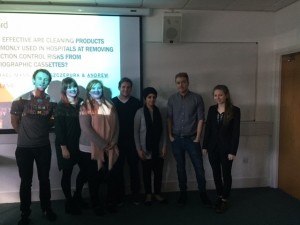 In August 2015 some BSc radiography students from the University of Salford went to Groningen, The Netherlands, to participate in an intensive 3 week residential summer school to conduct team based multinational research into diagnostic imaging. Participating countries included South Africa, UK, Switzerland, Portugal, Norway, UK and The Netherlands. There were almost 60 participants. Five research teams were formed.
All students enjoyed the work and the outcomes were great. Each team produced one experimental science paper, all of which have been accepted for presentation into the European Congress of Radiology (ECR), Vienna, 2016 (https://www.myesr.org).
ECR is one of the largest radiology conferences, attracting around 18000 participants annually. Additionally, in March 2016 together with 5 invited papers, the experimental science papers will be included within an open source book to be published within the University of Salford open access repository. This will sit alongside the open source book arising from the research summer school held in Lisbon, Portugal, in 2015 (http://usir.salford.ac.uk/34439/1/Final%20complete%20version.pdf).
The photo (above) shows some of the students at an OPTIMAX seminar held on Wednesday 20th February 2016 within the University of Salford. In this seminar all 5 research papers were presented to BSc radiography students and their lecturers by the OPTIMAX 2015 student participants.
Leave a comment
---