Exhibition Location: Palazzo Mora, Venice 20 May 2023 – 26 Nov 2023.
Roundtable: Palazzo Michiel, Venice 26 June 2023 16:00 – 18:00 (broadcast online)
Book to attend in person here, or book to attend ONLINE here
Zero-carbon and carbon-negative landscapes and architecture imagined today are the future legacies of the built environment.
This International exhibition and round table discussion brings future strategies and technologies for the decarbonisation of global heritage sites to a public audience for the first time. The exhibition explores the production of future heritage through speculative design proposals. The round table discussion will reflect on innovative design pedagogies and their role in offering alternative approaches to decarbonisation in the built environment.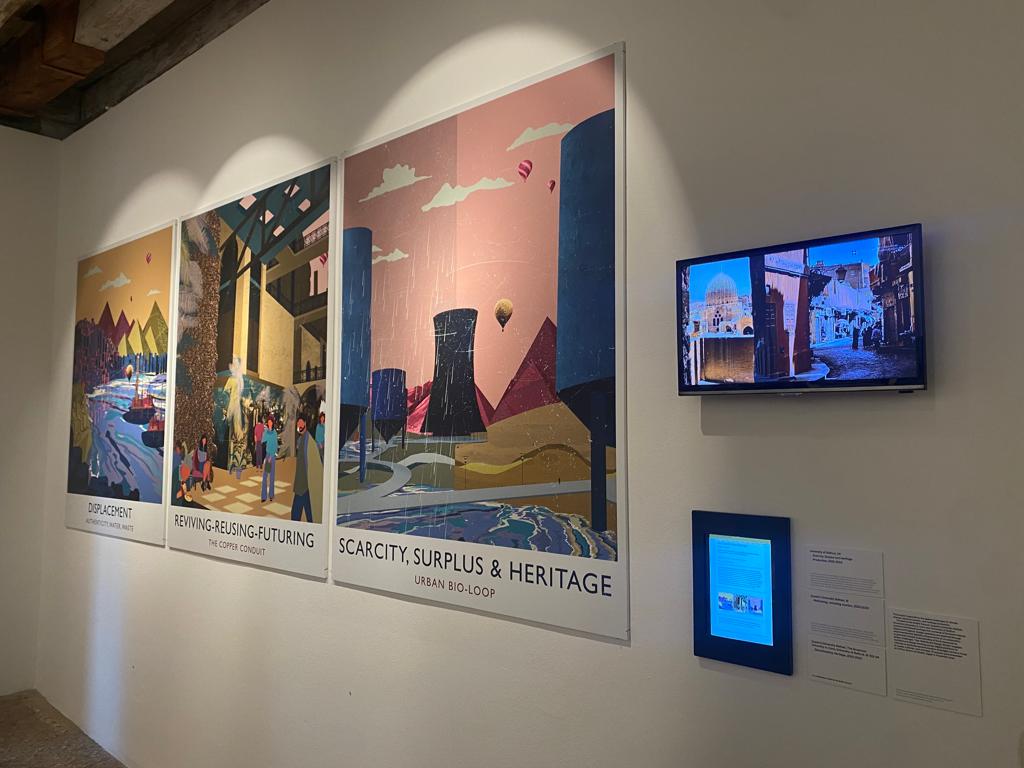 Decarbonising heritage is funded by the British Council (Egypt) Going Global Partnership fund. It has brought together three institutions to examine the heritage-rich contexts of Northern Ireland, Egypt, and England to explore the role of design in the production of future value.
The project explores how to reconcile protected heritage with contemporary development and technologies. This is achieved through a research-led Transnational Heritage Future Studio. The principles of the studio is to operate across distributed platforms and locations, to enable architectural design thinking and re-evaluate decarbonisation strategies across scales, cultures, and climates. Design questions are explored through experimental and digitally infused co-production, together with fieldwork focused on natural and constructed forms of heritage.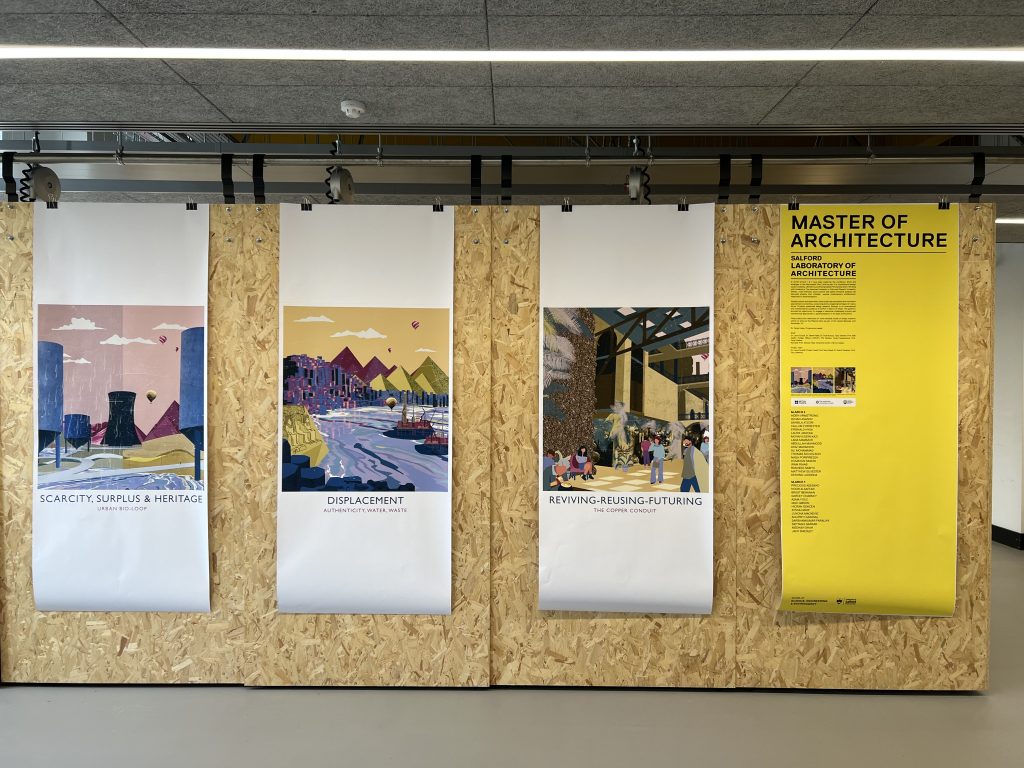 The Home + Away Catalogue of Alternative Living
Queen's University Belfast, Northern Ireland
Prof. Tom Jefferies, Prof. Gary Boyd, Pinar Akdag, Molly Baker, Sharley Pui Zie Chong, Aimee Grant, Dhiraj Reddy Jaddu, Rolandas Laurinavicius, Megan Mackin, Rory McCormack, Suman Miah, Natalia Mokras, Miceal Murphy, Fearghal Rooney, Yuekai Shi, Adela Vagova, Louise Weston, Lois Chan Mei Xing
Popular tourist destinations in Northern Ireland and Egypt are examined in cognate, paired forms, situating propositions on their decarbonisation: This establishes; visible (material, form, space) and invisible (networks, forces, flows) information to determine the carbon usage, water, and energy profiles of these situations.
Reviving-Reusing-Futuring
The American University in Cairo, Egypt
Dr. Sherif Goubran, Dr. Khaled Tarabieh, Amgad AbelAlim, Heba ElKammah, Laila Hany, Lobna Anous, Moustafa Zahran, Nouran El-Khattam, Omar Assem, Saja Shatat, Tamer ElGabaly.
Historic locations continue to afford their dwellers economic, social, and cultural activities that shape living heritage. Design projects examine: How can crafts be the basis of novel creative professions that pave the way to low-carbon futures? And how can tradition and culture inform new communal, sustainable, and resilient modes of heritage dwelling?
Scarcity, Surplus and Heritage Production
University of Salford, England
Dr. Laura Coucill, Dr. Derek Hales, Dr. Fadi Shayya, Aiden Armstrong, Aysha Hanif, Anupriti Nainwal, Asma Fouz, Brigit Behanan, Callum Forrester, Daniela Atzori, Darcey Charnley, Darshan Paraliya, Dzhan Asanov, Eris Hysa, Hicran Gokcen, Jack Smedley, Junona Mackevic, Lana Mahmmud, Laura Janicka, Lydiane Ait Amer Mezaine, Matthew Silvester, Max Gibson, Medahavi Shah, Naga Poripireddy, Noor Alsaffar, Precious Adedeyo, Rasheed Sabitu, Saptarshi Sarkar.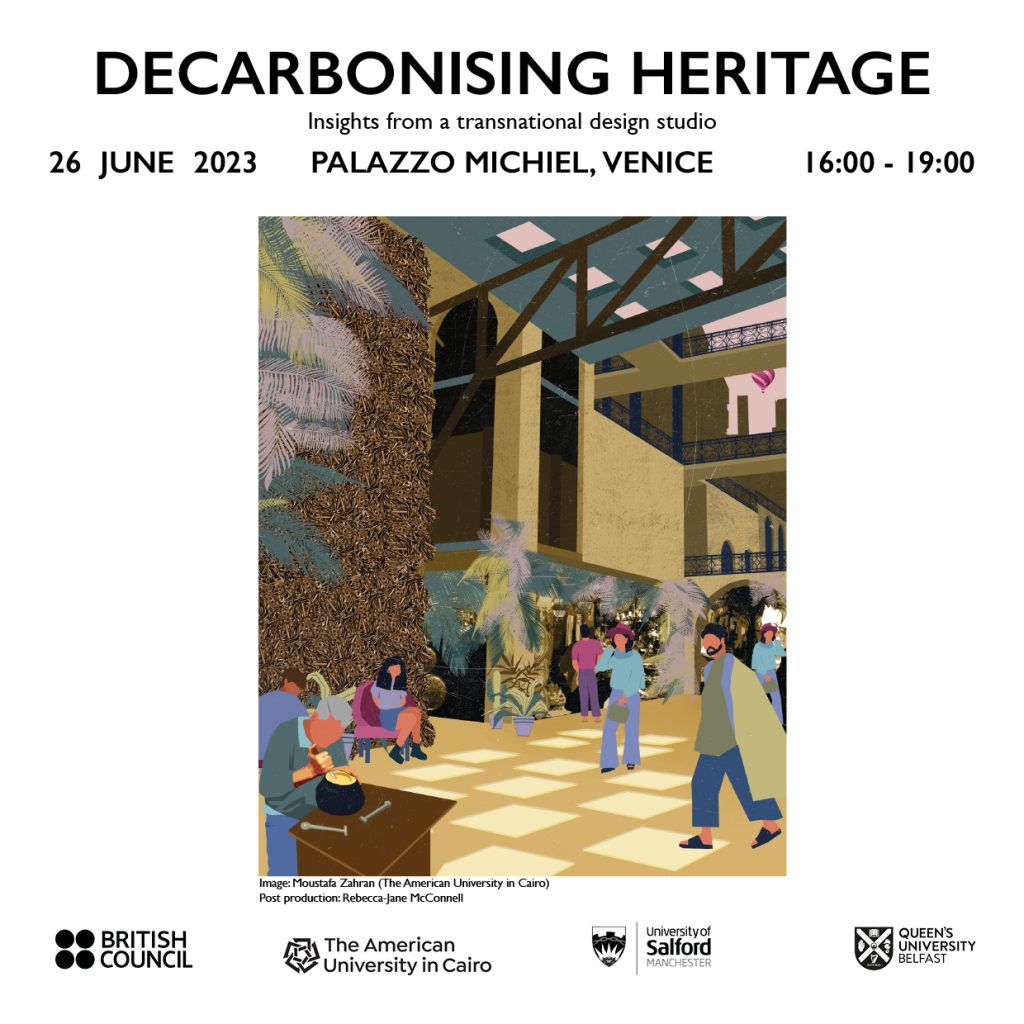 You can follow the project here: Instagram @decarbonisingheritage (project), @slab_arc (Salford Laboratory of Architecture).
Exhibition Location: Palazzo Mora, Venice 20 May 2023 – 26 Nov 2023.
Roundtable: Palazzo Michiel, Venice 26 June 2023 16:00 – 18:00 (broadcast online)
Book to attend in person here, or book to attend ONLINE here