The best business school in the UK continues to impress judges and further highlighted it's excellence when it comes to teaching and administrative support. Three Salford Business School projects were recognised by the Vice Chancellor Awards and announced at the University Day on the 16th July 2015.
Teams of academic and professional services staff from Salford Business School were awarded two Vice Chancellors Distinguished Teaching Awards and a Highly Commended Award.
These awards continue to show Salford Business School's ambition to prepare our students for the real world. What made the school entries stand out?
How can you keep up with the best business school in the UK?
University of Salford's head of the Academic Development unit Janet Lloyd commented that the standard of applications for the awards had been incredibly high. There was a particularly high number of entrants from Salford Business School's colleagues with six entries being short-listed:
The Advanced Wed Design and eCommerce Team
The Level 6 Information Security Module Team
The Residential Trip to Spain
The Postgraduate Taught Block Delivery Team
The Six Week Intervention (SWIPe) Project
Many congratulations to all those short-listed and the winners! We are particularly pleased to see that the hard work of our colleagues at Salford Business School has been recognised with awards – three of the short-listed six are:
The Six Week Intervention (SWIPe) Project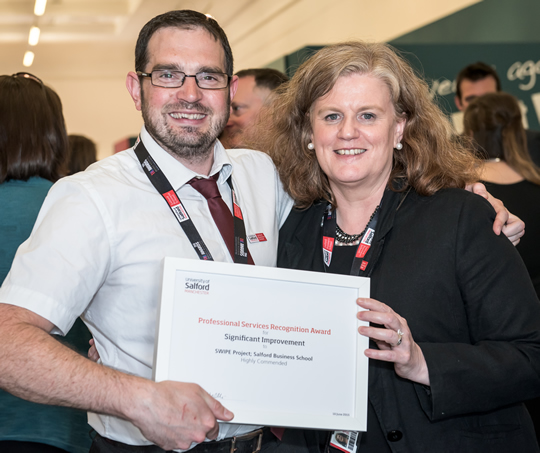 Chris Jones and Jackie Curtis
The Highly Commended Award in Significant Improvement category (for Innovation and Projects) went to Salford Business School SWIPe Project:
Judges said that this project is an example of taking clear action to address and improve student retention – an area that is very important to the University and that we are continually looking to improve in. The Project could demonstrate its success with the following results: Students confirming they felt a 'sense of belonging', non-conversion being reduced to 10%, level 4 retention being increased to 96.5% and a successful School social event which was attended by over 120 students – all demonstrable measures of putting 'Our Students First'.
The two academics teams represented the Salford Business School's Centre for Digital Business. This is a major achievement and recognition to the dedication and innovation of the teaching practises within the centre which is taught across a number of programmes including:
Information Security module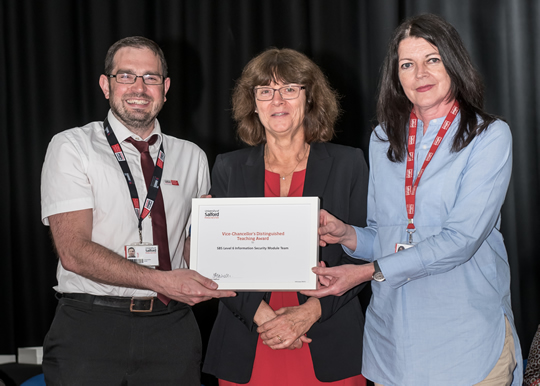 Chris Jones, Professor Helen Marshall and Dr. Marie Griffiths
Dr. Marie Griffiths and Dr. Maria Kutar were recognised for their excellent and innovative teaching on their information security module. They said:
We are passionate about the effective use of technology to support student learning, and this project encourages students to utilise a range of technologies to support their learning during the weekly Inquiry Based Learning activities on the module as well as in their assessed work.  Our approach provides learning support which is designed to enhance students' information and digital literacies and creativity, which are key skills for both employability and to enable lifelong learning once students have graduated.
Advanced Web Design and eCommerce module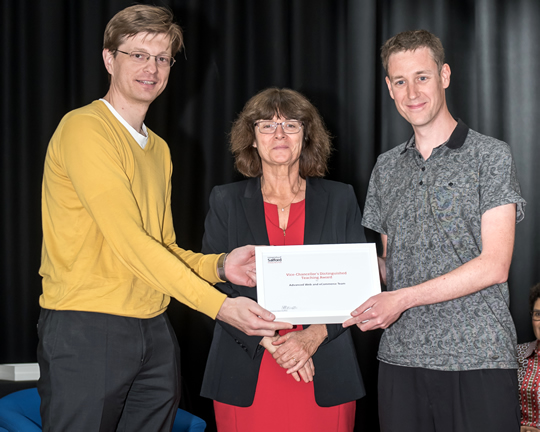 Dr. Aleksej Heinze, Professor Helen Marshall and Alex Fenton
Dr. Aleksej Heinze and Alex Fenton were module leaders for the eCommerce and Advanced Web Design modules. They created an industry focussed programme of guest speakers, field trips and integrated a live competition and event at MediaCityUK. They were also supported by digital industry experts Alex Moss and Ben Barker of Firecask and Krishna Stott of Bellyfeel. Some comments from the students on these modules were as follows:
"I really loved it, especially the Tech Angels event. The team did a great of organising everything so hats off, I think you should definitely do it again next year for sure.

"The industry speakers also give us the chance to network with people other than our peers/supervisors, the Creative Entrepreneur event is a perfect example of this."

"AWD and Ecommerce were both very interesting modules which were always fun. I loved the amount of opportunities which these modules opened up for both as a young entrepreneur and as a I.T Consultant. We were constantly given feedback which aids us for our future and both the modules were built around creating our futures."

"The engagement of the module tutors with the students was more on a one-to-one basis at times which was very useful"

"We were constantly given feedback which aids us for our future and both the modules were built around creating our futures."
The Creative Entrepreneur event was a day-long conference designed for our students to interact with local companies through masterclasses, competitions and installations. It will run again on 25 November 2015 at MediaCityUK again this year and registration is open to everyone for free.
Comments Off

on Best business school in the UK recognised for teaching and professional excellence
---