Salford Business School have been working with WA:UK Tech Angels for a number of years. Tech Angels are a member of the Web Applications group based here in the North-West of England in Oldham. They are early stage angel investors. This means that  they are focus their investment on new and innovative digital ideas rather than already established companies and products,
Tech Angels, in collaboration with Salford Business School, launched an enterprise competition  in October 2014 with cash prizes for students and the offer of potentially providing further business support, mentoring and premises for the most promising ideas. The competition will culminate in a Dragons Den-style event at Salford Business School's Creative Entrepreneur event on the 03 December.
Students from two programmes – the BSc (Hons) Business Information Technology and BSc (Hons) Business and Economics – who re taking the eCommerce and Advanced Web Design modules have been working on the Tech Angels competition as part of their group project. We have gathered up summaries of these exciting and innovative digital ideas so far and which will be a central feature of the Innovation Bazaar also being held on the 03 December at MediaCityUK.
What is an Innovation Bazaar?
Innovation cannot happen by keeping ideas to yourself far away from feedback from others. So, for those ideas that are still at the early development stage Salford Business School in collaboration with Creative Industries Networking Groups have pioneered a forum for bridging the gap from ideas to a more formal business pitch – the Innovation Bazaar. This forum offers a chance for early ideas development by enabling informal discussions with a supportive but critical audience. The Innovation Bazaar does not require a pitch or a fully formed plan – just an idea that can be expressed, in some way, on a single PowerPoint slide.
How do I enter? All we need is one PowerPoint slide outlining your idea. Send the slide to g.fletcher@salford.ac.uk by the 20th Nov.
Who is going to judge? Everyone. You will be able to vote for the best ideas through Twitter plus we have some expert judges who will provide some feedback.
What if it is a REALLY good idea? Even good ideas struggle to get a break. All the ideas submitted will be presented under a Creative Commons license with attribution required.
What do I win? Publicity for your idea and a chance to make it become a reality with support from Salford Business School academics. 
Some of the ideas that might be presented at the Innovation Bazaar on the 3rd December:

Teach4u – Connecting teachers
We will help nursery school teachers to stay connected with each other – even complete technophobes.
The Vision: Teach4u will provide a user-friendly app that includes ways to plan lessons and to manage external trips as well as key dates throughout the year. The app will bring nursery school teachers closer together, and if a teacher has to cover for another, they can be fully aware of what tasks need to completed as well as what level each individual child is learning at – all at their fingertips on a mobile device.
A brief preview of the platform will be available here www.teach4u.co.uk​. Team Members: Hakeem Akparibo, Dean Jay Rigby, Imran Ahmed, Muhammed Zaulifqar
Finders Keepers
The Vision: The Finders Keepers team will create an app that reunites lost pets with their owners. Owners register their pet through the app and buy a metal pet tag printed with a QR code. If a pet is found the app's finder function will reunite the pet with its owner.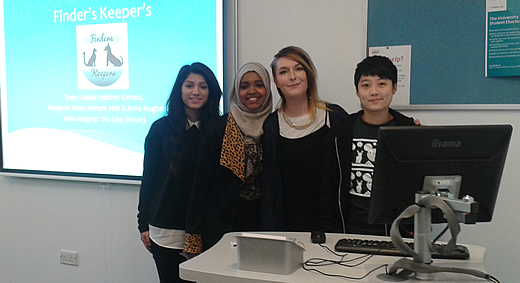 Team members: Aisha Mughal, Arkham Abdi, Heather Gerrard, Shu Ling
Modern Individual Creations
The Vision: Modern Individual Creations have the vision of creating an app that gives home bakers a platform to advertise their goods and for customers to quickly locate home bakers in their local area. Integrating with existing social media, the app will help bakers interact with potential customers and other bakers as well as showcasing their best work.
Modern Individual Creations have been documenting their journey and the development of the app through www.modernindividualcreations.wordpress.com
Team Members names: Shazamin Patel, Chevonne Smith and Rabia Butt.
MyTutor
24/7 Tutoring on the go.
The Vision: This service aims to change the face of GCSE (General Certificate of Secondary Education) education. Our mission is to create a mobile application that offers GCSE students with tutoring on the go. Students will be able to access learning assistance wherever they are and whenever they want. MyTutor – learning on the go… Coming to your Smartphone soon!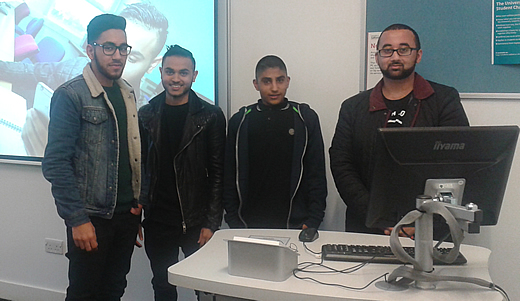 Team members: Arfan Javid, Saleem Sadiq, Asim Khan, Usman Akhtar
SnapChallenge
The Vision: We are creating an exciting app, called Snapchallenge, that lets you share images with your friends in a private and challenging environment. The app allows you to create photo challenges that are sent through the app to other users who are then challenged to copy the action or activity in the photo you have sent them. For example "Me at the Eiffel Tower". Brand challenges can be setup and sponsored by businesses who offer prizes for the fastest or best photos in the campaign.
Here is a brief preview of the snapchallenge.co.uk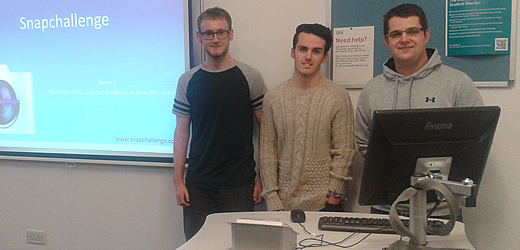 Team Members: Connor Bradbury, Matthew Wells, Nikolay Poyukov
A Step Ahead: SMRTREG
The Vision: We will provide Higher Education Institutions (HEIs) with a system that improves the communications between lecturers and students through the tracking of student attendance. The student will be encouraged and inspired to attend and the lecturer can track the progress of individual students through a personalised learning environment. This monitoring and interaction will improve learning and overall attainment for students.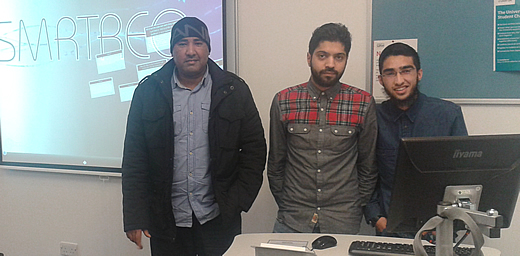 Team Members : Jamiuh and Sami, Huzayfah Bukhat, Noormohamed Ibrahim,
TruLuv
The Vision: TruLuv have the vision of creating a dating service built around first dates at participating restaurants. The hosting restaurant provides a discounted meal for couple who are a match and are eating together for the first time. The matching and arrangements for the date is realised through an app where the couple can see each others hobbies and interests and can refer to them during the date. Find Your Match Across a Candlelit Table.
The Mission: To create a safe environment for matched couples to arrange dates at restaurants that match their tastes and interests.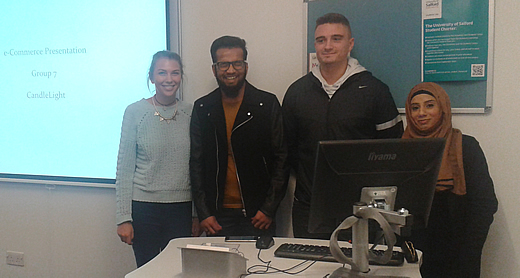 The team members of TruLuv are: Emma Bentham, Dominic Whiteside, Arifa Patel, Mohsin Kadva
SWIFT Parking
Mission Statement: "Pioneering an easy user-friendly alternative to queuing for parking."
The Vision: SWIFT Parking will offer a unique and revolutionary mode of parking. SWIFT Parking will be first-choice alternative to conventional parking queues. The service will offer customers stress free car parking through pre-booked spaces where they need to be. Prototype will be available at www.swiftparking.co.uk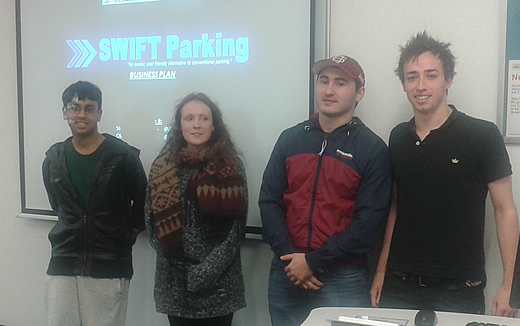 Team Members: Stephen Chorlton, Olivia Stansfield, Charles Shumba, Akhmed Isaev, Ricki Patel
S-Walk (Your Personal Navigation System) (Smart-Walk)
The Vision: S-Walk is an app created for students new to University. The app will let you navigate around campus and guide you to individual floors and teaching rooms. In Phase 1, we will be prototype the app using one building at the University of Salford. This service will offer new and prospective students a glimpse into the facilities available, helping open day interaction as well as replacing physical visits with virtual campus tours.
Find out more about S-Walk here: http://www.smart-walk.co.uk/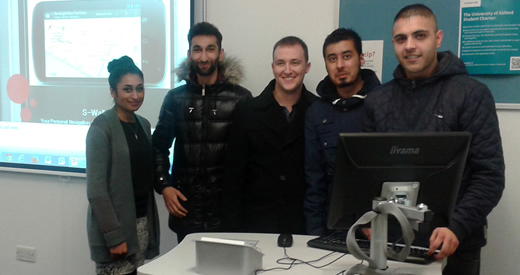 e-Farm – organic food direct to you
The Vison: e-Farm will create a shopping website that connects organic food farmers with individual shoppers. The site will be an easier and faster way for customers to shop organically online with ordered produce delivered directly to the door. Detailed information about the produce, farm and the farmer will let consumers know exactly about the origins of their food.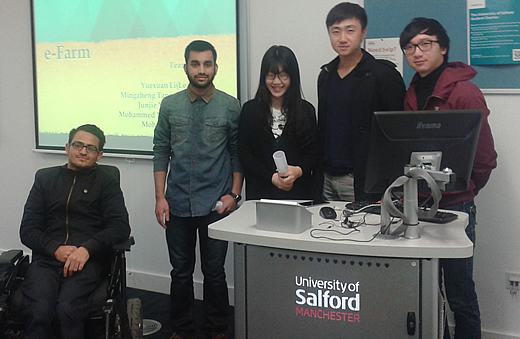 Team member: Yuexuan Li, Junjie Yang, Mingzheng Tang, Mohammed Patel, Mohammed Naeem Patel.
Would you like to learn more about these and other ideas?
Hear about the these business ideas and how they developed at the 3rd December Creative Entrepreneur event. All of these ideas will be part of the Innovation Bazaar.
It is early days yet and all the teams are still working on refining and "pivoting" their ideas. They would love to hear from you and how you think these ideas could be improved. If you are an angel investor or someone who is keen to join one of our teams to take their ideas to the next stage please do get in touch!
Comments Off

on Enterprise competition: entries for #CreativeEnt Innovation Bazaar
---