Whether it is your internship, placement or a real job interview – questions to ask at an interview are similar. Practising these questions and acting upon them during your time of study is going to be of great help for your future career.
Internships, work placements and live projects all provides the opportunity to experience the application of theories in the real world as well as enhance your knowledge about specific subject areas learnt during your degree program. It makes you more employable by boosting your CV and empowers you with essential hard and soft skills to set you apart from competitors in the job market.
My name is Adeyemi Adelekan and I am currently studying for my MBA at Salford Business School. The Business School offers live projects at all study levels from undergraduate projects to MBA level strategic consultancy. Here are the three lessons I learned from my MBA project which can help you to prepare for an internship or a real job interview.
If you are looking to take up any of these opportunities as a requirement to complete your program by submitting a report to the organization and the business school, it is important you get it right from the start simply by asking employers the right questions when meeting for the project briefing.
Remember: an interview is a two way process and both parties are using the interview to establish whether the job at hand is right for the person being interviewed. You and the interviewer can and are able to say "no" if either of you feel that the task is not right for you!
I was privileged to work on a live project for the NHS England with a team of three project management students of the university (picture below) in partial fulfilment of the requirements for the award of my Salford MBA degree.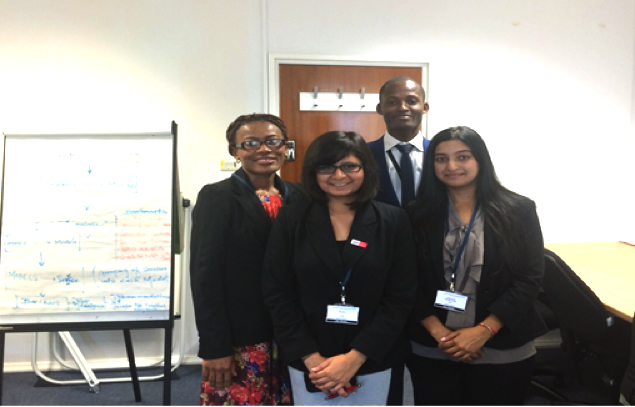 My team at our NHS England, Lancashire Area Team's office.
The questions asked, with the responses received during the initial project briefing, was key to the successful completion of the project in several ways.
Asking appropriate questions will assist you in deciding:
If a project aligns with your personal goals
Identifying potential risks to achieving the required results
Plan effective mitigation strategies
And plan the right approach to achieve the required outcomes.
The following three questions are must-haves in your questions toolkit to set you on the right path to achieving the desired project success:
1) What is the main reason for this project and why is it essential at this time?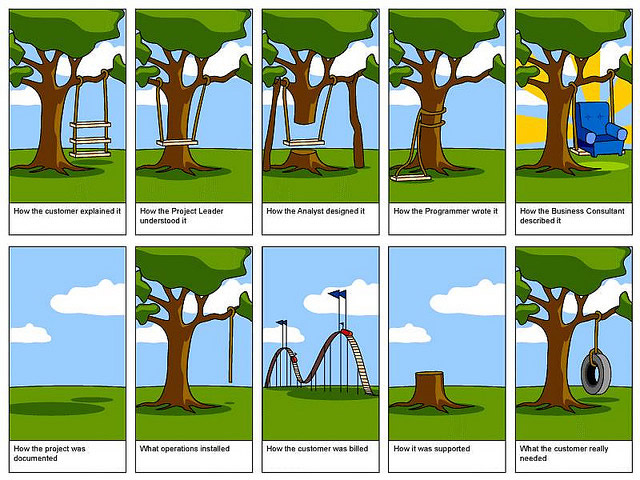 How new solutions are born by artist unknown. Image (CC) by Duncan Hull
This question aims to unlock the events that necessitate the need for the task or role you are applying for. It can directly feed into the background and problem definition section of your report proposal or final report introduction to both the organization and the school. It also helps you to understand how the job or role you are applying for fits into the wider context of an organisation.
Organisations don't just approve a project or a role without a need. Extracting such information from the employers, right from the initial project briefing, helps to set the ball rolling. Be curious and ask for some background information on the project and its timing.
The reply will give you:
Information about the organization and their future goals
The problem and its impact
The project's relevance and expected outcomes as well as
Why students have been chosen to carry out the piece of work etc.
These are some of the key messages likely to be conveyed as answers to this question. This reply can help you decide if the project can meet your personal needs or goals as well as facilitate the planning of effective navigation strategies from the problems to the expected solutions.
2) What are the available support mechanisms?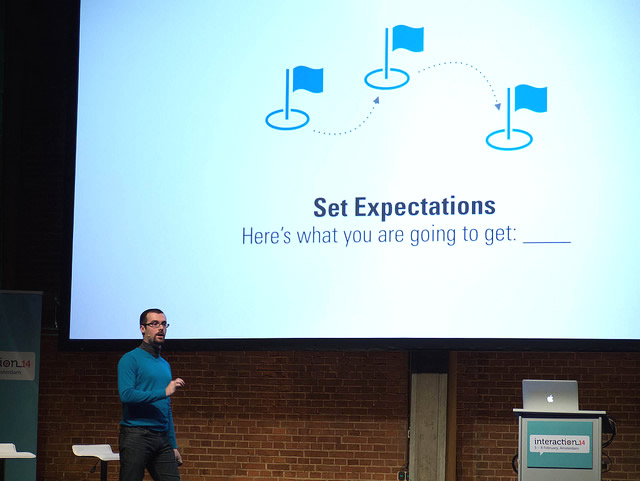 Set expectations of what you are going to get (CC) by  IxDA Global
As a student working on a project in a new environment, you need appropriate guidance from start to finish. Aside from your academic supervisor, it is important to have a designated internal supervisor (s) i.e. staff in the organization, to support you through challenging project phases.
This question also helps you to hear from the employers what the organizational culture is like and also how much access to relevant information or services you will have as appropriate to the project. Processes put in place to support you might also be mentioned as well as the systems and tools available to you throughout the project period and beyond.
From a report writing perspective, this question will help you to appropriately plan how to approach the project early on and to prepare a proposal by using the knowledge of the available support mechanisms and to assist with the project's methodology.
Information such as the organization's past research in areas similar to what the current project entails might be mentioned as well as access to them. This can be a great literature sources and can shed light on the expectations and style of the organization in presenting reports.
3) What are the foreseen project challenges?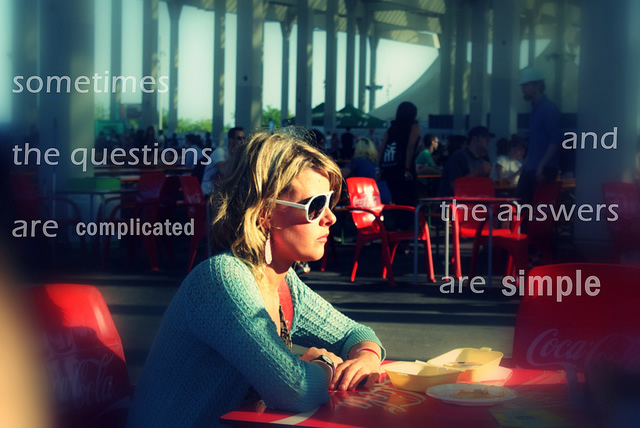 Questions and Answers (CC) by  Riccardo Bandiera
Every project has a number of challenges whether it is in people, time, financial resources or a project's complex nature and experienced staff can help you by highlighting such potential barriers that you might encounter in the course of the project.
Some employers might not see a need to mention this part to students at the initial project briefings. But, it is very important that you ask this question so that you can put plans in place for effective mitigation and management of the anticipated risks if needed.
Hearing industry experts talk about potential project barriers which you are likely to face during the course of the project is essential. This knowledge will not only help you to prepare for such challenges but it also helps you to learn how to prevent some of the risks from slowing down the progress of your project.
For example, when we asked these questions at our interview one of the early limitations my team and I were informed about during our internship was the level of complexity. We were recommended to "get a bottle of whiskey because we were going to need it" (although jokingly stated).
We later experienced the actual meaning of the statement after spending the first month trying to understand and navigate details as well as the terminologies of the project – a project that was scheduled to be completed in three months! Although, the client's information helped us to prepare mentally to deal with all uncertainties we encountered during the project. This contributed immensely to the overall project's success (without a need for whiskey of course!).
This makes the third question very important to help you to identify, early-on in the project, what might pose a threat to your strategy for achieving the desired project success.
"Failing to plan is planning to fail"
The above quote is often used in project management and is attributed to some of the inspirational leaders such as Benjamin Franklin and later Sir Winston Churchill: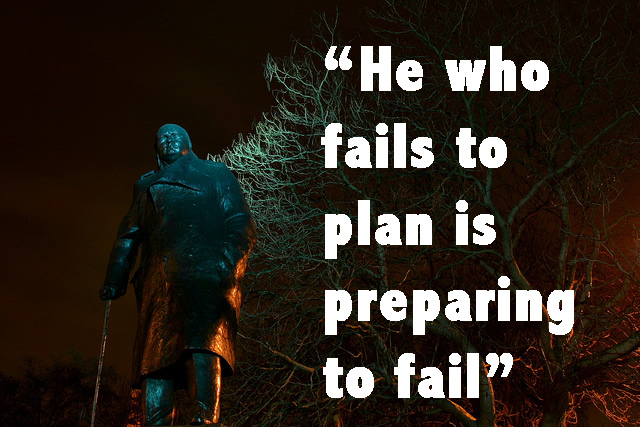 He who fails to plan is preparing to fail (CC) by  Malcolm Browne
This applies to large projects lead by these individuals as well as YOU – your internship or placement can derail very quickly if you don't plan well.
Whether you want your internship or placement to progress into full time employment in the organization or you just want to achieve good grades as the project outcome, engaging in the right project and with the right approach from the initial stage matters a great deal.
Questions to ask at an interview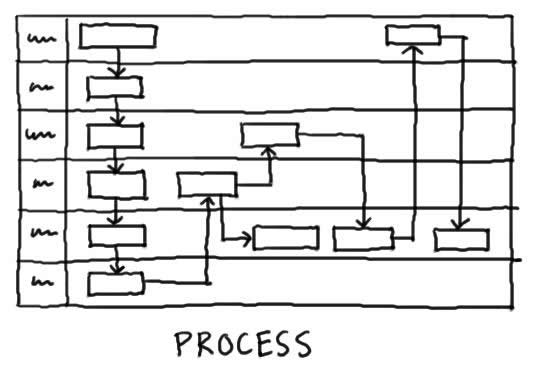 Process (CC) by Dave Gray
The above three questions, added to your interview questions toolkit, will enable you to develop a robust plan to achieve outstanding results for the organization thereby increasing your chances of being employed.
Also, the above three questions, if incorporated appropriately into your report back to business school, will demonstrate your
Good grasp of the organization's problem,
Show that you were methodical in approach and
Good knowledge in managing project risks
which are all pluses from an academic point of view and can help you to land the grade you desire.
We all know the importance of asking questions in any context. What will be your most important question to ask an employer or client during a project briefing session? Please do share your responses in the comments section below or your preferred social network.
2 Comments
---