This post introduces you to the first step in the 3 step approach on how to rank on Google and become the number 1 in your field. We will go through posts 2 and 3 in future blog posts so stay tuned.
By now it seems like everyone with a laptop has started a Search Engine Optimisation (SEO) agency and most of them are capable of generating decent revenue. If you want to jump on this SEO train, and don't have the time to join our MSc in Digital Marketing or the Search and Social Media Marketing evening course, this post is a must read!
Knowing all about how to rank on Google from the best in the SEO field can be a real money-maker later on in your career. So, pull out your notebook and let's learn.
If you want to have a positive outcome, every action requires an action plan. When we proceed with writing a dissertation we rarely, if at all, start with the conclusion. As you might have guessed there is also a process in place when we want to rank on Google:
At first we start with keyword research;
When that's done, it's time to focus on on-page SEO;
Last but not least we move on to link building.
Then we measure the results and repeat.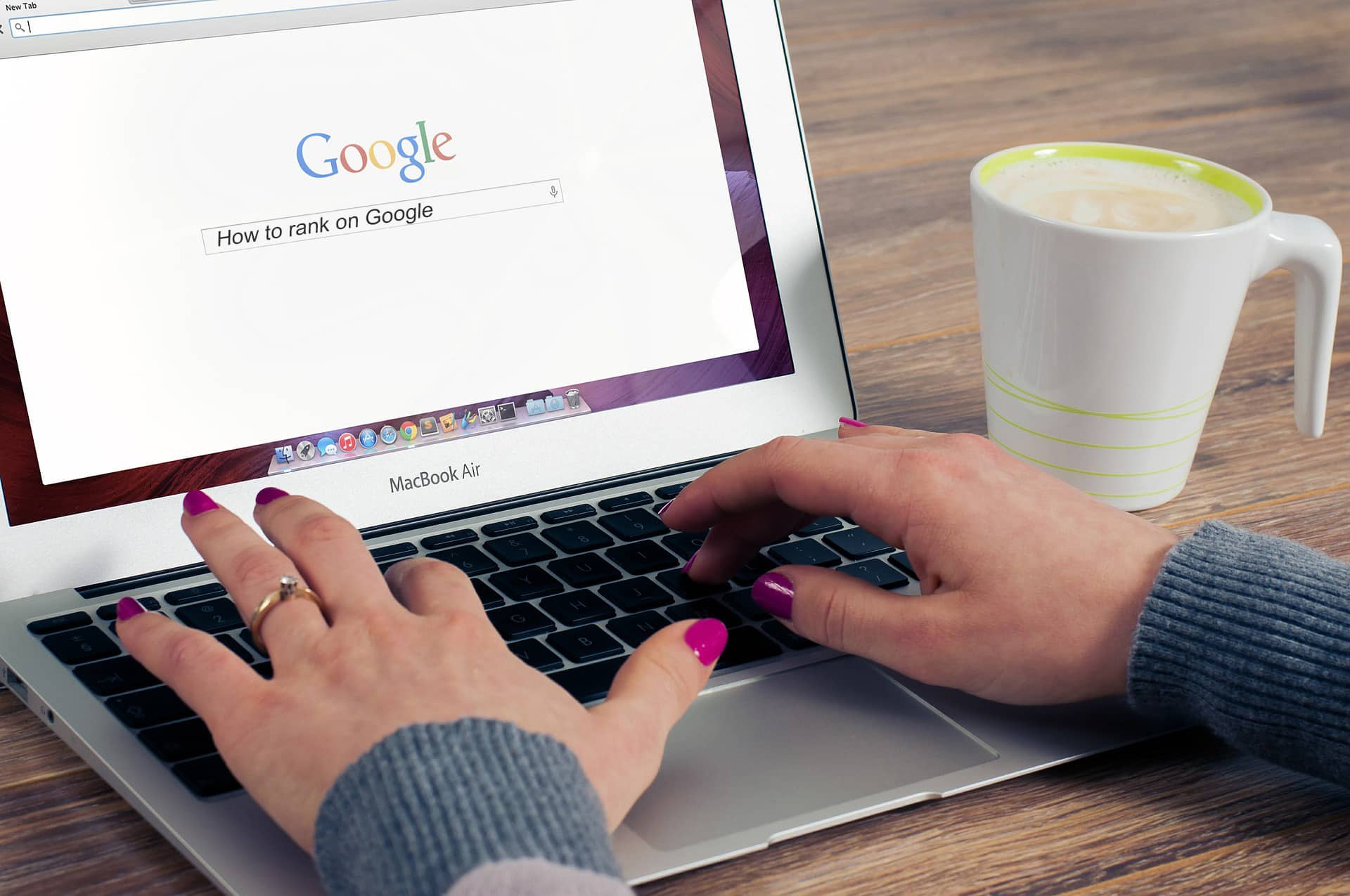 The best free tool to keep track of the traffic is Google Analytics but to see if your link building efforts are paying of, we suggest Linkody (clarification of  concept: link building is the action of getting URLs to point at your website from other sites).
That's it. Now you know all there is to know. Go and make an SEO agency!
For the ones who would need a bit more guidance, this is your lucky day. We will go through each of these points and provide you with a step by step approach  to rank your project on Google.
1. Keyword research
There are some SEO experts that claim that this is the most important step to rank on Google. This is where you cement the foundation of your SEO project, so make sure to pay attention.
More often than not you should focus on long-tail keywords. Those are phrases with 3 and more words:
People searching for "shoes" and "buy black nike 6.0" have different intentions. One is still trying to acquire information about shoes but the other is trying to buy a specific product. The latter has clear purpose for the search. It makes a lot of sense that you can expect higher conversion rate when optimizing for long-tail keywords.
Moreover if you search hard enough you will find out that in most cases long-tail keywords are less competitive. If you can find a blue ocean, that's your money-maker (clarification of concept: blue ocean is vast, untapped market space).
Here is the kicker – long tail keywords account for 70% of all the searches.
With this in mind, when you go ahead and optimize your site for a specific phrase, you need a goal. You either optimize for traffic or conversion rate (revenue).
Most people miss this but you should use two different approaches when focusing on one or another. Depending on your niche, more traffic doesn't necessarily mean more revenue. In the long run, you might need to focus on conversion when it's enough to drive people to your web site. That is because you have exactly what they are looking for.
The possibility to generate traffic and an SEO war for a specific phrase is something to be aware of ahead of time. The Google keyword planner will show you if you are trying to swim in a pond with too many sharks.
1. Find the search volume of your keywords
Google keyword tool still is the best free piece of software to figure out how many people per month would search for what you might want to provide to your customers.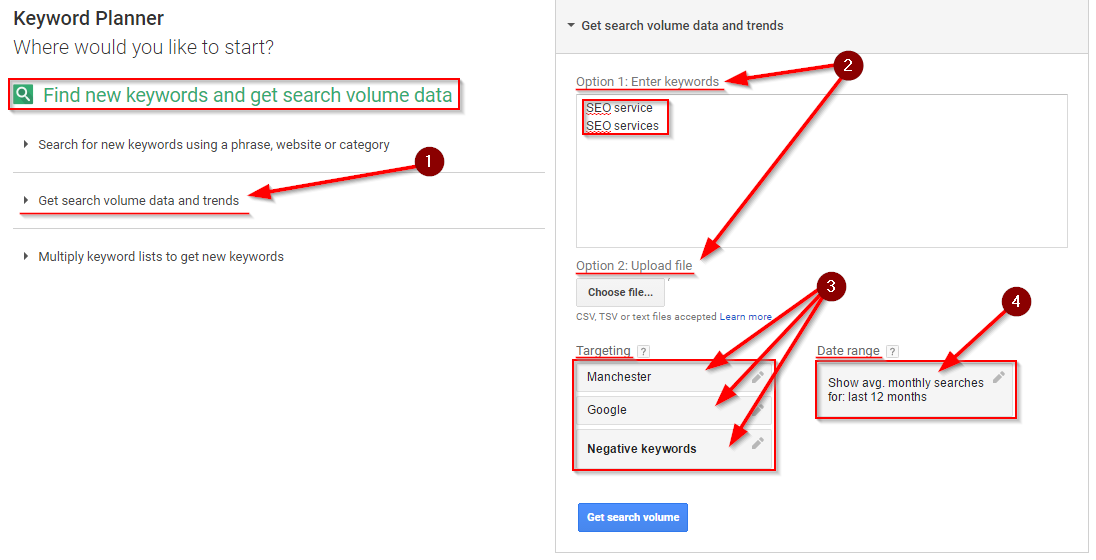 It's straight forward to use:
Start by clicking on "get search volume data and trends" (1);
Input your phrases in the "enter keywords" section or upload an excel file which must be saved as a CSV file (2). Note: Don't forget to check for plurals (sometimes people search for plural phrases more often than for singles).
Then you can go ahead and adjust the targeting sections to make sure that you will find the search volume for the relevant area (3). Note: Keyword search volume in countries where people are not searching for services in English, might not be needed.
By clicking on the "data range" section (4) you can adjust the period from which data will be displayed. Note: Older than 1.5 years is too old.
After clicking on the blue button, you will see the requested information.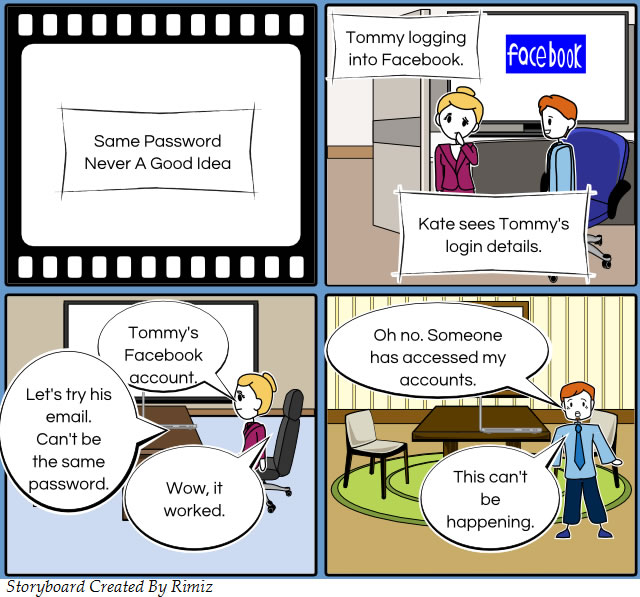 2. Decide whether you need to consider bids
Even with the competition being "medium" the suggested bid is 23 EUR, which is quite a lot. To clarify you can choose between 3 bid strategies. The first is where you pay for clicks on your add (CPC). The second is where you pay for the add views (vCPM). The third is when you pay for the action taken such as click on a button (CPA). You can read more about this topic here.
Note: By default your bid strategy will be set to CPC and it is calculated by looking at the targeting settings you have selected. It is important to remember that the price is an estimate and the actual CPC may vary. In this post we use AdWords only as a keyword planner to estimate the search volume and the competition for the specific phrase.
Choosing "SEO services" as your keyword and setting a goal that would focus on generating traffic would be quite expensive step. One might call it a huge mistake:
Rivalry is high;
Search volume is a bit above average;
Suggested bid is very high (that is a great indicator to see how many other companies are competing for this phrase).
This all depends on whether your focus is high conversion and cost per good sold can be easily covered by your product's price. This might then be a reasonable cost per bid.
Nevertheless, to rank on Google I suggest that you expand your keyword arsenal and find high volume but low competition keywords.
3. How to expand the keyword list
There are a couple of ways to expand the keyword list that would help you to find your money maker phrase. The old way would be to search for your keyword on Google and see what else appears. You can see the most common searches that people run of long tail keywords.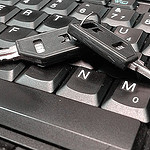 Or

Great time saver is this magic piece of software that scrapes Google for you and gives you all the possible results with a click of a button.

After clicking on the "suggest" (4) button, you will be able to download the list of all the similar phrases that can be used to rank on Google.
From one keyword you were able to generate 226 long-tail keywords that according to Google are popular in your region. This is a good start to bring your project to number one spot on Google.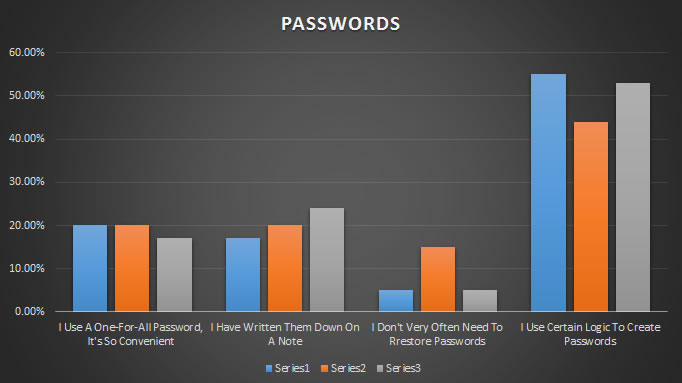 4. Find your golden ticket
Now when you have your extended list of the keywords time to go back to Google Keyword planner to find your niche – the money maker phrase which will help you rank on Google.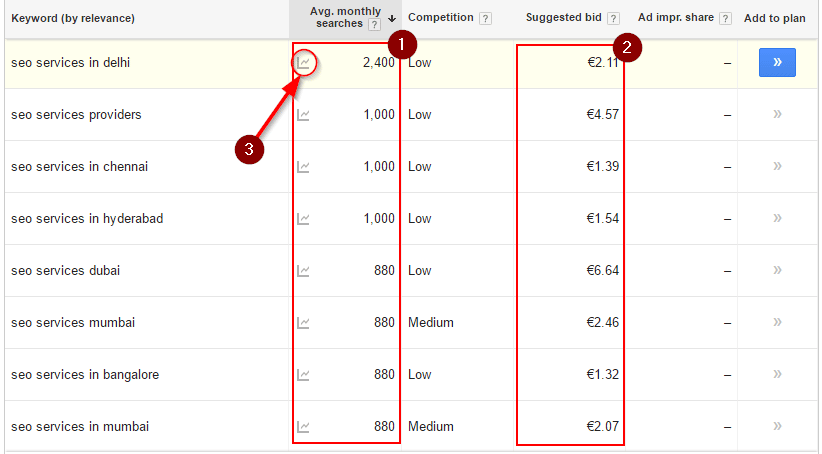 You should upload your new-found queries on the keyword planner tool and sort them according to monthly searches. You can then see the most common searches run in Manchester (1) and you will also notice that you have found couple of niches that are more than 10 times less exploited than "SEO services" (2).
Make sure to select a couple of keywords that suit your service best. Then check the graph (3) to see there aren't any months where people suddenly stop searching for this phrase. If that happened in the past, there are high chances of that happening again.
When that's done let's evaluate the profitability of these key-words.
5. Evaluation of the keyword difficulty to rank on Google
Keywordrevealer.com offers a tool that allows you to see the competitive landscape of your keywords. Let's select 3 phrases and see which could have potential to make more money (or in other words – make customer acquisition cheaper):
SEO services;
SEO services in chennai;
SEO services in bangalore (Note: this is just an example).

The keyword difficulty score mainly considers competition for the specific keyword but not the search volume which is important in this case. With the help of 4th grade math we can take the rest of the factors we care about and calculate a keyword opportunity score. This is the monthly search volume * (1 – Keyword difficulty %) / Cost per click:
Opportunity score for "SEO services" = 27 100 * (1 – 41%) / 23.08 = 692
Opportunity score for "SEO services in chennai" = 1 000 * (1-27%) / 1.39 = 525
Opportunity score for "SEO services in bangalore" = 880 * (1-26%) / 1.32 = 493
As you can see from these 3 keywords, "SEO services" came out on top. This does not necessarily mean you have found your money maker phrase. It might mean  that you just have to search harder.
You must repeat this process as many times as you need before customer acquisition makes sense and can be profitable:
Find the search volume of your focus keywords (1-3 phrases);
Expand the list;
Keep looking for your money maker phrase.
Repeat this process until you have 5-10 money maker phrases that you can use later on:
One phrase that's a clear leader – low suggested bid, high volume and low keyword difficulty;
4-9 keywords for content marketing (blog posts, social media content, etc.) to bring traffic to your page.
There you have it, the first step on how you can rank on Google for your business or project. Stay tuned for further steps in this process which will make optimizing more easier for you. If you have any further questions email me on helvijs@linkody.com or contact me on linkedin.
Comments Off

on How to rank on Google – Step 1 to be #1
---