I am an MBA student at the University of Salford.  I chose Salford University as I felt that the rich and extensive programme they offer would be the most beneficial and useful for my career progression.
Part of the Salford MBA course is a customary trip abroad to visit different business' and business schools. This year was no exception and we were lucky to have a choice of 3 destinations:  Brazil, Hong Kong and Almeria in Spain.
Some of us chose Brazil (10 students) but myself and seven other students opted for Hong Kong.
With it's thriving economy and being the world's business Hub – Hong Kong (HK) was certainly the best option in my opinion!
Here is a brief video summary of our Hong Kong trip:
Salford MBA students in Hong Kong
Saturday  10th May/Sunday 11th May
Well the day has finally arrived.  We meet up at Manchester Airport to start our journey to Hong Kong (HK).  Two hour delay = Not a promising start!  We have finally arrived in London Heathrow to start our 11.5 hour gruelling flight to HK.  We arrive at HK at 13.50 after reclaiming our luggage and clearing immigration we are greeted by our guides for the week Kelvin, Jansen and Edmund.
They issue each one of us with an Oyster card to be used on public transport and then we proceed to our hotel Holiday Inn, Soho.  Brian and the girls get the privilege of being taken by Edmund in his car whilst the boys went with Jansen and Kelvin on the train. We arrive at the hotel and check in; arrangements are made to meet back in the lobby at 18hrs to go for dinner and drinks for those still capable of standing on their feet after nearly 24hrs of travelling!
Monday 12th May
Starting a busy week ahead after reasonably good rest, plenty of sleep and raring to go.  We have breakfast at the hotel – and this is a revelation: rice soup/porridge with veggies and nuts = different but tasty! After breakfast Kelvin and Jensen scheduled a presentation for us.  First part presented by Kelvin consisted of information about HK and general housekeeping info.  The second part of the  presentation was given by Kelvin and he gave us very thorough information about the education system in HK.
We found out that their education system does not greatly differ from our system in UK. After the presentation we were taken to a local Chinese restaurant for dim sum lunch.  This was great for most of us Chinese food lovers but some (Adeyemi!) had to be coaxed to eat it and since most of the dim sum contained prawns poor Dr McGarrie went hungry!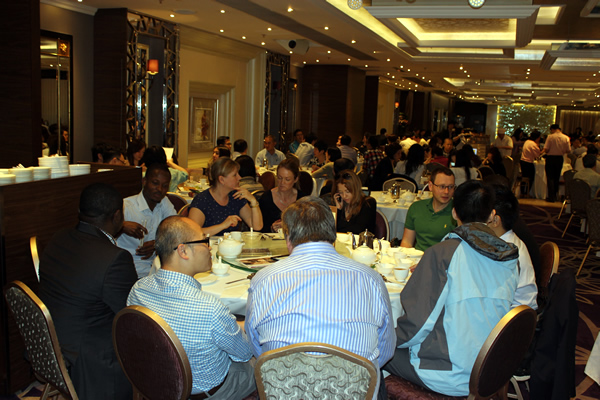 Following lunch we proceeded on the underground to a City of Hong Kong business school.  Quite an unusual location in the middle of a shopping mall!? Although us girls were quite impressed and would have been more than happy to study here! One thing we have been told by Jansen that there is not differentiation in HK with regard to which University you obtained your degree from i.e. no snobbish ranking as we have in the UK.
Tuesday 13th May
Yet another start of the day – rice soup! I guess I will not eat rice for a while after this week! Dressed in our Salford University white polo shirts (not very  flattering!) we are on the move again.  We start the day with a visit to the  Baptist University of Hong Kong where we are given presentation by Susan Le and professor Lin.
We have learned that HK Baptist University was established in 1956 and has since provided innovative business education for students from across the globe.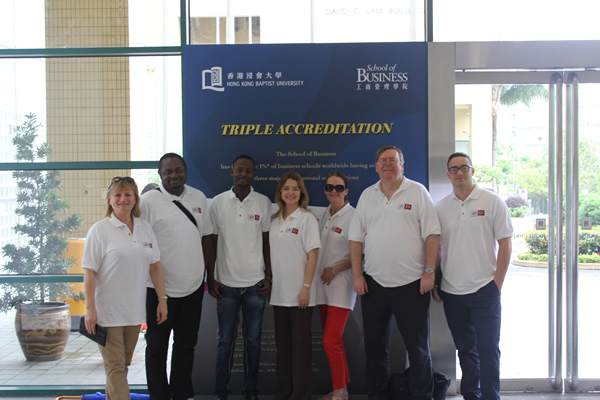 The School of Business has achieved recognition from three largest and most influential business school accreditation associations:  The Association to Advance Collegiate Schools of Business (AACSB), The Association of MBAs (AMBA), and The European Quality Improvement System (EQUIST).  The School is among less than 1% of the world's business schools to have been triple-accredited.
After the presentation we get a chance to interact and chat with the students from the business school most of whom come from the mainland China.  All  are studying for various degrees ranging from economics to business and management.  We then proceed to have lunch with the students. After lunch we are packed into taxis (Brian with the girls as usual) for a visit to yet another University.
This University is most comparable to the University of Salford as it specialises in Media Studies. Our day does not finish here though as we have an alumni dinner planned for this evening.  We take an underground to TST (Tsim Sha Tsui) area of Kowloon to an American style steak diner Okapi Restaurant owned by one of the University of Salford alumni.  We spend a very  pleasant evening socialising with the alumni. By the end of the night everyone is exhausted and the jetlag is kicking in too.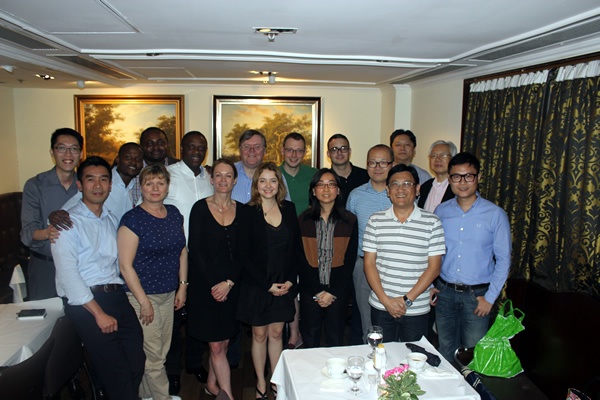 Wednesday 14th May
The group proceeds to visit a business owned by another Salford alumni – architect's offices. Afternoon is free! Great!  Time to do some serious sightseeing.  Irina and I decided to take a red route sightseeing bus.  This takes us through  Hong Kong island.
We have learned a great deal about the Opium Wars also known as the Anglo-Chinese Wars, which was the First Opium War from 1839 to 1842, and the Second Opium War from 1856 to 1860. These were the climax of disputes over trade and diplomatic relations between China under the Qing Dynasty and the British Empire. We have also seen some of the most famous sights of HK culminating our trip in Wan Chai -world of electronic shops.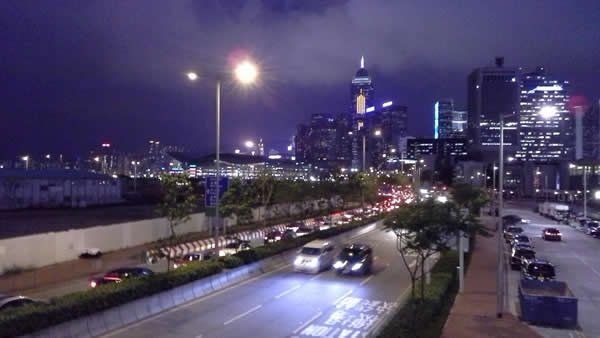 Thursday 15th May
Today Jansen collected us from the hotel and we travelled by taxi (yes Brian and the girls again!) to the south part of Hong Kong island near Stanley to visit a multimedia company.  The Resolution is a marketing company with offices all over the world and it specialises in digital marketing.  We found out that this company delivers digital marketing solutions to some of the most powerful brands in the world including Levi's, Visa, McDonalds, Quaker to name but a few.  It is We spend quite a taxing morning on a 4hour presentation about the company.  This was a very interesting presentation, especially that it is a media marketing company.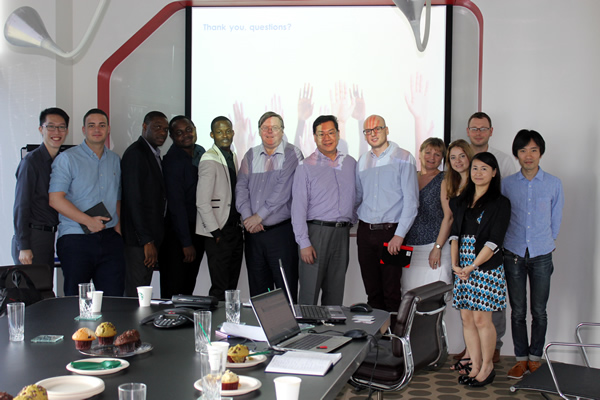 We return to the hotel for lunch and this is followed by a talk and question time with Amy Yung, chair of the ACCA body. This is the end of our official visit to HK. So from this afternoon free time!  Here we toast our visit with champagne and say our goodbyes to Jansen and Edmund and exchange business cards. Irina and I spend the rest of the afternoon taking a Star ferry to Kowloon and then blue route sightseeing bus to take some more photos for our blog.  This takes us round all parts of Kowloon. In the evening we take our chance and go to The Peak hoping to catch a glimpse of the amazing views of Hong Kong.  Low cloud and fog prevents us from seeing even a single light in the valley.  Better luck on the next visit!
Friday 16th May
We are allowed to spend the day at leisure so after yet another rice soup breakfast we take a taxi to Stanley.  Here we explore some local markets for our last minute gift shopping. Soaking in the atmosphere and enjoying a bit of sunshine on the promenade.  Stanley has a different feel to HK town, it is more of a holiday resort and there is a more serene atmosphere.  No one is rushing here!   We rounded the day with a traditionally British afternoon tea at the Peninsula Hotel.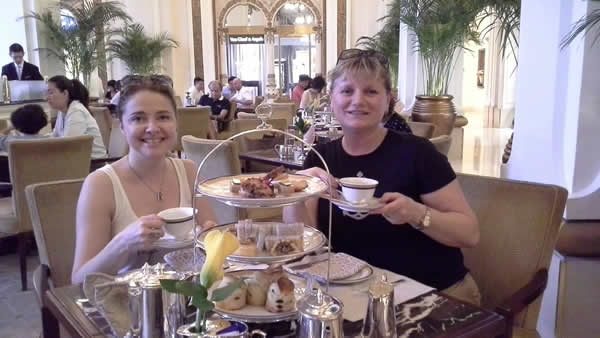 After lunch we decided to make our way back to the hotel to finish packing for an early departure to the airport.
Saturday 17th May
Hooray, our last rice soup breakfast!  We are packed and ready to go. Kelvin meets us at the hotel reception to collect our Oyster cards from us.  Brian thanks him for looking after us and presents him with a gift from the University of Salford and we bid our farewells.  We are then off to the airport to endure another twelve hour journey home. The Hong Kong trip was very informative and successful.  It provided us with an insight into HK business and education. We have made a few contacts, met interesting people and were given some food for thought about future business ideas.
Just because you study in Salford doesn't mean you stay in Salford – right?!
This was an amazing trip and a huge thanks go to Julie Kelly for organising it as well as to the University of Salford for giving us this opportunity.  If you are still unsure  which university to choose for your MBA course then you should definitely consider University of Salford. See more photos from the Hong Kong trip on Salford Business School Facebook page
1 Comment
---