In response to issues around poverty, unemployment, declining public services and other austerity measures, social enterprises around the globe are successfully addressing social problems in a sustainable way.
Similar to other parts of the globe, UK social enterprises are outperforming their mainstream SME counterparts in nearly every area of business (e.g. turnover growth, workforce growth, job creation, social innovation, and start-up rates).
The impact of social enterprises is particularly noted across the service (incl. education), health and social care sectors. Thus, it is no surprise that the University of Salford and Salford Business School in particular, created a Centre for Social Business which was launched in 2013 by Nobel Laureate Professor Muhammad Yunus.
Educational Opportunities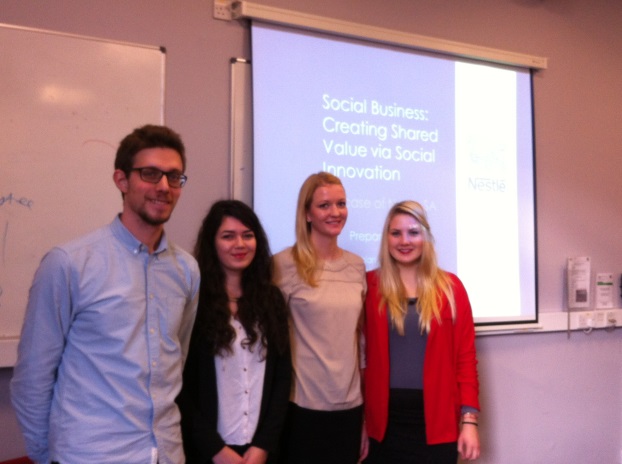 MSc Social Business students
#IamSBSM – MSc Social Business & Sustainable Marketing
The Centre for Social Business offers pioneering educational opportunities including the newly-launched MSc in Social Business and Sustainable Marketing as well as bespoke innovative management education around social enterprise.
Centre for Social Business
Academics from the Centre for Social Business are already making a significant impact, most recently in the areas of social value creation, microfinance; affordable housing and social cohesion. Find out more.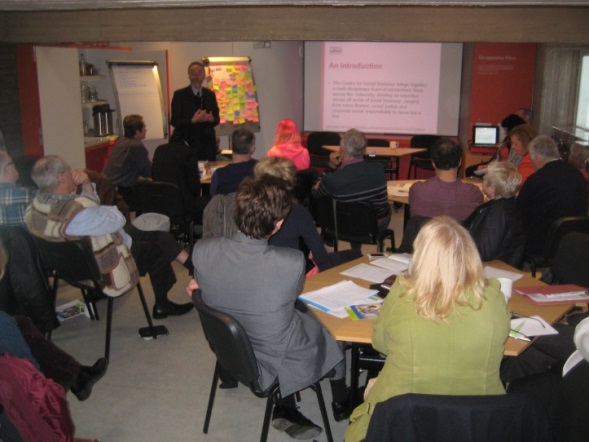 Dr Kevin Kane providing a workshop on Social Enterprise
Dr Kevin Kane's research research study with a number of Salford located social enterprises led to a series of workshops, funded by the 'Big Lottery Fund' on leadership and change with 20 social enterprises, impacting upon the generation of social capital throughout the Salford business community. Dr Kane will also be providing a Workshop to social enterprises on Project Management at the Social Enterprise Mark CIC's Annual Conference 2016, hosted by the University of Salford at their Media City UK Campus.
Through Community Finance Solutions (CFS), Professor Karl Dayson has developed research focused on providing leadership in increasing the sustainability of micro-financial institutions (MFIs) that provide credit or loans to the financially excluded, thus, increasing access to finance for excluded groups, reducing unmanageable debt and improving the quality of life. CFS has also set up a number of microcredit providers in the UK, has conducted research for government departments and has advised EU institutions on microfinance policy.
Research addressing a broad range of social needs
Professor Philip Brown's research addresses a broad range of social needs affecting various migrant communities, particularly those from Eastern Europe and the problems facing Roma communities, aiming to reduce exclusion, improve cohesion and improve life chances. Professor Brown's also runs a central project within The Pendleton Initiative.
An area of significant social and economic challenge in Salford is Pendleton (the original location of The Pendleton Institute, the founding college of the University of Salford in 1850). The University partners with the City and others to support a wide range of development activity, often through student volunteers and academic support.
Today over 25 projects have been created and supported as part of the wider Pendleton economic and social regeneration programme which is a long-term project – much more than simply a physical regeneration programme.
The Social Enterprise Gold Mark
To help communicate the above social impact and ensure public credibility and transparency, we were the first university to receive the Social Enterprise Gold Mark. The Gold Mark confirms the University's excellence in best practice across areas such as governance, ethical business, financial transparency, and social and environmental impact.
Since the University of Salford achieved the Gold Mark for Social Enterprise in late 2014, we have continued to develop our activities and plans to further enhance our institutional role
as an educational social enterprise,
a partner in the City of Salford in the growing social enterprise economy,
as a champion of social benefit and improvement,
to support our staff and students to achieve their own social impact goals.
Find out more about the Social Enterprise Mark CIC's Annual Conference, 2016 here 
Visit our website to find out more about the Centre for Social Business. 
Comments Off

on Social Enterprise Mark CIC's Annual Conference, 2016
---