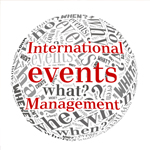 Have you ever wondered about the intricate details behind the Olympics opening and closing ceremony? How about the organisation of the World's biggest fair Expo 2015?
What about the winning country's coloured confetti that falls down on the finals of the FIFA World Cup? All these occasions are great examples of event management in practice.
There is a lot of thought that goes into organising such complex international events. The average spectator is unaware of the complexities and all the planning that is behind all of these unforgettable experiences. These occasions are created by event management professionals that work tirelessly co-ordinating, planning and managing teams of individuals.
Event management is the art and science that helps to create a successful event…
It is no surprise that more and more graduates wish to work within event management as is illustrated by the below article in the Independent:
Independent article: Why more and more graduates are choosing to work in nightclubs
Is International Event Management for you?
Anyone who is passionate about event planning no matter what field they're in, can opt for studying event management. This will give them an overview of the day-to-day tasks and insights into the international event management profession.
Can't decide whether event management is for you? Well its simple, all you need to do is follow the chart below to recognise your passion for the event management industry.
All cats land on their feet
If you concluded with an adorable kitten who is hanging on for dear life, then you must realize how important it is for you to read this post.
All cats land on their feet.
If only the same could be said for humans, but unfortunately life does not give us many chances. So when life gives us a challenge we need to be ready to face it fully prepared.
If you however concluded with 'International Event Management is for you!!' then well done for identifying a potentially awesome career within event management.
OK, what's the next step?
It is important to gain good insights and to understand the essential skills involved in event management to create successful events. The practicality as well as the theoretical aspect of co-ordinating events such as Expo 2015 to an international level cannot happen without having the right tools to manage events.
Well, to be the best you need to learn from the best. Who would be better to articulate such a dynamic programme than Salford Business School? The winners of the Times Higher Education Business School of the Year Award 2014.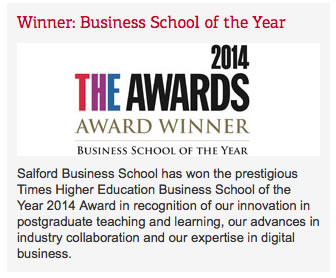 Fortunately, the postgraduate international event management programme at the Salford Business School has been tailored specifically to your needs in terms of:
The excellent connections the school has with a comprehensive network of international events industry partners.
Implementing event management strategies and theories into real practice with the school's Business Innovation Project.
The facilities at Media City UK to strengthen your knowledge and enhance your employability with an international focused programme.
Sounds good tell me more…
If this sounds ideal to you, you would be interested to know about the unique programme intakes. The international event management programme at Salford Business School starts nearly every two months –  including September, November, January, March, June and July. You can choose to either study full-time for one year or part-time over a period of two years.
It gets even better, the University also grants further discounts to undergraduate students that have previously studied at The University of Salford or have attained a 2:1 class grade from an undergraduate degree. Students from developing countries also have the opportunity to take advantage of further discounts from the University.
Great, how do I sign up?
Is what you would probably be thinking right now? Before you actively start working on such an epic event such as Expo 2015. I would recommend to search for more information on the Msc International Events Management programme site. Book into one of the Salford Business School's open days or get in contact with Dr Tahir Rashid one of the postgraduate staff on the programme.
Seize the opportunities, invest in yourself to give others the opportunity to invest in you! Do you feel inspired? Please do feel free to share this post with others who might be missing out on a great career in event management. Use the comments section below and share your thoughts about event management.
---
Tags:
Event
,
Event Management
,
Events
,
Expo 2015
,
International Events Management
,
What is Event Management
Posted in
Business Courses
,
Business School
,
Home Students
,
International Students
,
Postgraduate
,
Undergraduate
---
2 Comments
---