After five intensive days, our June 2015 leg of our CEBA programme has finally drawn to a close at Salford Business School. It's been a great learning week for our delegates who have travelled from all corners of the UK and are now leaving with a range of new skills and knowledge developed to help them progress in the world of business.  Here's a quick overview of what makes the CEBA programme so special for potential delegates looking to progress and develop their business skills
For those who don't know, our Certificate in Executive Business Administration (CEBA) is a gateway to a full MBA, designed for senior managers and aspiring senior leaders in order to develop the required skills and qualities to progress in the world of business. It's a fantastic course, held over five days at the Salford Business School, University of Salford and boasts some of the UK's most influential figures in the world of business development and management, teaching their exciting yet valuable knowledge. You can expect to learn and develop your skills in areas such as "delivering customer value", "leadership development" and the "importance of search and social media".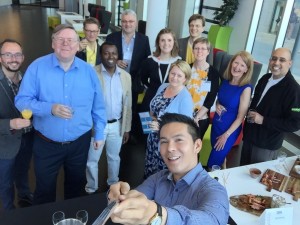 What makes our CEBA so special though? Dr Yvonne J Moogan, Director of MBA Programmes at Salford Business School explains why she believes courses like CEBA will benefit future leaders in business.  "The CEBA course is an excellent foundation for candidates wishing to gain an overview of business and management principles with theories.  However the application of theory to practice is what makes the programme unique, interesting and relevant. The learning environment of SPD is perfect as it creates an excellent experience for those who wish to learn in a comfortable place but with professional services to support its delivery."
The course may be an intense five days of learning, but don't think there's no fun involved in between. Take a look at the happy faces of our delegates; not only have they learnt the latest business skills, techniques and strategies, but they also had the chance to socialise whilst sampling the great hospitality at the University of Salford. This photo is also proof that the selfie stick trend is still hanging on!
For more information on our next CEBA programme and how to book your place, check out the Salford Professional Development website.
Leave a comment
---