The CEBA is often compared to a full MBA course, due to its focus on business management excellence. Whilst offering a blended learning experience, through the use of academic principles and practical insights. Our CEBA programme has been designed by the award winning Salford business school, voted the Times Business School of the year 2014. The CEBA course unlike an MBA is set over 5 days of intense learning, minimising disruption to your business. Yet the course still covers in depth the 4 main pillars of the MBA and business today; strategy, marketing, business and finance.
Below is a selection of quotes taken from our CEBA alumni, after successfully completing the 5 day intensive course. In the run up to our October start date we will be speaking with CEBA alumni in more detail, giving insights into their experiences. In the meantime please check out our schedule for all 5 days of the programme.
"Fantastic Course. Perfectly pitched and delivered to give senior professionals a robust overview of business critical factors. Delivered in an engaging and interactive way, which reflects the free limited time senior professionals have." Group Business Director

"What a fantastic course. Packed with content and delivered in a professional knowledgeable and enthusiastic way. I am confident I will be able to incorporate elements of the sessions covered. Particularly those relating to the development of a digital media strategy. I would definitely recommend SPD  colleagues and will undertake the training with them in the future." Research Administrator

"The course covers all the vital areas on how to build and manage a successful business" Sales Director

"The Quality of the material is of an extremely high standard. The knowledge and experience of the academics delivering the course was second to none. They were engaging at all times and were able to apply theory to real world scenarios." Director

"I have learnt a huge amount in 5 days and met an interesting mix of people. Everything has been exceptionally well run from beginning to end and the enthusiasm of everyone involved in delivery has been faultless. Thank you." Director/Consultant

"A pleasure to attend. Very Knowledgeable staff able to convey in a great way. At times the pace seemed fast but by mid-week I had settled into the pace". Director

"I would certainly recommend this course to others" Office Manager
The next enrollment commences in October in Salford, with limited places available. The course is not restricted to the North West with our Central London course starting in November of this year; secure your place now. There is also availability in February and April 2016 if required.
October 12th 2015 Manchester enrol here 
November 23rd 2015 London enrol here
February 22nd 2016 Manchester enrol here
Leave a comment
---
Our CEBA series will showcase the Certificate in Executive Business Administration course, brought to you by Salford Business School in both Salford and London. The series will include interviews with our selected course tutors, all of which are highly respected business experts and academics, delivering a unique learning experience.
The series will also include insights from our high calibre CEBA alumni, providing you with a great understanding of what the course entails, and what can be learned from enrolling onto a CEBA course. Importantly the insights will demonstrate how a CEBA can make a positive impact on your career, particularly in a leadership capacity.
The CEBA is often compared to a full MBA course, due to its focus on business management excellence. Whilst offering a blended learning experience, through the use of academic principles and practical insights. Our CEBA programme has been designed by the award winning Salford business school, voted the Times Business School of the year 2014. The CEBA course unlike an MBA is set over 5 days of intense learning, minimising disruption to your business. Yet the course still covers in depth the 4 main pillars of the MBA and business today; strategy, marketing, business and finance.
We hope you enjoy the CEBA series, and if you want any more information with regards to our CEBA course or any of our programmes please get in touch below.
The next enrolment commences in October in Salford, with limited places available. The course is not restricted to the North West with our Central London course starting in November of this year; secure your place now. There is also availability in February and April 2016 if required.
October 12th 2015 Manchester enrol here
November 23rd 2015 London enrol here
February 22nd 2016 Manchester enrol here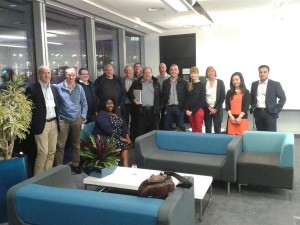 Leave a comment
---
A great way to learn about leadership and what is takes to be an exceptional leader is to listen to those that have excelled in leadership positions. Individuals that have led multi-million pound companies, driven innovation, and changed the way we live our lives.
How can Professional Development help you?
A key theme from the selection of business leaders presented in this blog is the need for aspiring leaders, entrepreneurs and CEOs to develop their own skills. Jack Welch the ex CEO and chairman of General Electric states "Before you are a leader, success is all about growing yourself, when you become a leader success is all about growing others"
Importantly in order to become a leader you need to grow yourself.
Bill Gates the computer Mogul and philanthropist supports the need to help others develop "we look ahead into the next century,leaders will be those that empower others." This is not limited to aspiring leaders as Indrya Nooyi the CEO of Pepsi states.
"Just because you are CEO, don't think you have landed. You must continually increase your learning, the way you think, and the way you approach the organisation, I've never forgotten them."
Adding to your current skill set will enable you to empower your staff, whilst providing you with the tools to present your vision. James Dyson the innovator behind Dyson Vacuum cleaners sums this notion up perfectly
"How pretty a sketch looks isn't important it's all about communicating ideas to those around you"
Alan Sugar agrees with James Dyson's emphasis on 'communication' by drawing links between being a good leader, and the ability to present a clear vision. "A good leader is not necessarily the most popular person in their business, but the best ones are liked because they are respected for their clarity and vision"
Steve Jobs: "Innovation distinguishes between a leader and a follower"
Karren Brady, who is known most notably for paving the way for women in the football boardroom, believes that ambition is realizing to champion your career. One way of championing your career is to invest into it, thus continuing to be at the forefront of your industry. Warren Buffett firmly believes that "if you're going to be thinking anything you might as well think big".
The Certificate in Executive Business Administration (CEBA) often referred to as the 'Mini MBA', is ideal for those that 'think big'. The course created by Salford University, Times Education Business School of the Year 2014. The 5 day course covers, leadership and development, customer value, search and social media, financial management, and organisational strategy. The CEBA course is ideal for directors, senior managers, middle managers and aspiring leaders.
The next enrolment commences in October in Salford, with limited places available. The course is not restricted to the North West with our Central London course starting in November of this year; secure your place now. There is also availability in February and April 2016 if required.
Before you do here is one more quote from the Virgin Boss, Richard Branson,
 "You shouldn't blindly accept a leader's advice; you've got to question leaders on occasion."
Leave a comment
---
Did you know there are approximately 2.078 billion active social media accounts globally? Social media is big business. Everyone is talking about it and just about everyone seems to be using it, whether that's Facebook, Twitter, Instagram or LinkedIn. It makes total sense for businesses to be on social media too; not just as another marketing technique, but a new way of connecting with customers and providing amazing customer service.
A solid social media strategy is essential for any business looking to make the move online. Check out these essential tips beforehand to create a successful social media strategy that's worthy of your business.
Business Goals
First and foremost, you should revisit your business goals before diving head first into the world of social media. Every business should have a set of goals they're aiming for, without them it's probably doomed to fail! If you need any help with your business goals, check out our CEBA programme. Ask yourself what you want to get from your social media accounts, which could be anything from increasing brand awareness to customer service and sales. Whatever your goals, focus on just a couple at a time or the ones that you feel are most important to your business; it makes managing your strategy much easier and gives you a better chance of succeeding with it.
Choose Your Networks Wisely
Signing up to every single social network known to man might sound like a really good idea if you're trying to get your name out there, but trust us when we say that you're better off managing one or two accounts. This will save you a huge amount of time, that way you can concentrate on growing your chosen accounts rather than having to keep swapping between accounts and remembering to constantly update them.
Target Audience
So you know exactly who your target audience but not sure how to target them online? Why not create character persona's of the people you really want to aim your business at. Think of aspects such as age, gender, personality traits and likes and dislikes to distinguish the people you wish to target, it will make the content you share a lot easier to think of. The content you share will encourage engagement with potential and existing customers and help you retain your loyal followers.
Content
One of the most important aspects of a social media strategy is the content; what will you be sharing with your followers? The content you share should be in line with your business goals and relevant to the people you're targeting; sharing things irrelevant to you could damage your online reputation. Mix up the different kinds of media content you share online too; videos, images, infographics and interesting links are great ways to engage with people and gain shares. Don't be afraid to retweet other peoples content too as it can help you build up your followers and connections.
Competition
Are you finding it hard to post exciting and engaging content that will get your followers talking? Why not check out your competitors social media accounts for inspiration? They are competing for the same customers as your business after all and it's a really easy way of developing your social media strategy. Look at the content they are sharing with their followers, taking note at the amount of shares as well as how they actually speak to customers. It's a brilliant way of thinking of innovative ways to engage with your potential customers as well as identifying areas for improvement.
Leave a comment
---
The Uber app has revolutionised the way we order a taxi. Hailing one has never been simpler, and with a quarter of the world's population predicted to be using a smartphone by 2016, it's taking advantage of an evolving digital world. But it hasn't been such a smooth ride for Uber and it's no stranger to trouble. So what makes Uber so controversial?
Uber is a start-up company founded by Travis Kalanick and Garrett Camp. It all began in 2008 when Kalanick was in Paris looking for a taxi, but failed to find one. He had his light bulb moment and went on to establish Uber in 2009. The company launched their first app on iPhone and Android devices in San Francisco (where else?) where users could pin point their location and virtually hail a taxi. Customers then pay via your smartphone once you get to your destination, so no money changes hands, which not only more convenient, but safer too.
The company quickly expanded, launching services across major American cities as well as overseas like Paris, London and Sydney. Today the company operates in 57 countries around the globe in 100s of cities. The start-up has been a major success, down to an excellent business strategy and lots of research. If you fancy learning about business strategies and advanced business learning yourself, check out our CEBA programme!
It's transformed the way people feel about taxis too. Gone are the days of a scruffy old mini cab and extortionate prices; Uber taxis have to set a certain standard of condition and cleanliness which they offer customers and the prices are usually a lot cheaper than taxis running off a meter system.
There must be some downsides to Uber, right? Well let's just say that Uber has had its fair share of controversy and is no stranger to negative headlines in the media.
For starters, the company hasn't gone down well with private hire firms and cab drivers around the globe, which now have to compete with Uber for customers. Only last year, London's famous black cab drivers held a strike to protest against Transport for London (TfL) for not doing enough to regulate Uber, which don't currently follow the same regulations as Hackney carriages. Protests have been staged in major cities around the world too, from New York City to Berlin.
The company has also been accused of sabotaging the rival taxi app company Lyft, by hailing a taxi and then cancelling, which significantly reduced their business. They also were accused of poaching their drivers to come and work for them.
The most recent bout of controversy to hit the company surrounds their UberPop service in Paris. The UberPop service allows non-professional taxi drivers to hire out their cars, which has proved extremely popular with over 10,000 drivers signing up. However, French officials have questioned the legality of the service, which resulted in two Uber executives being arrested. It's also led to violence, rioting and destruction on the streets of Paris. Uber had no choice but to suspend UberPop, stating it "does not wish to run the slightest risk to UberPop drivers and passengers."
So what does the future hold for Uber? The company is on course to more countries and cities as well as expand in the places where it's already operating. It looks like the trouble that follows Uber will no doubt continue; with increased pressure on governments by taxi firms to ban the service altogether! Regulations are sure to be brought in to bring Uber in line with other city taxi companies though, who have to go through tough training schemes and meet strict requirements. One thing that's certain, with an estimated value of $50 Billion, Uber shows no sign of slowing down any time soon!
Leave a comment
---
So you've decided that you want to start your own business but you're having trouble getting that " light bulb moment" and coming up with a unique and amazing venture you can offer to potential customers? It's not as hard as you might think coming up with a business idea that's not only going to offer consumers something different, but be sustainable in the long term. Sometimes the idea can be right in front of you!
We've given you some useful ideas to help kick start your brain and come up with the next business sensation!
What are your Skills?
First of all, look at your skills and what you can offer to your potential customers. Understand your skill set and what you enjoy doing in your current job role or in your spare time. It will make your decisions creating your business idea easier if you have the relevant skills to do it successfully. If you have a special skill or interest, define it and become a master of your craft; people could be pay top dollar for the services you provide! You can also improve your business skills too with the CEBA course at the University of Salford!
Do Your Research!
It's important to do your research when starting a new business venture. Rushing into something before finding out if there's a market for you to exploit is a recipe for disaster! Take a deep breath and think about who your demographic and target market is. Something simple as doing a survey can give bring you invaluable information to help get your business venture started. Take a look at your competitors and work out whether there's a gap in the market for your business to move around and grow.
Is It Sustainable?
Do you think your business can make it in the long term and grow in order to stay afloat? If your idea follows one of the latest trends or fads in the market, chances are it won't last long. It's really important to set up a business with foundations; get the idea right and your business will stand the test of time and give you opportunity to grow in the future. Once your business venture is established, you can take advantage of trends within the market to help increase profits.
Look at Other Businesses for Inspiration
Sometimes the best ideas can be right in front of you. Have a look at the businesses and services you use on a regular basis. What annoys you about them and how could you improve them? Work on the little niggles and you could soon find a solution to everyone's problems, offering customers a better service at your start up.
Look at Your Finances
This might seem obvious to you, but it's really important to get your finances in order before you start it. There are some great schemes to get budding entrepreneurs on the road to business success. Government backed schemes such as The Prince's Trust and Virgin StartUp are brilliant places to start for grants or low interest loans, particularly in an economic climate where banks are weary of lending money to new business ventures. Something interesting to look at to obtain finance for your new business is Crowdfunding. This is a unique way of obtaining money from a large amount of people who want to invest in your start up, usually for no financial return.
Leave a comment
---
After five intensive days, our June 2015 leg of our CEBA programme has finally drawn to a close at Salford Business School. It's been a great learning week for our delegates who have travelled from all corners of the UK and are now leaving with a range of new skills and knowledge developed to help them progress in the world of business.  Here's a quick overview of what makes the CEBA programme so special for potential delegates looking to progress and develop their business skills
For those who don't know, our Certificate in Executive Business Administration (CEBA) is a gateway to a full MBA, designed for senior managers and aspiring senior leaders in order to develop the required skills and qualities to progress in the world of business. It's a fantastic course, held over five days at the Salford Business School, University of Salford and boasts some of the UK's most influential figures in the world of business development and management, teaching their exciting yet valuable knowledge. You can expect to learn and develop your skills in areas such as "delivering customer value", "leadership development" and the "importance of search and social media".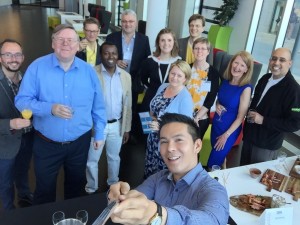 What makes our CEBA so special though? Dr Yvonne J Moogan, Director of MBA Programmes at Salford Business School explains why she believes courses like CEBA will benefit future leaders in business.  "The CEBA course is an excellent foundation for candidates wishing to gain an overview of business and management principles with theories.  However the application of theory to practice is what makes the programme unique, interesting and relevant. The learning environment of SPD is perfect as it creates an excellent experience for those who wish to learn in a comfortable place but with professional services to support its delivery."
The course may be an intense five days of learning, but don't think there's no fun involved in between. Take a look at the happy faces of our delegates; not only have they learnt the latest business skills, techniques and strategies, but they also had the chance to socialise whilst sampling the great hospitality at the University of Salford. This photo is also proof that the selfie stick trend is still hanging on!
For more information on our next CEBA programme and how to book your place, check out the Salford Professional Development website.
Leave a comment
---
One of the hardest aspects of a business is hiring the right employee. An even harder job is to retain employees in their role, making sure they're happy and motivated in the process. Without the right salary, incentives or even the correct working environment, businesses risk losing their talent to competitors.
That's why we came up with 7 ways to keep your employees motivated, a guide for managers or team leaders to keep their staff happy at work.
Training
Offering training courses to your employees is a great incentive to keep them motivated. A course such as the Certificate in Executive Business Administration (CEBA) would be a fantastic example. Not only will this give staff the opportunity to build and develop vital skills, it's also a great way to motivate progression within the company, retaining your top talent and increasing job satisfaction.
Working Environment
You might not regard your office environment as a factor in motivating your staff, but it's important to get it right. A poor working environment can not only affect productivity, but it can seriously diminish employee health and wellbeing too. According to Nature at Work, a healthy office should have floods of natural light and ventilation as well as comfortable, ergonomic furniture to prevent any potential back problems from constant hunching over a keyboard. Another interesting point is the use of colour on the walls. Science of People suggests painting your office walls green or blue tones in order to promote calm and relaxation. Adding plants into the room also has this effect as well as neutralising office air.
Socialising
Although many staff members probably want to keep their work and personal lives separate, a social office is a great way of keeping your team happy and motivated. Some simple ideas of having the radio on keeps the work flowing and gets staff chatting in between. After all, no one wants to work in a silent office! Organizing a monthly office social is a great way for staff to get to know each other too, that way they can escape the professional environment and have some fun.
Recognize Success
Recognizing success is an easy way to help motivate your employees at work. If someone has done an amazing piece of work or excelled at a specific task, take the time to personally congratulate them on a job well done!  It's a great incentive to keep the standard of work they're producing going and makes employees feel great that they're being noticed. The little things make a big difference!
Communicate and Connect
Being able to communicate and connect with your colleagues is an important aspect of the office dynamics and how people work.  It's vital that employees are able to voice their thoughts, concerns and ideas freely, that way they will feel a sense of worth and security within their role. It's a really good idea to get to know employees too. Maybe find out about their interests and strike up a conversation!
A great listener is always appreciated within the office. If employees need to voice a concern, take time out to listen, it shows you care about their wellbeing in the workplace, you value them as a person and most importantly, they're not isolated.
Creativity
Richard Branson believes businesses should give employees the freedom to get creative with new ideas and should act as a springboard for new employees. This is a fantastic business motivation idea. It shows you have trust in your team and you value their input in proposing new and exciting ideas for the business. You never know, you might hear an innovative idea that takes the business to new heights.
Incentives
In addition to a healthy working environment, incentives and job perks are a great way to keep your employees motivated! In addition to regular holidays and salary reviews, incentives such as free food and drink, work socials and a pension scheme always go down well with employees. A popular perk is subsidised gym membership. According to the Harvard Business Review, "healthy employees cost you less", which means less time off sick and more productivity and happiness within the office. Win win!
Leave a comment
---
The CEBA developed by Salford Business School ran again last month. This programme is proving to be extremely successful, with executives across the country wanting to develop their skill sets but not necessarily got the time available, and the CEBA is the perfect solution and gateway to the MBA if desired..
This 5 day programme is held primarily at Salford Professional Development, Adelphi House, University of Salford with one day being at The University campus at Media City UK to focus on Search and Social Media Marketing.
As the Certificate in Executive Business Administration focuses on the four key pillars of business, we are confident that the delegates take away key objectives in order for them to make a difference within their business and working career.
This programme is also now available in Abu Dhabi for our International audience.
The key areas of focus for the CEBA Include:
Introduction and Leadership Development
Delivering Customer Value
Digital Marketing – Search and Social Media Marketing
Financial Management
Organisational Strategy and Close
 Feedback from previous
"A great class for a rapid approach to the MBA Syllabus. Knowledgeable Tutors with real life experiences. So glad I came on the course"
"A strong program that offers new insights and helps to challenge existing competencies"
"An Excellent short course if you need an Introduction to more formal corporate business skills and knowledge"
"A thoroughly enjoyable experience that I would recommend, whilst time is tight the lecturers engage the audience whilst hitting the key objectives of the program"
"Good for people who have MBA Certificate to refresh them and put some good Business points into their practicing career life"
Leave a comment
---
How Teleworking is Reshaping the Modern Workplace
The recent changes to flexible working has been hailed as a 'green light' for more firms to offer teleworking (working from home) as an incentive. Despite this, many SMEs claim they are unwilling or unable to offer teleworking as an option for their employees, with some businesses believing that the practice would be detrimental to their daily operations (with the most famous example being Yahoo). The case remains that what works for one business might not work for others, however their are many advantages to teleworking for SMEs, including:
1. Higher Productivity
One of the most frequent concerns for managers is that productivity will fall if they aren't keeping an eye on their employees, however a number of studies show that when workers were left at home their productivity actually increased. Many workers found that they could complete tasks in a much shorter space of time as a result of not having to deal with office distractions, and when they did arrange meetings they maximised the time they spent together.
2. Online Collaboration
Businesses that encourage teleworking often find their staff make much better use of online tools as a part of their work when compared to more traditional businesses. When teams are working separately, they often rely on online task management software such as Basecamp to keep everyone in the loop. This actually leads to improved communication, as teams are giving a place to review their projects progress and are able to prioritise more effectively.
3. Staff Morale
Many staff members who are encouraged to telecommute report a much higher job satisfaction level, which has a positive impact on their work. Higher morale leads to less staff turnover, resulting in a stable team that is able to work together more effectively. Telecommuting is also known to reduce absenteeism, as employees are happier with their stress levels and work life balance.
4. Environmental Impact
By having less people commuting to work, many organisations are reducing their carbon footprint in a cheap and efficient way. This positive approach to business sustainability can be used as part of your communications strategy to generate a positive public impression, leading to increased trust from your consumer.
Is Teleworking the right option for your business?
Hopefully this post has helped you consider the benefits of teleworking for your organisation. Let me know your thoughts in the comments below.
Leave a comment
---