Some activities are hobbies to pass time while bringing joy to the doer. In one sentence I will describe litter picking as 'a bringer of joy' as I often feel fulfilled after I fill a trash bag, especially from a street or spot that I use frequently. I come from a place where independent litter picking hardly occurred except government officers paid to clean up but deep down in me, I found the litter picking equipment intriguing before the activity itself took hold of me. Furthermore, the thought of the officers not bending so low to clean up the streets using their bare hands or gloves to touch litter always warmed my heart.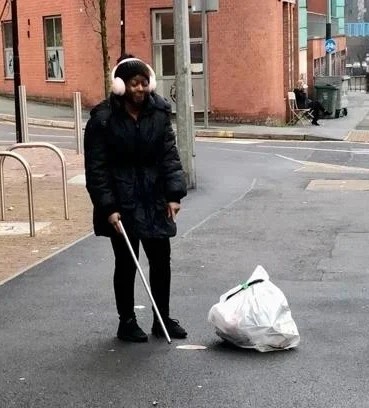 In 2019, I saw an elderly man in my church pick up litter around the premises after an event with his bare hands and said 'no' in my mind, so I bought a couple of lightweight litter pickers and organized a clean-up to mark my 38th birthday with a few family and friends and donated the pickers to the church afterward. It was a beautiful breakfast cleaning up activity with memories I hold dear. Additionally, it was an opportunity to plant flowers as a gift to the church from a group of course mates to round up a discipleship training we participated in. This was when my passion for DIY (do it yourself) litter picking was born. I began to picture myself as a Star Wars hero and I had this infographic on my phone that reads "may the force be with you" it had a funny way of motivating and reminding me that I was doing something good.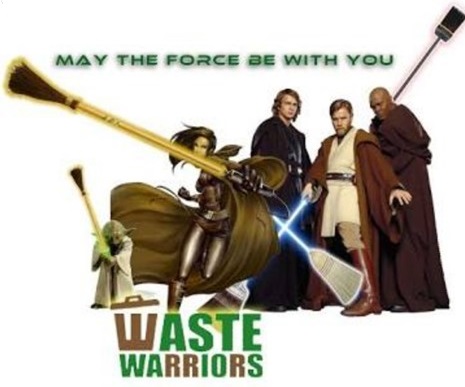 In 2021 I came to Salford and one thing apart from the red brick buildings and beautiful open spaces that stood out for me was the number of cans, paper cups, and bottles I saw on the streets, it was unbelievable I just wanted to grab my broom to sweep often. One night, my 14-year-old son alerted me with excitement that the streets were being swept mechanically and it was such a relief witnessing that.
It is amazing how I make history during my birthdays because on the 27th of June 2021, a day after my 40th birthday, I walked up to a group of litter pickers and asked if I could join them as I had observed them picking litter for about a month on Sundays. That was how I started my litter picking journey around my neighbourhood and I also participate in litter picking activities organized by the University of Salford Sustainability team.
When I am about to clear a dirty space, I tell myself ''go forth and conquer'' and that has a way of motivating me. Observing a litter free spot gives me a sense of joy and accomplishment. I sometimes imagine the grass telling me 'Thank you' for taking trash off me. I am not excited about trash being dropped, but hey… till that changes I will keep doing what I can to fix it within my power and the more people pick trash, the more those who drop them will have a second thought. A ripple effect is what I hope to achieve. Just in case you ever consider litter picking, think of it as a two-way gain, you will get some well-deserved fresh air, it will make you smile, and the earth will smile as well.
Thank you for reading.
---
This post is part of Go Green Salford 2022 – a month of free events and activities to promote environmental sustainability. Here you can watch the live stream where we talked to Godiya about her studies at the University of Salford and her sustainability journey.
Follow us to stay up to date about Go Green Salford: