The Cycle Friendly Employer scheme, run by Cycling UK, is a framework for employers to promote and enable cycling at their workplace. Earlier this year we have achieved the Gold Award!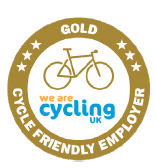 Following an audit at the end of last year, we are delighted to announce that the University of Salford received the Gold Award! The judges were impressed with our university's commitment to improving the facilities for cycling, increasing the number of available parking spaces from 362 to 500, and further to nearly 2,000 over the next decade.
Participation in the scheme supports our actions to encourage the shift to more sustainable travel by students and staff, as set out in our Sustainable Travel Plan.
The criteria is based across 6 categories: Communication and Incentives; Coordination and Organisation; Service; Facilities; Parking management; and Customer Traffic. We have achieved Gold in all of these areas.
Feedback and scores from the judges will help us set ambitious targets and further improve our cycling facilities and encourage sustainable travel. The next steps will involve work around car parking and provision of additional cycling facilities, such as cycle maintenance stations across campus.
Read more about Sustainable Travel at the University of Salford here.
Active Travel at Salford and in Greater Manchester
Cycling at Salford
If you're interested in cycling, join our Cycle User Group on Teams to stay up to date with all our cycling-related news and incentives!
If you'd like to hire a bike, the recently launched Transport for Greater Manchester's Bee Network Cycle Hire scheme is available on all of our campuses – read more here.
We've also got an internal E-Bike Hire Scheme for staff, which we run in partnership with Manchester Bike Hire. It gives you a chance to hire an electric bike for 4 weeks for free to try it out on your commutes. You can read more and sign up here.
Ride It Out! with Enactus Salford
Enactus Salford are leading a project called Ride It Out! which will include weekly rides around Salford to encourage people to cycle as part of a group, whilst also teaching them about bike safety and maintenance. The routes are designed for beginners. Each ride will also include a café stop. You can bring your own bike, but they will also be offering FREE bicycle hire for those getting involved.
The next session, will take place tomorrow, 5th of March at 11am. Email Olivia Morris for more info or to sign up: rideitoutliv@gmail.com 
Active Travel in Greater Manchester
Transport for Greater Manchester have an Active Travel hub, where you can…
For longer journeys, here you can find more information about travelling by bus, tram or train in Greater Manchester.
---
Follow us on social media to stay up to date about active travel at the University of Salford: