Dirty Air: Is transport choking Greater Manchester?
Date – 21st March 2019, 12:30-2pm
Location – The Old Fire Station, University of Salford
Seminar Report
Last year a report by Kings College London estimated up to 36,000 people die as a result of air pollution in the UK. Road transport is the biggest contributor to air pollution in Greater Manchester, and this means how we get around, what vehicles we use, and how we use them, directly affect the quality of air we breathe. Research has found connections between air pollution and wider health concerns, including respiratory conditions, dementia, and child development.
Air pollution has been a problem facing UK cities since the dawn of the Industrial Revolution, but the publication of GMCA's Clean Air Plan has brought new ideas to the old debate in Greater Manchester, with more attention being paid to how much space we dedicate to private cars in built up urban environments, and more questions being asked about alternative modes of transport across the city region.
In this seminar three speakers shared their perspectives on the history of air pollution, the challenges we face today, and the proposed measures to find a solution.
Dr Mohammad Taleghani (University of Salford) introduced the problem of air pollution and described the growth of annual CO2 emissions around the world between 1750 and 2008, starting with the Industrial Revolution. While awareness of air pollution goes as far back as the Great Smog of London in 1952, Mohammad explained that today nearly 800,000 deaths are caused by dirty air in Europe every year, and that even though Greater Manchester has several data logger stations to monitor air quality, many areas still above the legal threshold.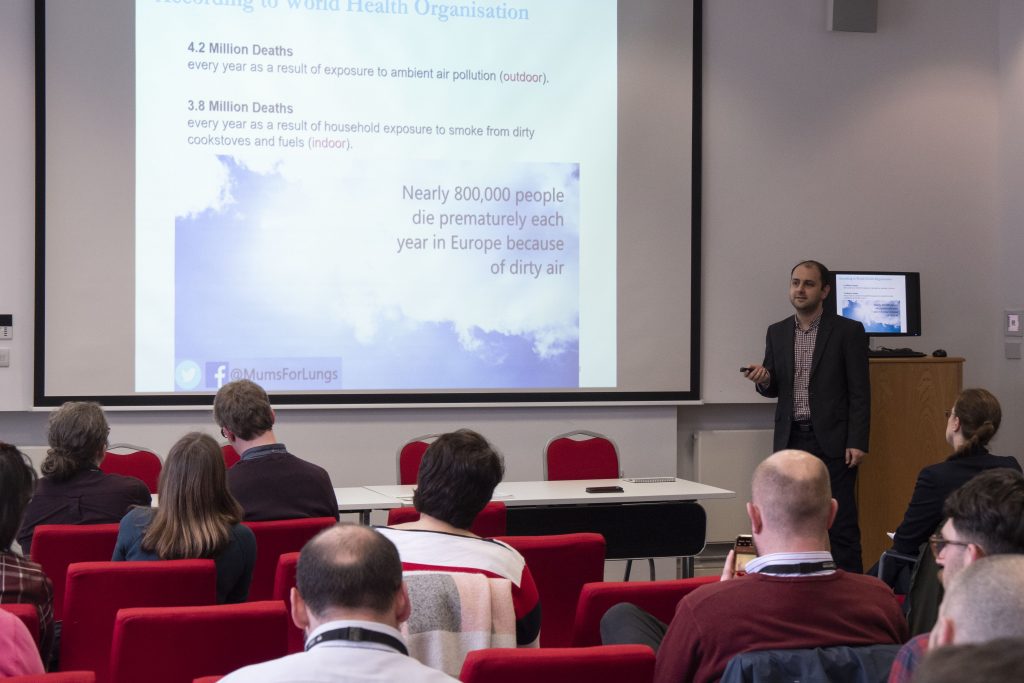 Lynda Stefek (Salford City Council) provided more localised context within the city region. The UK has been in breach of legal limits of NO2 since 2010, with central government being taken to court on three occasions by Client Earth which has led to 61 Local Authorities having directions served upon them to take action. The majority of NO2 emissions (80%) in Greater Manchester comes from road transport, with 93% of NOx and 75% of PM10 emissions coming from diesel vehicles. This is leading to a detrimental impact on health in Greater Manchester, where Public Health England have estimated that 5% of deaths (around 1,200) are attributable to particulates in the air. An automated monitoring station revealed that when managed motorway works were introduced to a section of the M60 in 2014 (and a new 50mph speed limit), it led to a 20 microgram reduction in air pollutants over the next four years.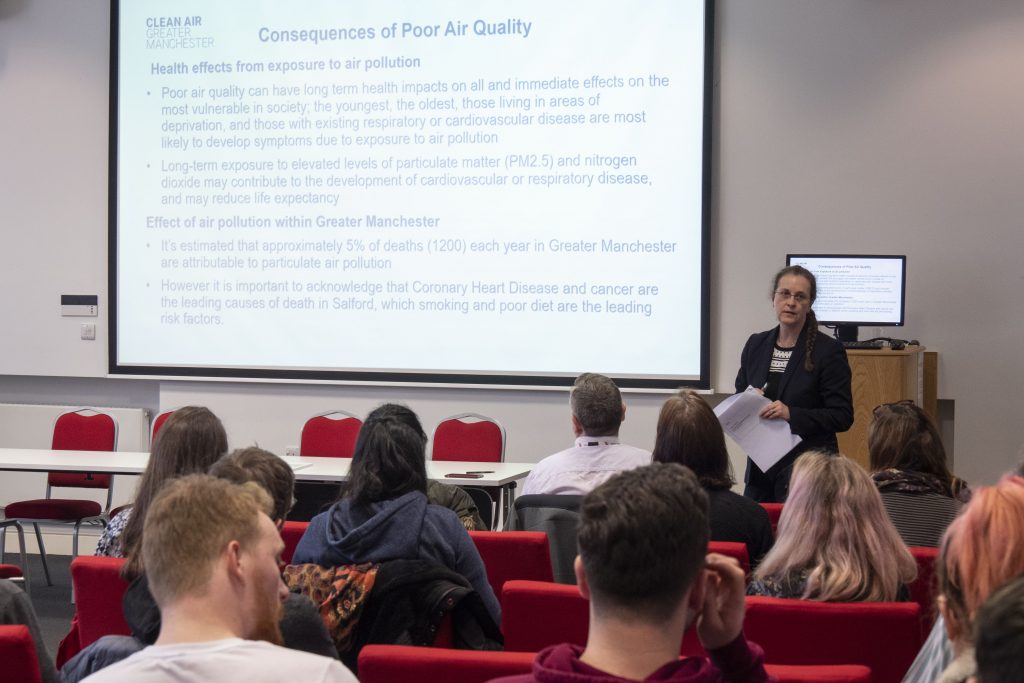 Pete Abel (Manchester Friends of the Earth) spoke about the Greater Manchester Clean Air Zone and the challenges GM faces as a city region. The current target is to make GM carbon neutral by 2038, which will require a 15% reduction in greenhouse gases every year in the first five years. However, the transport sector is the only sector still growing in terms of emissions (even without factoring in the aviation industry). Greater Manchester has the highest rates of emergency admissions to hospital for asthma in the UK, with around 2000 deaths caused by air pollution each year, and all this has an estimated cost of over £1 billion to Greater Manchester. School Streets is a national project aiming to explore this issue on a local level by banning the use of cars within a certain distance of a school – ensuring children and parents can walk or cycle safely to school, breathe cleaner air, and have more chance to socialise while doing it.
Find out more about Manchester Friends of the Earth's activities around transport and air quality at www.manchesterfoe.org.uk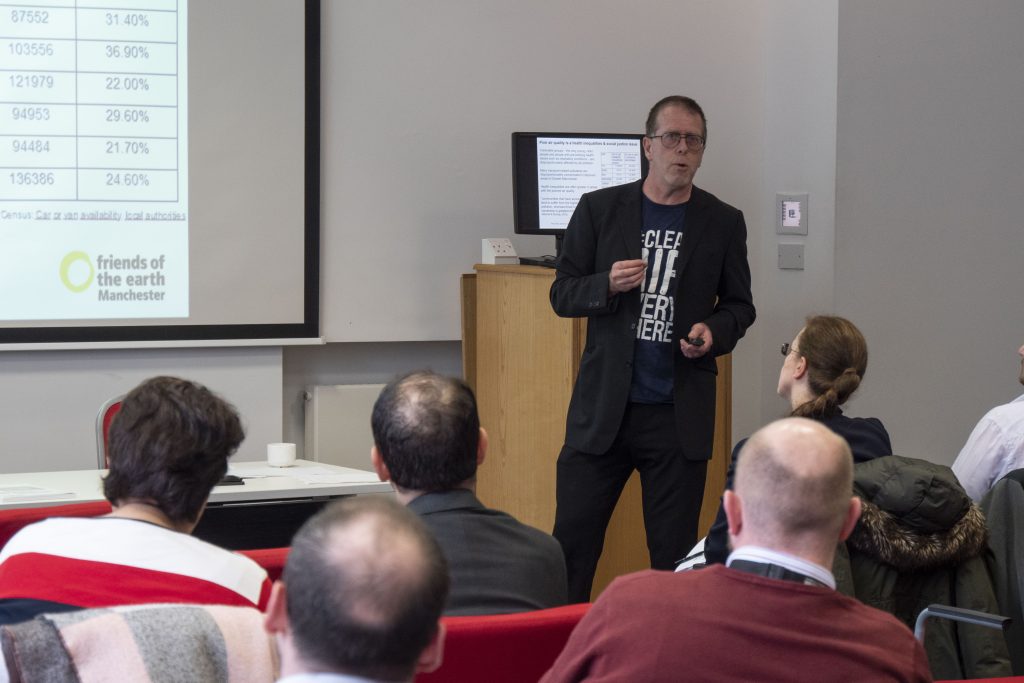 The Q&A discussion that followed covered a range of topics, including the role of designers in planning, the potential of urban vegetation to absorb pollutants (such as green roofs), as well as greening our cities to make them more desirable places to live in general. Observations were also made about how dedicating road space for public transport can result in more concentrated congestion for the private car, whilst others argued that the capacity of public transport meant that this meant more people using the same space.
Thoughts about the Clean Air Plan and its proposed Clean Air Zone strategy came in thick and fast during the Q&A discussion, highlighting just how passionately people care about clean air. Questions were asked about the Mayor's decision to omit private cars from GMCA's newly proposed Clean Air Zone. Modelling was identified as an influential factor for the decision, suggesting charging private cars would not have performed significantly better, while concerns were also expressed over the economic impact on low earning communities.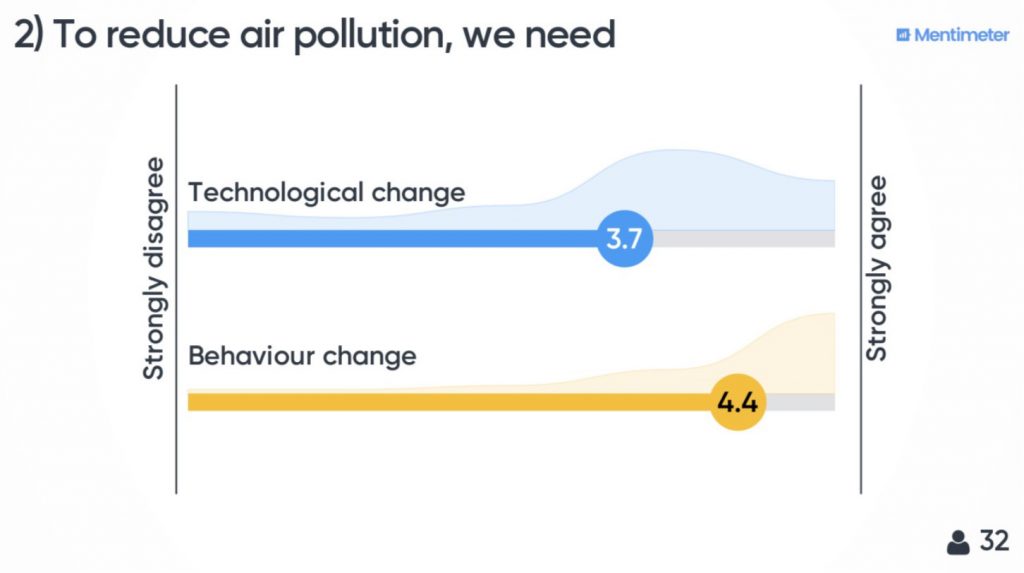 When thinking as a group about how to reduce air pollution, behaviour change was rated more important than technological change, although both were considered part of the solution. This is because behaviour change is viewed to be a built-in long-term solution, where technological change can often be quite peripheral, expensive, and seldom understood.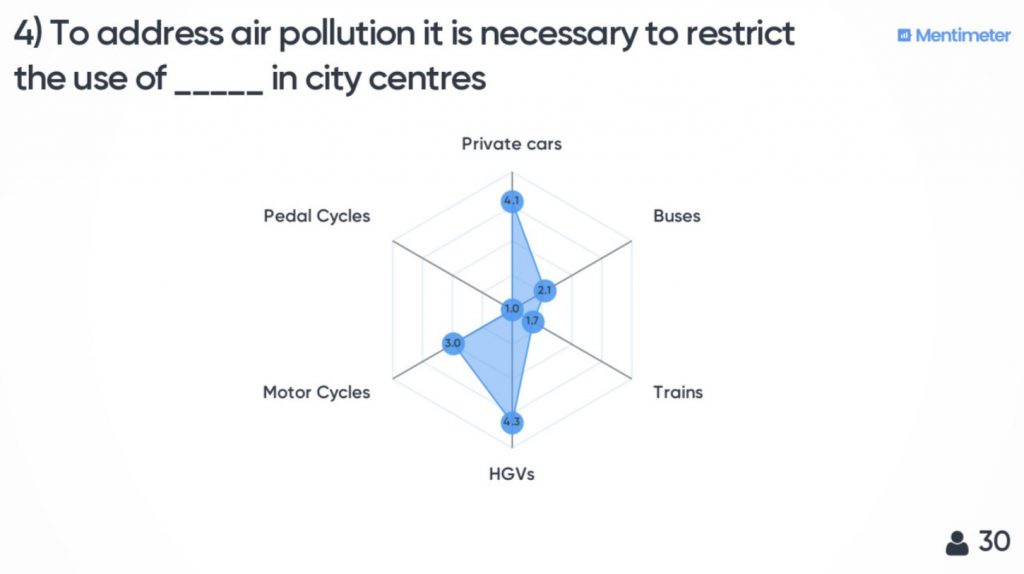 In order to start meeting air quality targets it was considered that restricting the use of private cars and HGVs in the city centre would have the most important impact. Salford City Council has a car sharing scheme using electric vehicles, which can be booked in advanced and used outside of working hours as an incentive for staff to reduce their carbon emissions. The use of cargo bikes as a replacement for HGVs and goods delivery in the city centre was discussed. This is currently happening on a small scale through Last Mile and Manchester Bike Hire in Manchester.
One of the biggest challenges is the top-down GM level policies that are tough to incorporate at a local level, particularly when public transport is stretched and private cars are embedded into everything across the city region. Chris Boardman was hailed for adopting a new approach to this problem, asking members of the public to draw their own commuting routes for walking and cycling as part of a creative consultation process for the Bee Network.


Presentation material from seminar

Audience Voting Tool
As part of our seminar we used an audience voting tool to spark discussion around certain questions. You can see the results of this session below.