E-Scooters in Salford
Summary
Healthy Active Cities at University of Salford is conducting a study alongside the Department for Transport' e-scooter share scheme trial that takes place in the city for one year from autumn 2020. The trial involves the provision of Lime e-scooters for hire, starting with a spatial focus on the University campus and expanding in stages to include MediaCityUK and subsequently a larger area of Salford. The work is funded by Transport for Greater Manchester and Lime.
The University study comprises a combination of qualitative and quantitative methods across online surveys, reference groups and in-depth interviews. It will seek to understand experiences and perceptions in relation to the scooters, to identify who is using the scooters, why, how, and for what purpose, and to place the scooters within a broader context that takes account of other road users, the wider community, and vulnerable people. The work builds upon previous research on e-scooters, bike share and e-cargo bikes.

Focus
In particular, the research will investigate and create an evidence base on:
who is using, or considering using, e-scooters and how these groups could be categorised;
reasons for using e-scooters and potential barriers to (further or more extensive) use;
journey purposes and other factors motivating use of e-scooters;
the relationship of e-scooting with other modes of transport and how this may encourage intermodal travel and drive patronage to more sustainable modes;
the nature of the e-scooting experience and its relationship with the urban context, including physical infrastructure, traffic and interactions with other road users, pedestrians and cyclists;
perceptions of e-scooters by users and non-users in relation to convenience, impact, safety, the public realm and interactions with others;
the distribution of the above factors across demographic groups including gender, ethnicity, socio-economic status and levels of vulnerability and the implications of this for uptake and social inclusion.
the influence of the Covid-19 pandemic and associated policy responses over use of, and perceptions relating to, e-scooters.

Reporting
The researchers will be collecting data through 2021, including an ongoing set of reference groups, interviews with e-scooter users and others, and a set of online surveys. The project final report will provide detailed findings and insights into the implications of the trial for UK policy and the development of micromobility in Salford and the UK.
Interim Report – May 2021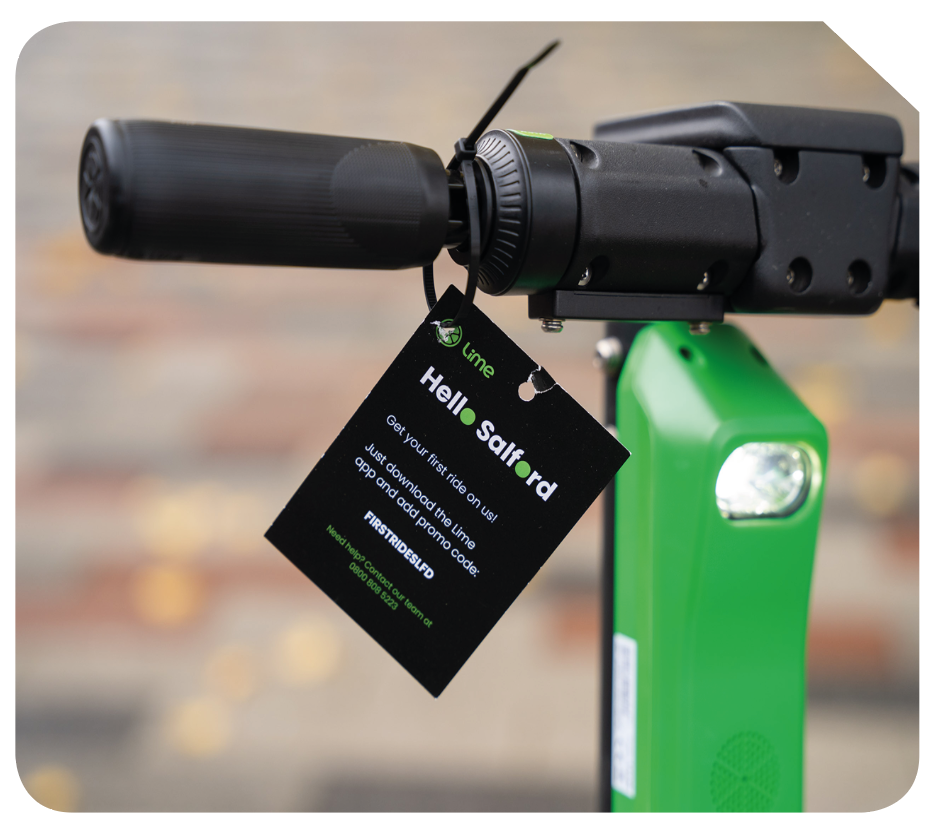 Our interim report (May 2021) is now available and provides an initial analysis of the first stages of data collection. Read the report as a pdf.

Research Team
Dr Graeme Sherriff (Principal Investigator)
Dr Luke Blazejewski (Research Associate)
For more information, please contact g.sherriff@salford.ac.uk