Forgotten Transport – How can we make everyday walking more fun?
Date – 30th May 2019, 12:30-2pm
Location – The Old Fire Station, University of Salford
Seminar Report
This seminar took place on the final day of the Greater Manchester Walking Festival 2019, after a month of creative and engaging events all over the city region to encourage people to walk more often.
Professor Tim Stott and Nora Morocza from Liverpool John Moores University offered two perspectives on recreational walking. Nora's PhD research is currently investigating people's motivation for walking, and she found that walking is more than just a set of distinct advantages (such as health, money saving, etc) and it is more of a holistic experience. She has interviewed recreational walkers and walk leaders as part of her PhD and identified two different attitudes towards everyday walking those who think of walking as a principle and walk as a mode of transport, and the those who only walk recreationally in natural environments preferably hills or mountains. Nora found that across groups health seemed to be a bi-product rather than a primary motivation, and that people like to learn about nature, local food, local cultural landmarks while walking for recreation – as it's an opportunity to become culturally and spatially engaged with a new environment.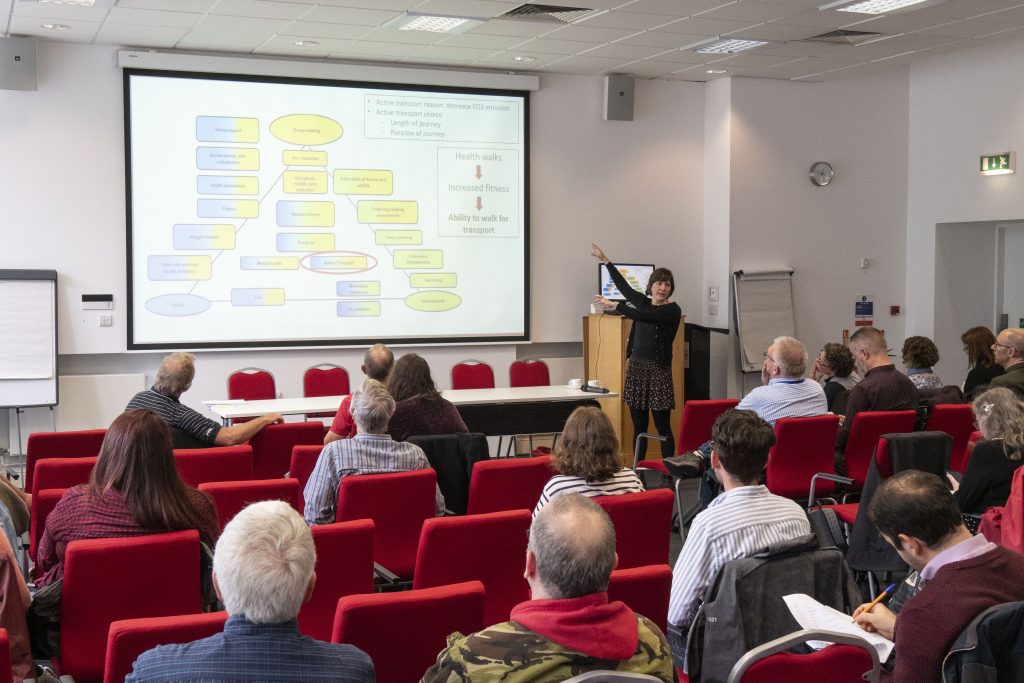 Tim spoke about his work with Hf Holidays, who have been running walking holidays for over 100 years. As a walk leader Tim is interested in what he can learn from participants through the challenges that are presented, especially as his groups are often comprised of retired individuals 65+ years old and of varying physical abilities. He emphasised the role of outdoor education; well-rounded walk leader training and the importance of extensive walking and leading experience in promoting sustained engagement among recreational walkers.

Carragh Teague from Transport for Greater Manchester talked about the importance of data when designing new spaces and overcoming the inevitable challenges. She described how the recent developments in New York City (Time Square's pedestrianisation and the High Line) were only made possible by an abundance of data, and that 'In God we trust, all others must bring data'. The good news is that walking to walk [SGA1] has become more popular in Greater Manchester recently, but the biggest challenge for Carragh and TfGM is how can this data be captured so people might see walking as a 'fun' and preferable activity, rather than just a necessary commute to work.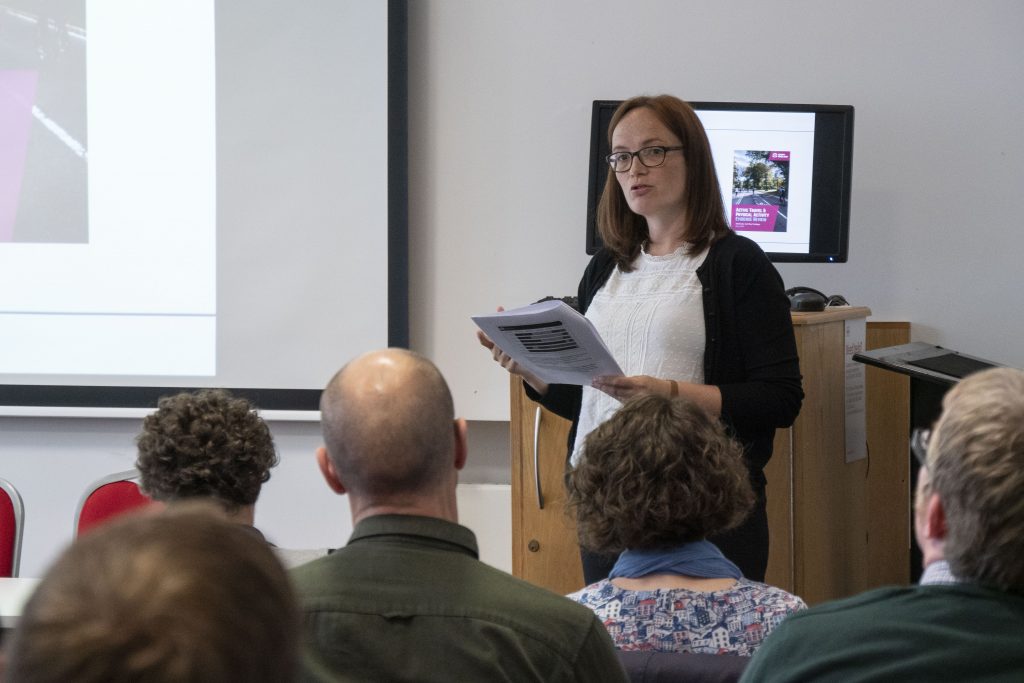 Jenny Wiles from Living Streets discussed different approaches to how we can encourage more people to take up everyday walking. Jenny referred to the principle 'Does it spark joy?' (popularised by Japanese decluttering expert, Marie Kondo) and asked if we could apply this concept to walking. After all, walking needs to be safe, easy and fun, and if it can't achieve these three things we can't expect people to walk. Jenny shared some examples of colourful and engaging infrastructure around the world that helped encourage local communities walk more (including a piano staircase!).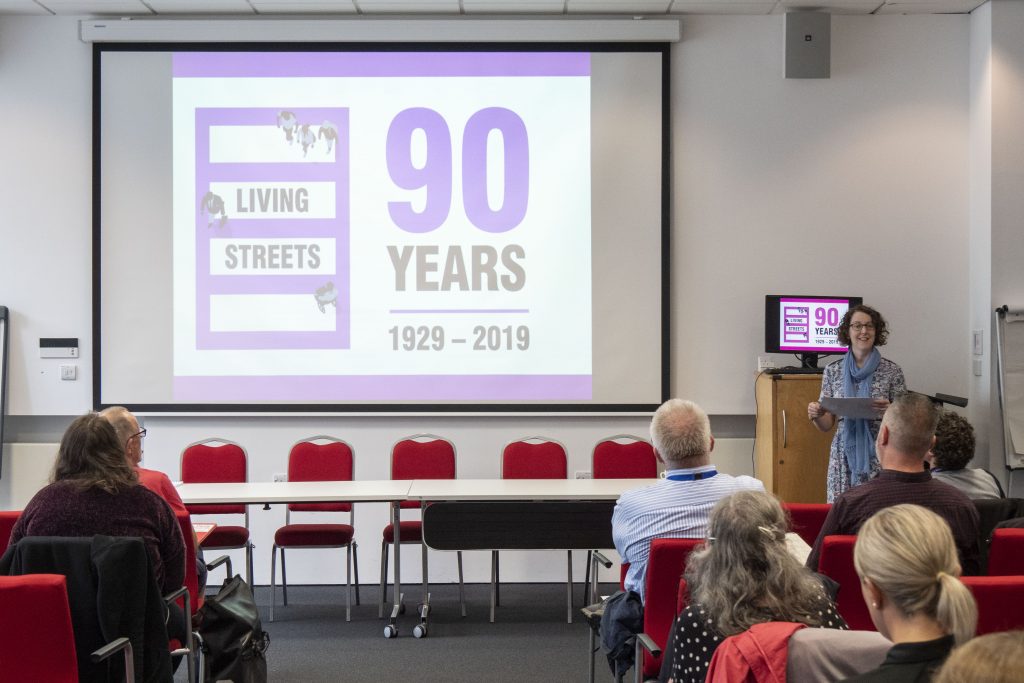 Louise Robbins from GM Moving described the ambition to build a more active population and encourage a 'cultural norm' for people to walk everyday. Their target is for 75% of Greater Manchester's population to be active or fairly active by 2025, and to achieve this they have designed a community-led approach: this recognises the need to understand the attitudes and motivations of inactive groups and involve communities in developing approaches to encourage more walking. Increasing walking is seen in its broadest sense; as a means to connect people with each other, their place and communities and contribute to health, wellbeing, environmental, economic and community outcomes. The GM Moving walking programme supports organised walking, independent walking as part of daily routines, leisure walking and active travel. A 'voice for walking' has been created as a stakeholder vehicle to increase the profile and advocacy of walking issues, recognising that walking has fallen behind cycling and driving in terms of public profile.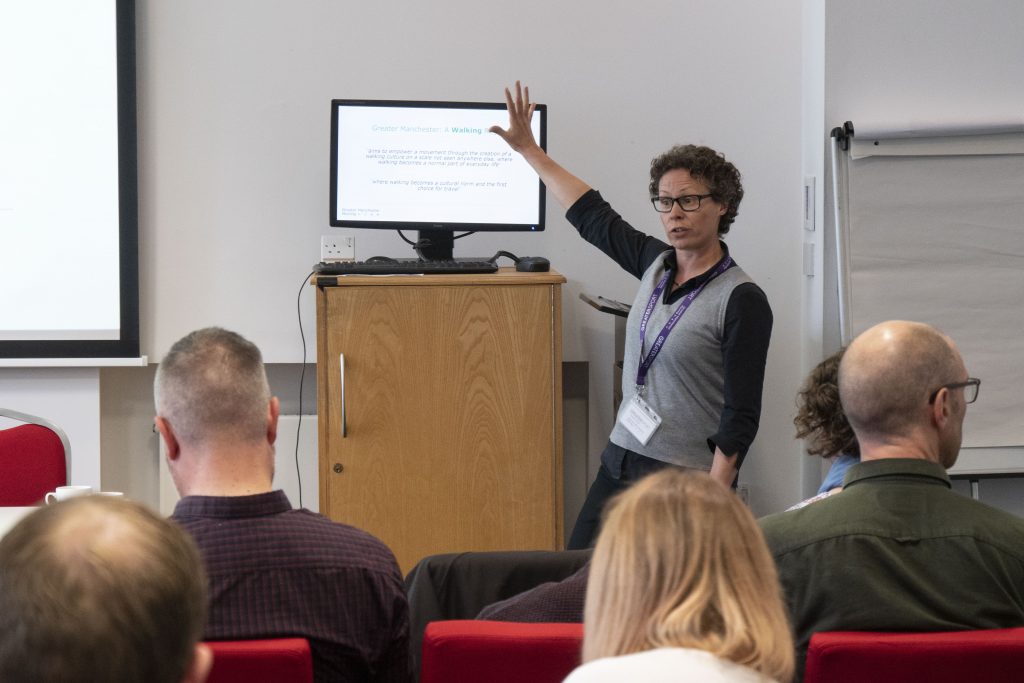 These presentations were quickly followed up by an energetic Q&A session, which explored what needed to be done to make walking more popular. These suggestions included incentives for people thinking about walking, but also deterrents for driving (pavement parking restrictions, free public transport passes, banning cars around schools during pick up and drop off times). Infrastructure featured heavily as an important area of consideration, as each community is different, with different infrastructural needs. Future infrastructure projects may benefit from a more inclusive (and costly) bottom-up consultation approaches with the local community.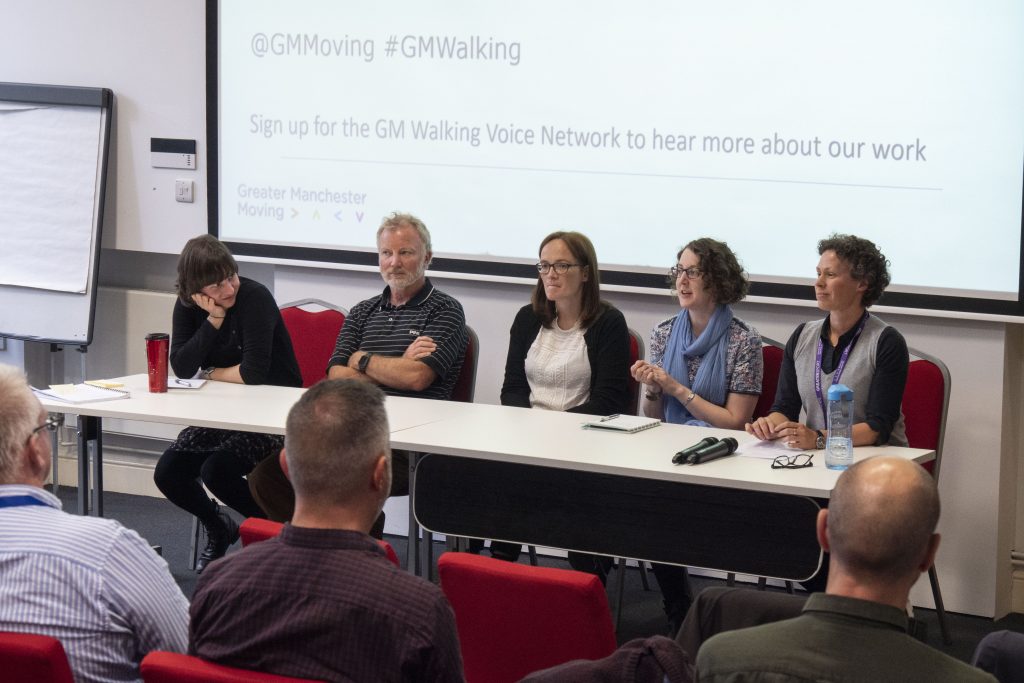 Other areas of discussion included barriers to walking, which are generally well understood but not yet overcome. For example, health has often been used as an incentive to encourage people to start walking, but research suggests that when asked about their main motivation for walking, people rarely cite health as the reason – it is more often about the social aspect. This suggests that a rethink of incentives may be needed.
Presentations from the seminar
Audience Voting Tool
Unlike in previous seminars the audience voting tool Menti was only used once during this session as a quick way to gauge how members of the audience travelled to the venue. Public transport (with a combination of walking) and walking scored highest, with private car use coming third and cycling scoring lowest.