Seminar #15 Mobilities during Covid-19: Looking back to look forward
Date: Thursday 18th February 2021, 12.30pm
The Covid-19 pandemic has brought about substantial changes to the way we live. Shifts in how we work, shop and socialise have impacted upon mobility practices. Periods of lockdown have seen reductions in motorised traffic and increases in walking and cycling as people take outdoor exercise and visit greenspaces. There has been evidence of improved air quality as a result. We've seen popup cycle infrastructure being introduced to encourage cycling and enable people to socially distance, as well as an increase in pedal-powered vehicles for deliveries. Restrictions and concerns over safety on crowded services have been challenging for public transport providers, who have seen revenues fall. International travel has been limited and complicated by concerns about infection and shifting expectations relating to quarantining on return.
In the 15th event in our Sustainable Transport Futures Seminar series, we explored this context through two presentations.

Presentation 1: Sam Hayes, Healthy Active Cities, University of Salford
Sam discussed his recent research on the popup A56 cycle lane, implemented by Trafford Council during the first lockdown and his research methods to study the cycle lane, which included tweet scraping as well as reviewing local reporting and citizen blogs of the cycle lane. Tweet scraping produced a large dataset and so Sam used first person responses within the tweet dataset to get a better grasp of the data that he was using. Sam discussed both the imagined routes that were created within social imaginary and the material routes which were created on the A56 through the fusing of these social imaginaries with political realities, such as removal and adjustment of the cycle lane at different points and the pop-up lane ending at the Manchester border. Sam also discussed the range of emotions that emerged within the tweets in response to the pop-up cycle lane – including confidence, safety and horror – and considered how these followed the journey of the imagined and material infrastructures of the A56.

Presentation 2: Graham Banks, TfGM
Graham began the presentation by giving an overview of TfGM's vision for the future of public transport and trams within Greater Manchester and a discussion of the impacts of COVID upon public transport, with patronage at 20% of pre-pandemic levels, as a result of both lockdowns as well as changes in working patterns and more people working from home. Public confidence to travel on public transport will be a potential barrier in sustainable long-term recovery. On the trams, social distancing is a major challenge but changes in seating and visual cues in trams as well as tram ambassadors are interventions that are working well. As we move out of lockdown and people may being working in offices again, Graham stressed the importance of regulating travel demand by spreading it over a longer time period and supporting walking and cycling as alternatives to tram travel for short journeys.
Graham had to leave straight after his presentation. The following questions were asked by attendees and were answered by email.
Question 1: Should reduced metro tram capacity be used as an opportunity to allow bicycles on trams (at least temporarily)?
Due to the nature of our high frequency turn up and go services, the vehicles are not designed to accommodate storage of other vehicles (except wheelchairs/mobility scooters/pushchairs – which are stable and have built in brakes).  We have reviewed this and conducted a thorough risk assessment and it is not safe to accommodate bikes on trams.  Tram / tram-train design will consider this in the future – one to watch
Question 2: Are you considering a period of free tram travel, e.g a month, to get people back on board?
As for free travel – given the current financial constraints of operating the network with significantly reduced patronage and uncertainty around financial support post April, its unlikely this particular proposal will be feasible, but we are currently exploring all of the pricing/offers/reward/incentive schemes to support and encourage the return to the network whilst also focusing on the safety of using the network and balancing of peak periods to create more even demand throughout the day to make journeys comfortable, supported, clean and safe.

Q & As
To start the Q&As Sam used Mentimetre to ask the audience questions that they could interactively answer. For example, Sam asked for the perspectives of the audience on pop-up infrastructure: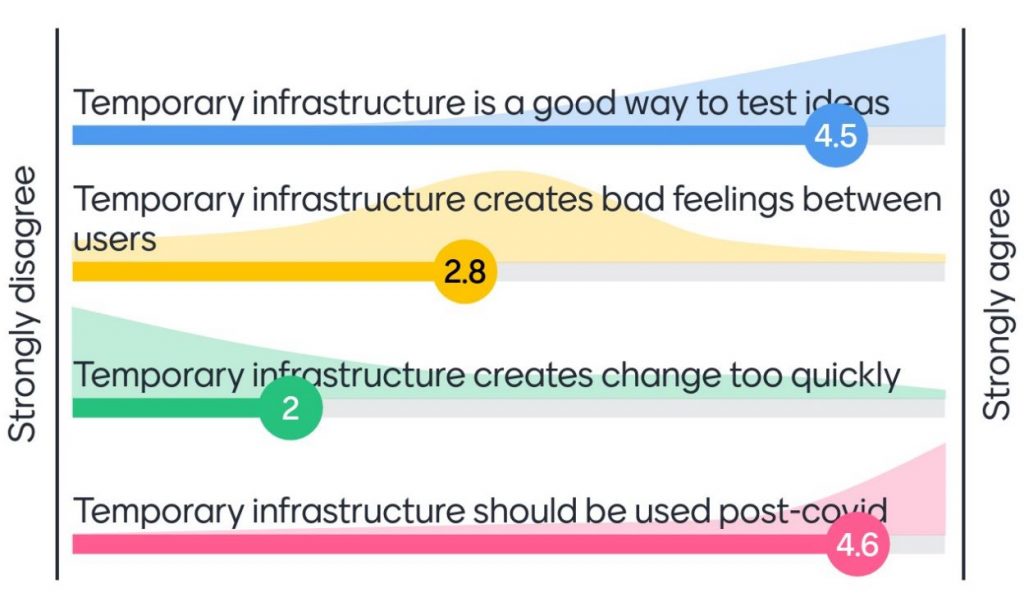 Sam also asked audience members who had used pop-up infrastructure about their feelings when using it: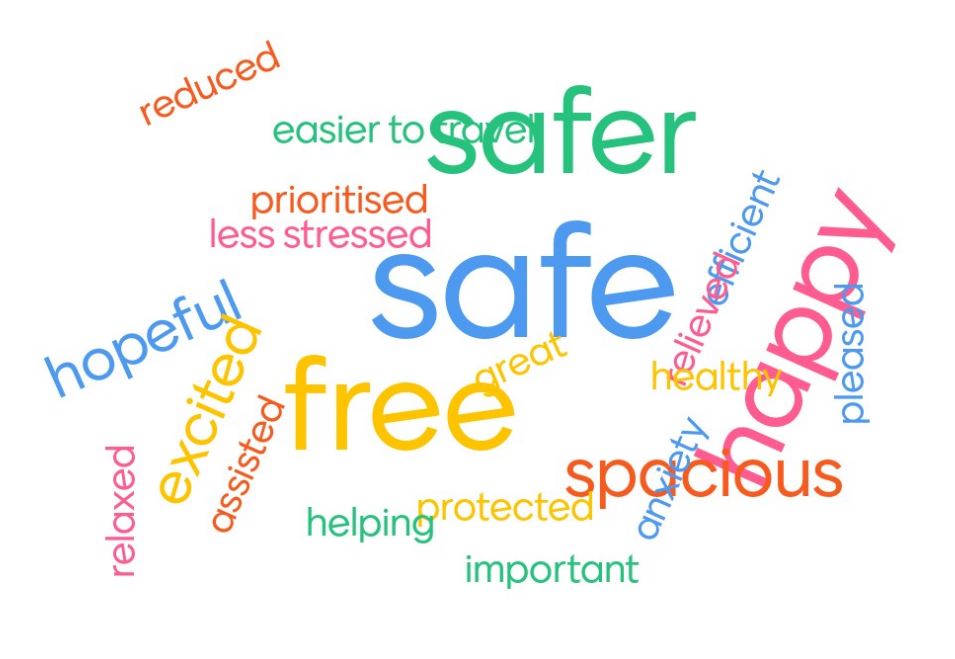 The audience then got the opportunity to ask Sam a number of questions. On lessons learned, Sam discussed the ways in which the reallocation and segregation of road space supported the growth in confidence of people to cycle was a lesson enhanced, if perhaps already known. Sam also answered questions on not knowing the impact of pop-up cycle lanes until we get back to 'normal' and that the difficulty of knowing the impact is made more challenging by bits of lane having already been removed. Sam noted that whilst this won't give us the full picture, hopefully the potential of the cycle lane will stay with the council and inform their future plans.