Founded in 2013, the award-winning LoveitBookit has grown into one of the UK's leading cruise specialists, with the team now recording Cruise TV in the University of Salford's TV studios for daily broadcast on Freeview, Sky and Freesat. 
An enthusiastic and dedicated team of Salford students from our MediaCityUK campus successfully run the TV gallery for the show. Responsibilities include manning the cameras, creating graphics and directing.
To find out more about this exciting project, I met with BA TV & Radio students Ellie Lightowler and Harris Redgrove. I also spoke to LoveitBookit's founder and presenter Dan Radnor, and Ameera Hill, Head of Technical Services at the University of Salford.
Hi guys! How did you first get involved with Cruise TV?
Ellie:
The Tech Intern Josh got me involved. Opportunities are posted on a Facebook group and you can sign up and pick the role you want. There's also a lot of workshops advertised, so I've previously attended a lot of those.
To join the Cruise TV team, you get trained up, then there's shadowing as well. It's a long process but once you're on, it's good!
Harris:
I worked with Quays News throughout my first year and the Tech Interns Mike and Josh got me involved on some other lower level stuff. I've since worked my way up and often direct.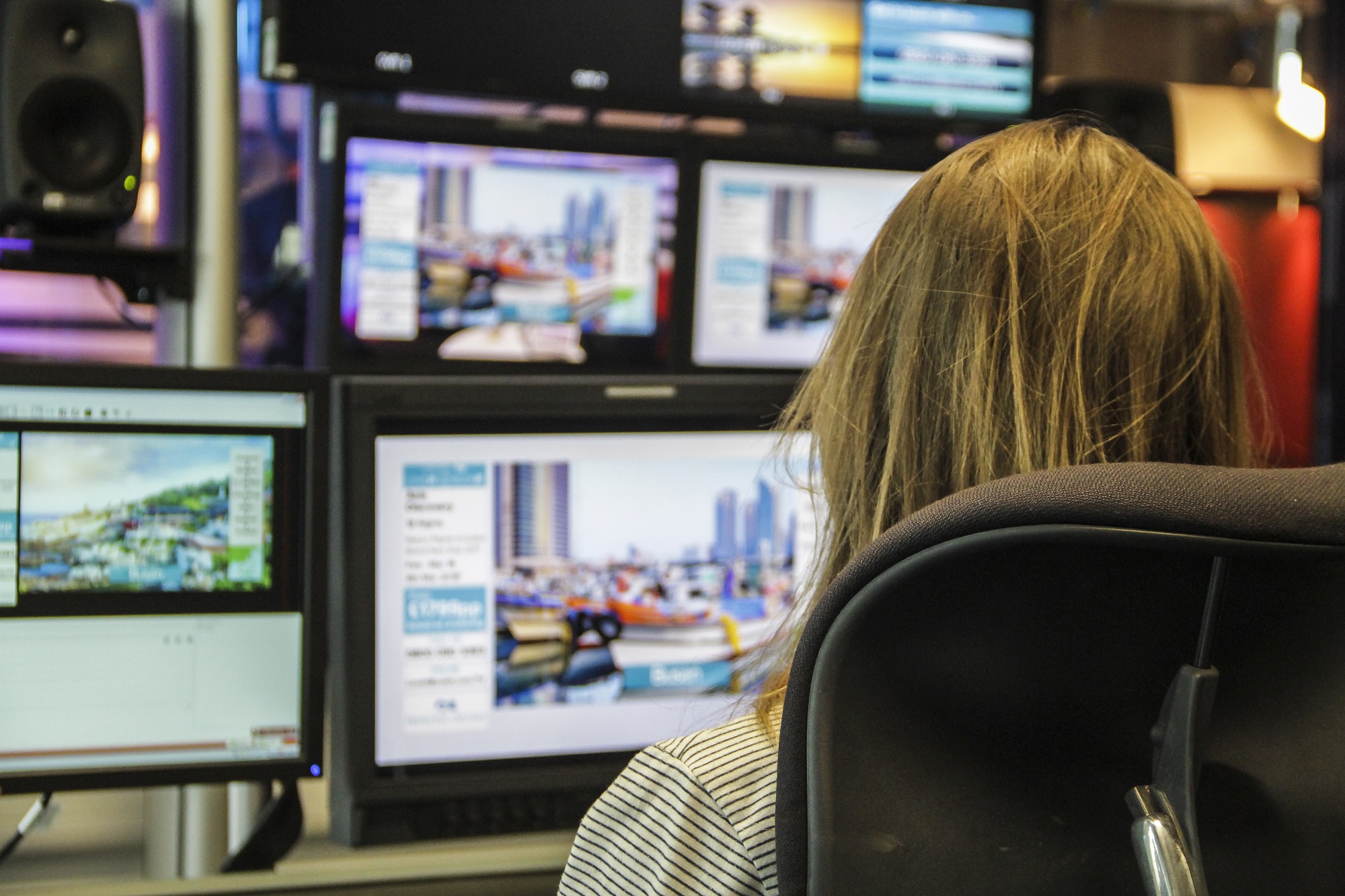 What are the differences between Cruise TV and student-led Quays News?
Ellie:
This is like a step up from Quays News as it's for an actual client. Quays News is really good but it's also like a stepping stone, you're always learning while doing it. If you mess something up, it's OK, whereas with this, if you've messed up, that's it.
Harris:
If you make a mistake, it's going out on TV rather than a student news channel. You really don't want to be making mistakes.
Does this mean that there's more pressure?
Ellie:
There is a bit of pressure because you don't want to mess up. As long as you're confident in what you're doing, and attend the workshops, you'll know what to do. It's good pressure!
Do you think this experience will help with your future career?
Ellie:
Definitely. It goes on the CV, it's paid and you get experience in a number of different roles. Also, I'd never worked on a teleshopping programme before this so it's all experience.
Harris:
When I go for jobs after university, I can say I have experience in TV directing. Hopefully, that will put me ahead when job hunting.
I also spoke to LoveitBookit's founder and presenter of Cruise TV Dan Radnor, to find out about the company's involvement with Salford students.
Join us at 10am (Freeview 87, Sky 389, Freesat 516) for the new episode of Cruise TV. We've got some amazing deals you won't want to miss. pic.twitter.com/taD4OfFAui

— LoveitBookit.com (@LoveitBookit) June 7, 2017
Hi Dan! What made you decide to film Cruise TV at the University of Salford?
We looked at a few different options, studio wise, and then we saw the facilities at the University of Salford and were really impressed.
We also thought it would be a really good project to get the students involved with because they're creative and dynamic.
How does the studio here compare to others you saw?
The studio and facilities here are very impressive. We've found everything very good so far and it's got a good energy about it. The recording equipment is also top notch and it's an exciting place to work.
How have you found working with our students?
It's great to work with the students. They're a great bunch of people and we've built some really good relationships.
This is a fairly new project for us and obviously the students have been learning along the way too. We've learnt together and grown together which is really nice. There's a lot of enthusiasm which is really appreciated and helps bring great energy to the show.
Ameera Hill, Head of Technical Services at the University of Salford commented on the benefit of projects of this kind.
Hi Ameera! How do projects like this benefit our students?
We are extremely proud of the way we are able to realise the ambitions of both our clients and our students here at MediaCityUK.
Through these types of commercial activities, we can ensure our graduates are preparing for their working life. The ability of the technical team to see an opportunity and then turn this into a viable programme is exactly what we are trying to achieve here at the University of Salford.
You can catch LoveitBookit's Cruise TV on Freeview 87, Sky 389 or Freesat 516 every day.