Visual Arts student Alena Donely spoke to me about how she got the opportunity to work with artist Ruth Barker, and how this has aided her own practice. Her creativity was noticed by Ruth at the University of Salford, and she played a crucial part in the creation of Ruth's latest work for an exhibition at Castlefield Gallery, launched this month, and co-commissioned with the University of Salford Art Collection.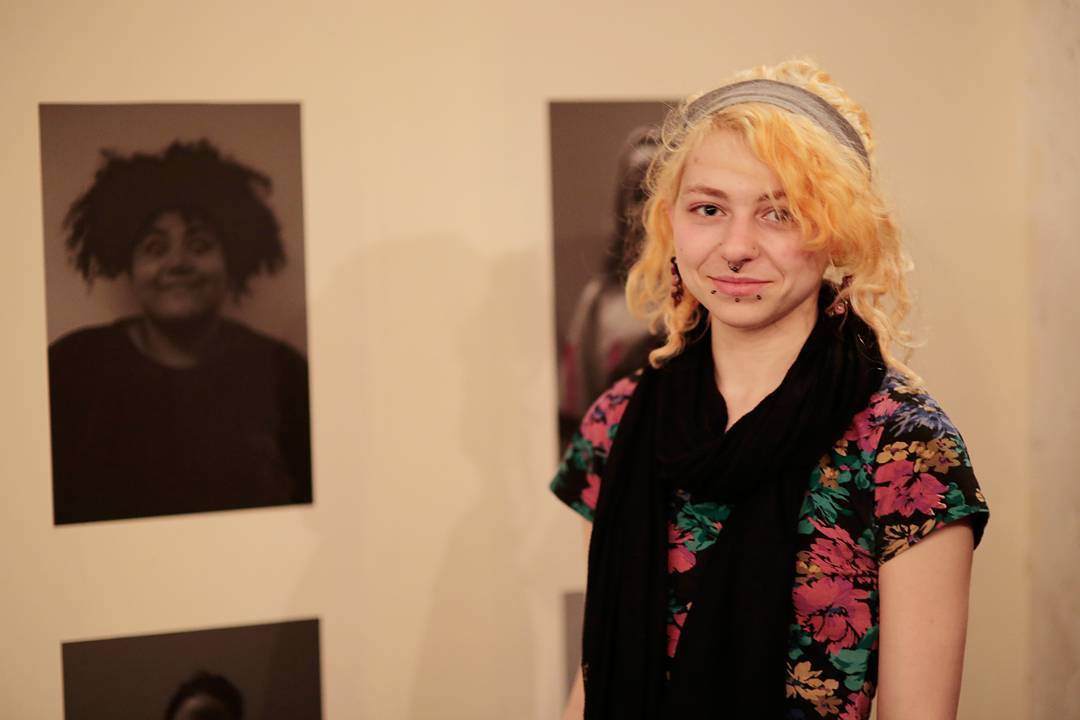 Hi Alena! Tell me more about the exhibition at Castlefield Gallery.
Castlefield Gallery in Manchester are exhibiting visual explorations by Ruth Barker and Hannah Leighton Boyce. Artwork has been commissioned for this event, namely textiles, sculptures, audio recordings, and salt works and Ruth Barker has undertaken a research residency with the University of Salford's Art Collection, utilising the Fibre Workshop and the Anechoic Chamber to create work. The premiere of the work is on the 8th March to coincide with International Women's Day, and it runs until 29th April 2018.
What did your role involve?
When Ruth and I first met, my role was to be the 'tufting fabricator' for the rug-like artwork. We have since established a closer relationship, and I now get called her 'assistant'! Ruth has often sent me ideas and I suggested how they could be translated into tufting. We have discussed everything from colour matches, pile heights, and the overall feeling intended by the work. Ruth visited the workshop in August 2017 to test the equipment, and again in February 2018 to create some artwork.
I tufted Ruth's drawing during February, and stepped outside of my usual art style to match details as closely as possible. Aspects of the final artwork reflect each of us, as well as our similar visual interests, though it is ultimately Ruth's design. The piece is part of a larger installation, but it's been a pleasure helping to create a tufted face, and a paper body cast on the installation week.
Ruth Barker, Circle Work (2015), Performance: Photography by Christopher MacInnes. Courtesy of the Agency.
How did you come across the opportunity? 
Sam Ingleson is the Associate Dean of Engagement, Enterprise and Partnerships within the university, and she put me in contact with Ruth Barker. Sam and I have talked about tufting a lot, so I am grateful that my name was mentioned when Ruth expressed interest in the medium. This specialist equipment is rarely seen in universities! My own motivation and ambition have driven my position further than first expected, and without putting in a lot of time and effort, I wouldn't have made as many wonderful connections.
What do you enjoy about your course?
I'm on the undergraduate Visual Arts course, in my third year and final semester. It's certainly changed my life for the better, and has introduced me to the tufting gun that I create almost all of my artwork with. Two of the three years have also been in the New Adelphi, and the facilities have motivated me to explore more techniques and work on a larger scale. As a result, I have recommended University of Salford to many other aspiring artists!
Work in progress: Hannah Leighton Boyce
What opportunities have you been provided with while studying here? 
The variety of opportunities presented on the Visual Arts course have given me a great start to explore my chosen career paths. Some of these include an Art Therapy placement, exhibiting my first tufted piece at the Women's Equality Party conference, exhibiting at Artwork Atelier, an X-Ray collaboration with Radiography students, and the Hot Bed Press 20:20 Print Exchange. The University's connections with HOME, Manchester Art Gallery and Castlefield Gallery have proven a fantastic resource for students who are looking to become practising artists!
Does the university provide any extracurricular activities for aspiring artists? 
There are a lot of options to explore outside of your taught course, that are supported by the teachers here. In second year, we independently organised placements in an education, or in a gallery setting, where I planned an Art Therapy placement and Mosaic Workshop. Others were able to work in schools, set up a group exhibitions and create artwork in specific areas to explore their practice. All of the briefs we get given for outside projects are optional, but we're encouraged to try as many of them as possible to expand our knowledge. Some of the study trips that I have attended with the course include Berlin, the 57th Venice Biennale, Yorkshire Sculpture Park, the Turner Prize in Hull and the Merz Barn in the Lake District.
Thanks to Alena for speaking to me about her innovative work. Make sure to explore the various courses offered by the School of Arts and Media at the University of Salford, and find something that suits your passion.