Continuing my series of great artists who played the University of Salford, here's a timeline of my favourite bands from the 1980s.
1985 – NEW ORDER AND HAPPY MONDAYS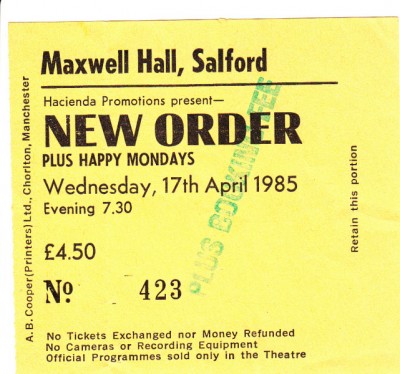 With both bands being from Manchester, and with myself being a general lover of all Madchester music, New Order and Happy Mondays are partly the reason I moved to Manchester and came to study at the University of Salford. After the tragic death of vocalist Ian Curtis from Joy Division, guitarist Bernard Sumner, bassist Peter Hook, drummer Stephen Morris, and Gillian Gilbert formed the band New Order. New Order are one of the most influential bands ever to come from Manchester, with their record label 'Factory Records' and nightclub The Haçienda. Famous hits include 'Blue Monday' and England's World Cup anthem of 1990 'World In Motion' which changed the music of football forever, featuring John Barnes.
You can find some images of New Order at Salford here.
My favourite tracks – The Perfect Kiss (New Order), Bizarre Love Triange (New Order), Regret (New Order), State of the Nation (New Order)
From Little Hulton, just 20 minutes from our main campus, Salford born Happy Mondays supported New Order when they played Salford in 1985. One of my favourite ever bands and yet another reason to move to Salford! I've been fortunate to see Happy Mondays three times now, and hope to see them again later this year at 'Shiiine On' festival in Birmingham. Happy Mondays are made up of vocalist Shaun Ryder, his brother Paul Ryder on bass, Mark Day as guitarist, Paul Davis on keyboard, and Gary Whelan on drums. Bez then joined the band as dancer/percussionist, and Rowetta as backing vocalist in 1990. The band are huge influencers within the rave, acid house, and psychedelia movements in Manchester. Shaun uses John Cooper Clarke-esque spoken word vocals, carrying the Salford accent and history in music right through to the present day.
My favourite track: Hallelujah (Happy Mondays)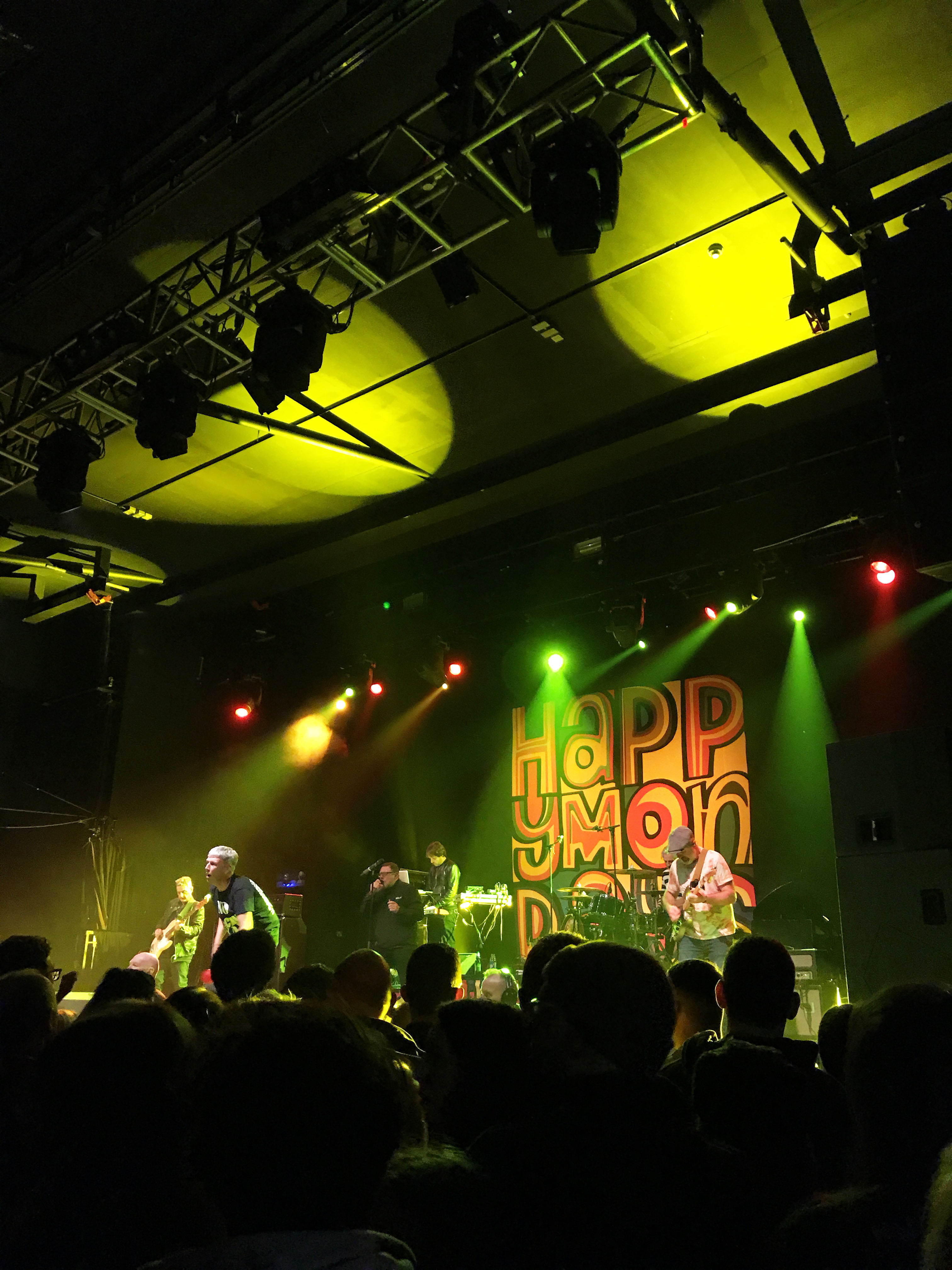 Happy Mondays, 2017 @ Manchester Academy 1. Photograph: India Booth
1986 – THE FALL with Pete Shelly & Dr John Cooper Clarke
Formed in Prestwich, Manchester, The Fall were a post-punk band led by vocalist and founder Mark E. Smith. After being diagnosed with cancer, Mark died at the age of 60 just last year. The band were known as the most prolific band of the British post-punk movement, and from 1979 to 2017, they released thirty-two studio albums! They played in Salford in 1986, along with one of the University of Salford's honorary graduates, John Cooper Clarke.
THE FALL SETLIST University of Salford 1986 – Kicker Conspiracy / Spoilt Victorian Child / Hot Aftershave Bop / Terry Waite Sez / Guest Informant / US 80's-90's / Mr Pharmacist / Riddler / LA / Lucifer over Lancashire / Shoulder Pads / Gut of the Quantifier / Bournemouth Runner / Hey! Luciani / City Hobgoblins / R.O.D. / Fiery Jack
My favourite track: There's A Ghost In My House (The Fall)
Dr John Cooper Clarke was born in Higher Broughton, Salford, in 1949. He's a performance poet who still performs to this date, with his first job as a laboratory technician here at the University (known back then as the Royal Technical College, Salford). He's often referred to as 'the story-teller of Salford' with his poems depicting everyday social issues and real life. JCC is still selling out venues today, the same as he was back in 1986 when he played Salford with The Fall. His words of wisdom and truth speak to everyone and are relatable, along with his down to earth personality, which makes JCC one of the biggest inspirations to come from this area.
My favourite track: Beasley Street (John Cooper Clarke)