A few weeks ago, we had the pleasure of meeting Gemma Small, a Salford alumna, who graduated in 2016 with an MEng in Civil Engineering. Gemma told us all about her experience at Salford, of how the company Costain not only sponsored her as an undergraduate and offered her an industry placement year, but are now her current employer as she works as a civil structural engineer.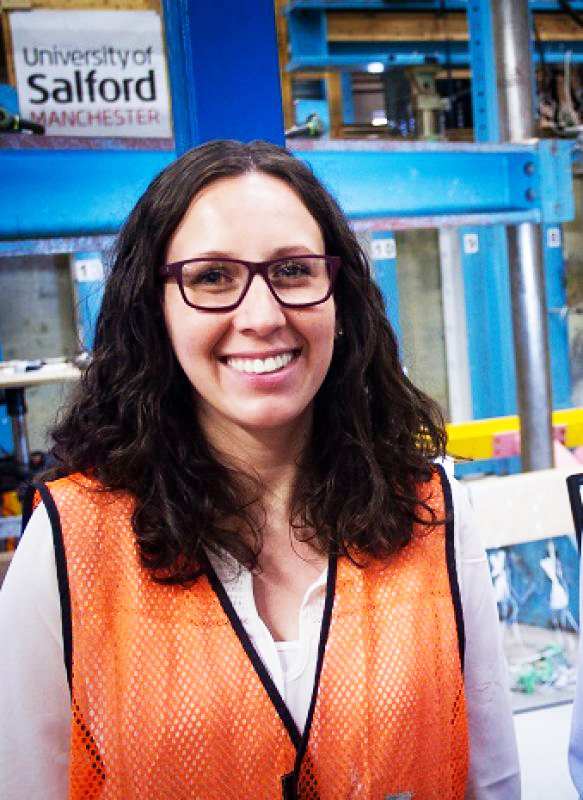 Hi Gemma! So, why did you think engineering was for you?
Originally, I was interested in either engineering or physical geography. It may sound cliché, but I really wanted to have a positive impact in trying to improve peoples' lives. I wanted to get involved. In the end, I thought that as an engineer I could benefit more people.
Why the University of Salford?
It was my first choice and I loved it, that's why. I visited each of the universities known for their engineering courses, and only Salford really felt like home. As I walked around, there was a great atmosphere, the lecturers were really nice, and all had industry experience. Also, in comparison with other universities, Salford offers a more practical side to their engineering course – including use of the laboratories.
How was your time at Salford?
For the first two years, I struggled: it was a bit of a shock coming from A-levels into a degree. After my second year, however, I did a placement with Costain and that seemed to bring everything together, my choices all made sense again. From that point on, I really enjoyed it all. My year group was great, everyone was likeminded, kind and worked together. I think the Civil Engineering degree at Salford and all the lecturers are just brilliant. My supervisor, Neil Currie, was fantastic. He continued to push me, offered suggestions I hadn't considered, and it was great to know someone had my back all the way.
What did you do during your placement year?
My industry experience was with Costain – my current employer – and I moved down South to assist them on a tunnel remediation job at Heathrow airport. Costain were upgrading one of the airport tunnels, fitting electrical and engineering installations, and I became a link between the site and office. The placement was great because not only did it put everything into perspective, but it gave me the opportunity to use everything I had learnt in a real project. At the time, I didn't realise how much of an impact it would have on my studies, but when I returned to university, my grades improved by around 20%!
Can you tell us about your dissertation project?
For my dissertation, I developed the concept of my third-year project on cardboard joists. The university has links with Gator Duct, a company that creates a rigid recyclable cardboard that is used for air filter systems in ceilings. I developed a cutting pattern for the product so that it could be folded into a joist and used as an alternative to the timber beam typically used for house floors. I did various testing, from compression to bending, and used several techniques, including strain gauges and particle image velocimetry to ensure it would work and it does. It was fun, I really enjoyed it.
Has your research impacted your career at all?
Definitely. I'm still talking about cardboard joists now. Not long ago, I entered a young engineer's competition where I had to submit a one-page paper on my research. From there, I was shortlisted to present my work in the conference. There were three awards to win on the day and I won two: the 'Audience Award', and the judge's 'Runner Up Award'.
I do want to thank the university and Gator Duct because without their material, I wouldn't have had the opportunity to present at the conference. It has also been a useful topic for interviews, and without it I wouldn't have had any of those discussions or opportunities.
Thank you, Gemma, for sharing your Salford journey with us. We wish you all the best for the future!
Become unstoppable with a MEng (Honours) Civil Engineering degree at Salford.