As our first trimester has rolled in, New Adelphi Theatre's autumn and winter season has premiered, promising some incredible shows, cosy film screenings, and cheap comedy nights. The first show I had the pleasure of watching for our New Adelphi reviews was 'The Band', a quirky, contemporary dance show by the award-winning Levantes Dance Theatre.
The theatre was filled with an excited but cosy atmosphere when I got to my seat, with large groups of students chattering away during the wait for the show to start. I chose to sit quite close to the front row to really capture the whole show's story, and you'll find out later on why I'm so glad I did! As the lights dimmed and the curtains rose, 70's rock music began to sound out and we were introduced to our two main characters: Sandy (played by Eleni Edipidi) and Bruno (played by Nathan Johnston). According to the show's description, this duo met in the 70's – Sandy a fame hungry artist, and Bruno her right-hand man destined to follow her to the ends of the earth.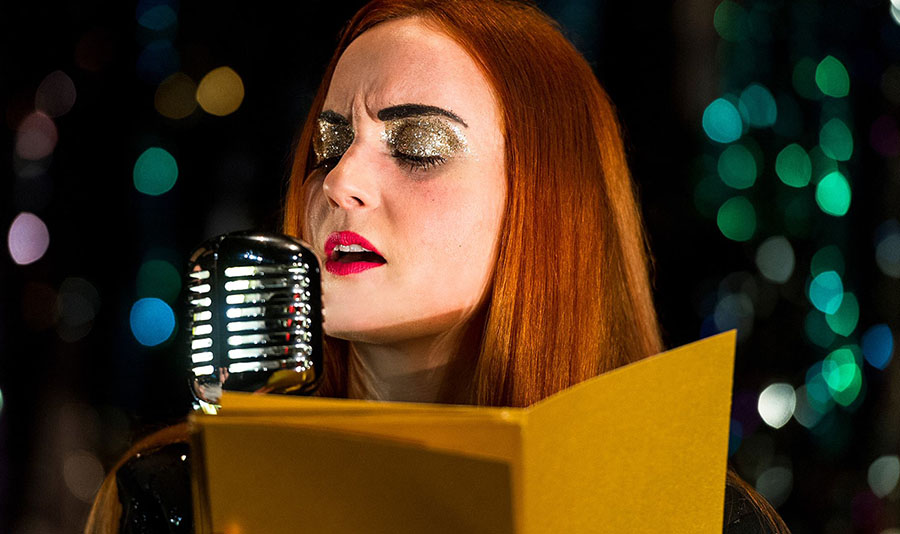 Considering this was a dance show with zero on-stage talking, I enjoyed the fact their characters showed almost immediately in the first dance piece: Sandy being enthusiastic and dedicated – hair rocking everywhere. This is not to say Bruno was a polar opposite, but you could immediately sense that he was the more responsible one of the duo. All of this was translated immediately by the pair's amazing dancing, synchronisation, and facial expressions.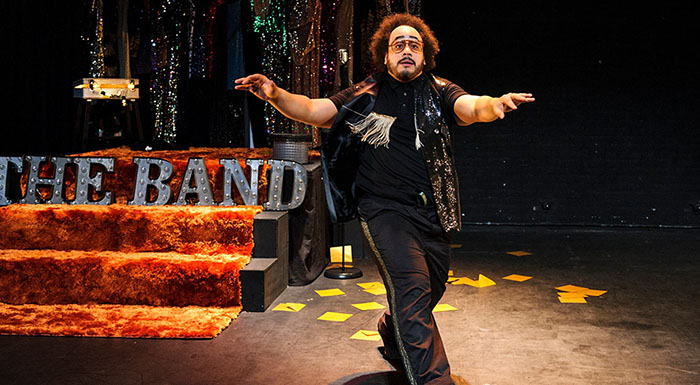 After a good rock-out session, representing the duo's short-lived fame of performing, both myself and the rest of the audience were so transfixed we all applauded them as if we were all at a real concert. It is then revealed that Sandy was not dealing well with no longer being famous. However, music and performing still holds significance in the rest of their lives which is quite clearly conveyed through the set on stage: Bruno using a guitar case as a table and a smaller guitar case as a lunchbox and a lampshade in Sandy's dressing room twinning as a microphone. I thought this was an incredibly clever touch.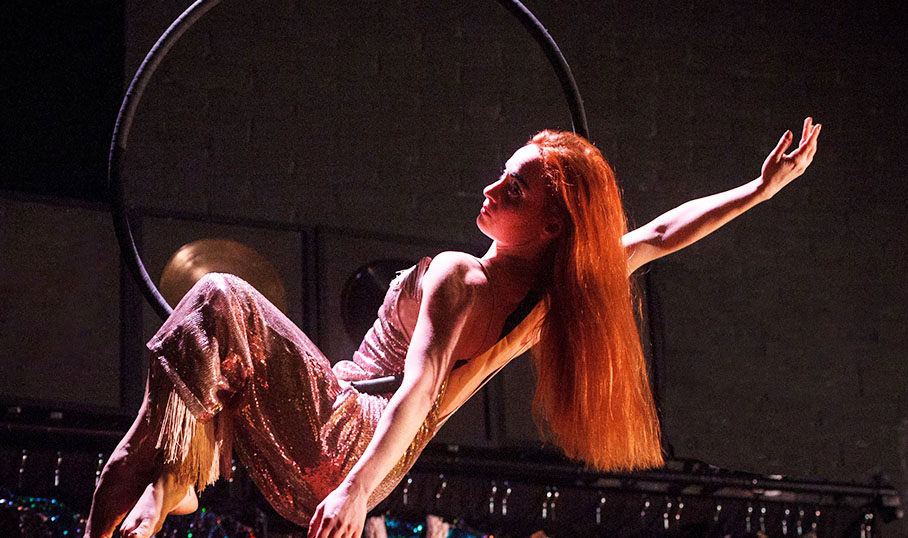 The gold at the heart of this show was the aerial art. Sandy gave us a glimmer of her talents at the beginning of the show, twirling casually on the hoop in her dressing room. Eventually, the hoop is used as a performance piece between the two characters, and this is where it went from great to amazing: I felt like a child at a circus show watching Eleni fly above the audience on a hoop.
I loved how the duo's performance, where Sandy commandered the aerial hoop first, was used as a metaphor for their relationship. In just one performance you understand Bruno a lot better: he is a lot more reserved and he risks never being able to be free and be his own person as he (literally) anchors Sandy's success and fame by staying on the ground. An incredibly heart-warming piece at the end of the show involves both of the duo performing on the same hoop, lifting each other up in a balanced and happy dynamic.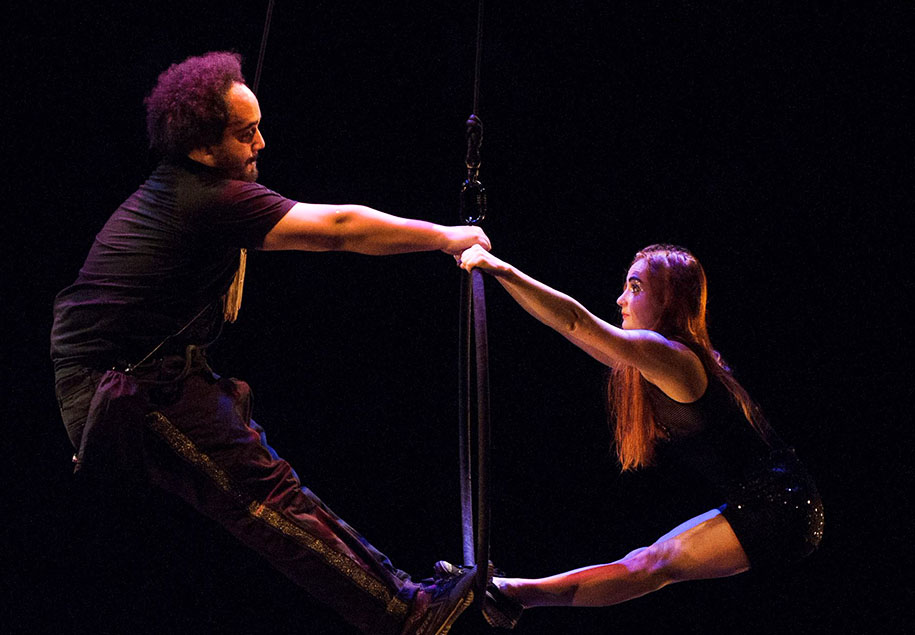 Overall, this show was an amazing experience: I felt like I had walked into someone's glam rock dream and I honestly didn't want to get out! The glitter-glazed aesthetic had me hooked instantly, the choreography did everything I imagine the artists wanted it to do – it made me laugh and smile. And the soundtrack? Fantastic. It had me half-tempted to sneak out my phone and use Shazam every 5 minutes because I loved it that much!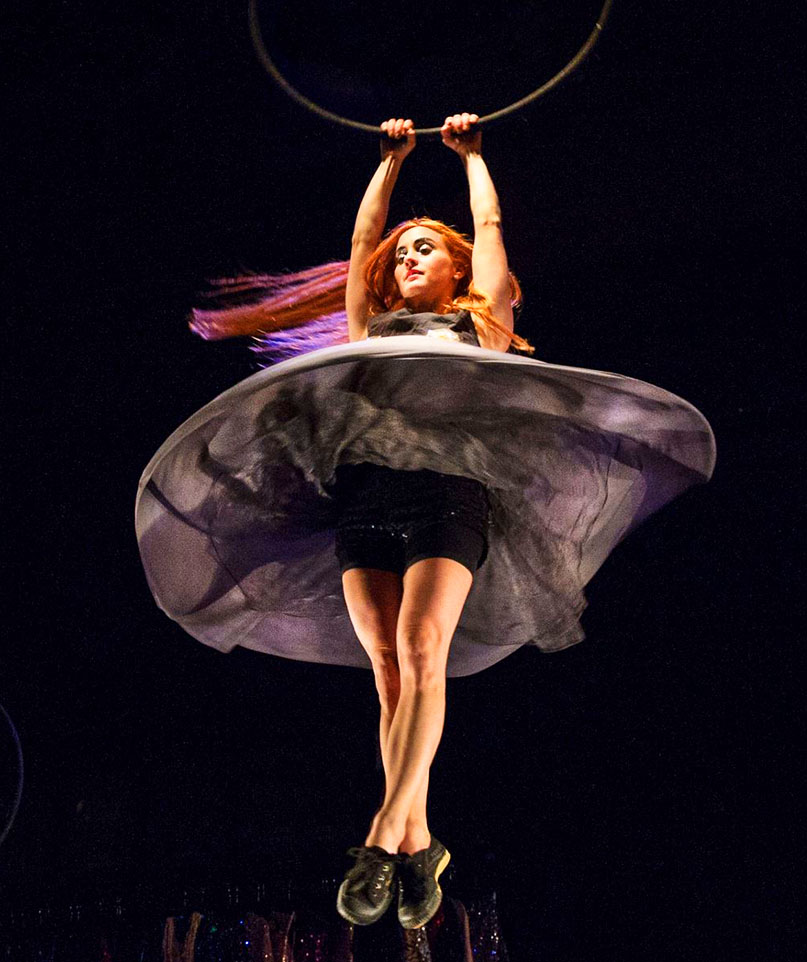 'The Band' was a 5/5 show for me and I highly recommend everyone who loves a bit of glam rock to go check it out. You can find more information about future performances on the Levantes Dance Theatre website here. Now if you need me, I'm contemplating aerial hoop lessons…
⭐⭐⭐⭐⭐
Check out the New Adelphi Theatre website for more shows and events.