When I applied to study Broadcast Journalism, the thought of presenting sat eagerly at the top of my mind. For me, it was the deciding factor between the broadcast and multimedia pathways. Now I am in my third year of study, I can safely say that I have had countless opportunities to get in front of a camera and read the day's news.
Amongst the many times I've presented, my most memorable presenting experience to date would have to be the 2019 general election coverage for Salford Now. There were a number of other universities covering the election but not all did it right through the night as we did. We also provided comprehensive coverage with web, social, TV, radio and print all going out in parallel.
We had hourly bulletins as well as live programmes at both the start and end of the night. This meant I was presenting television for a whopping 14 hours – with our first programme airing at 10pm and the last one at 9am. Amongst the teams broadcasting across both television and radio, we also had an online team publishing updates via the Salford Now website, a live blog and a newspaper that was printed and distributed to staff and students by 8am on the morning after.
Who are Salford Now?
Salford Now is the University's very own news outlet. As a Journalism student, you will regularly be producing and publishing content for Salford Now's print, online, radio and television platforms. You will also experience working in roles within the gallery and the radio and television studios as a compulsory part of the course.
The best bit?
We are the BIGGEST newsroom in Salford, focusing solely on stories around the city, shedding light onto news that other outlets would likely miss. (And when other news outlets do pick up those stories, it's not uncommon for our journalists to have beaten them there!).
Salford Now provides the ultimate 'real world' experience throughout the course. It enables you to take on plenty of experience both in the newsroom and out as a reporter.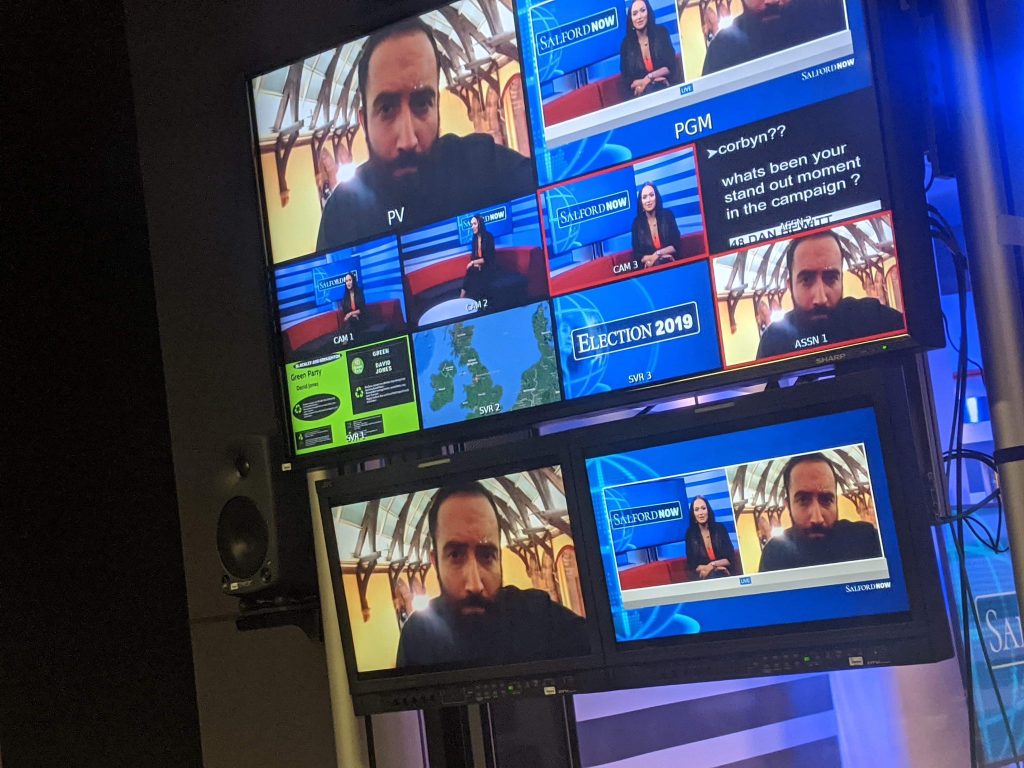 It goes without saying that with a campus based in MediaCityUK there are numerous benefits. In the above image, I am interviewing ITV Granada's reporter Adam McClean whilst he was out reporting from a count for ITV. We also spoke to ITV News correspondent Daniel Hewitt on the night for a wider analysis. These contacts were rather handy, and well within our reach thanks to lecturer Paul Duckworth who is also a journalist for ITV Granada.
Our coverage of the election was noticed by a wide range of people outside the University and we've had media professionals praising what we did. At the same time as we were providing our own multi-platform coverage, students from our team were also working for a range of media companies on the night including ITV Granada, Sky News and the Lancashire Evening Post. I had a chat with Rhys and Ellie about their experience reporting for ITV Granada – you can have a read here.
You will likely become most familiar with Salford Now when you participate in the compulsory newsdays throughout second-year and third-year.
What are newsdays?
In short – a newsday is where you and your peers work as a live newsroom, broadcasting and publishing content whilst working against the clock. You'll get a taste of this in second-year, and then a whole two weeks of newsdays in third-year.
This is the case regardless of what pathway you choose – multimedia and broadcast blend together, with broadcasters taking on digital roles and multimedias taking on broadcast roles. Don't worry though, you'll be trained in both areas on rotation in your first-year. The cherry on the employability cake.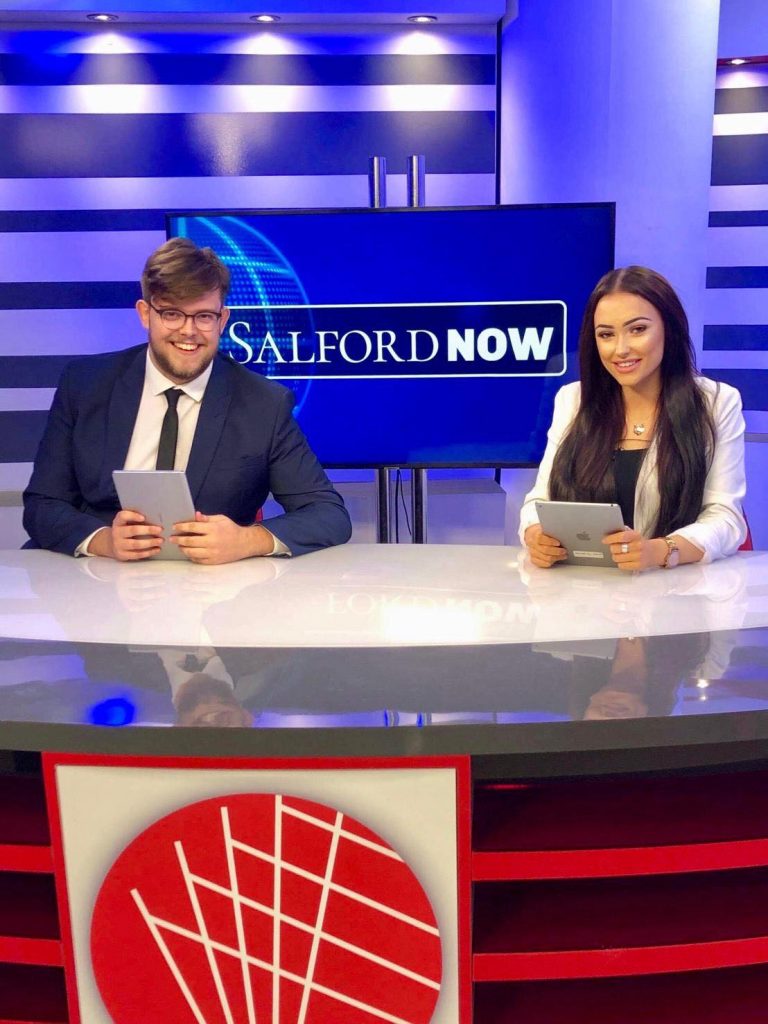 It was a very handy coincidence that the general election fell right at the end of our two week newsday stretch. As previously mentioned, Salford Now is known for sourcing original stories, creating endless amounts of content for Salfordians. The general election presented us with an opportunity to create content specifically tailored to the Salford constituencies, content which otherwise would not have existed to such an in-depth level.
Although me and my co-presenter Tom were the faces of the night, the endless amount of work that went on behind the scenes was outstanding to see. We also had reporters broadcasting live from a count at the AJ Bell Stadium. One of our reporters, Jack, managed to bag an interview with Rebecca Long-Bailey, just minutes after the result was announced at around 4am. The unexpected interview rightfully interrupted the 4am bulletin, getting new information out as soon as it came in.
Having opportunities like this are unforgettable and certainly something to be proud of. It put the skills that we had learned over the three years to the test and we certainly made the most of it.
And finally…
As us third-years begin to wrap up our work with Salford Now, we make room for the next set of budding journalists to take our place in the newsroom.
Who knows what adventures you'll go on, each day as a journalist is unpredictable and that's the beauty of it. If you choose to pursue a degree in journalism, whether it be broadcast, multimedia or public relations, say YES to as many opportunities as you can.