Hi, my name is Esse Ejere and I am an international student from Nigeria studying at the University of Salford.
When I first arrived in the UK, I experienced a lot of culture shock, and it took a while for me to get a foothold on how to do a lot of things. Today I am going to give you my top eight tips for settling into the UK. I will chat to you about university life in the Greater Manchester region and the resources available to you at the University of Salford as a new arrival!
TIP 1: TRANSPORTATION
When you first arrive in the UK, you will most likely be without a car or a UK drivers licence, so your best mode of transportation around the city would be by bus. There are different buses for different locations around the city, and getting to know the right bus to take can be very difficult as a first-timer.
You can visit the askUS team in University House on the Peel Park Campus for the best bus route instructions. You can also purchase bus passes/tickets at the askUS desk and you can find out how to use bus 50 which is free for University of Salford students between Peel Park and MediaCityUK.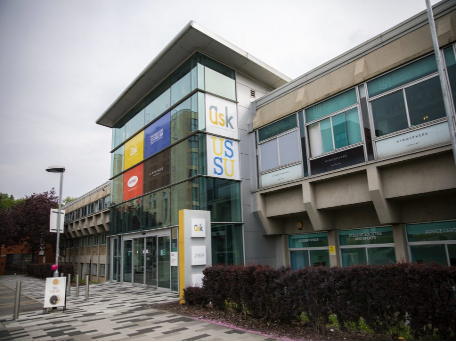 Aside from these, the Peel Park campus is a 2-minute walk from the Salford Crescent train station, and taxi companies like Uber are fully operative in Manchester and offer good value.
TIP 2: SHOPPING
All the University's campuses have a Salfood restaurant onsite, where hot British delicacies are cooked every day. And the Atmosphere Kitchen & Bar is located at the Peel Park campus. Also, there are shops, restaurants and cafes within walking distance of each campus and students can take the free 50 bus to Salford Shopping Centre to explore further options.
Manchester city centre is only a 20-minute bus ride from the Peel Park campus and costs around £4.50 for a round trip. In the city centre, there are several malls, numerous high street shops, restaurants and tourist attractions.
TIP 3: ACADEMIC SKILLS
When settling into the new academic system, it is best to familiarise yourself with the rules that you need to stick by, so that you are not blindsided by any assessment rules or student conduct that are new to you.
You can also learn how to improve your academic writing, reading, presentation and study skills and English language by signing up for Learn English for Academic Purposes (LEAP) at the University. LEAP is free to participate in and is accredited by The British Council. Classes are interactive, enjoyable and will improve your academic English skills.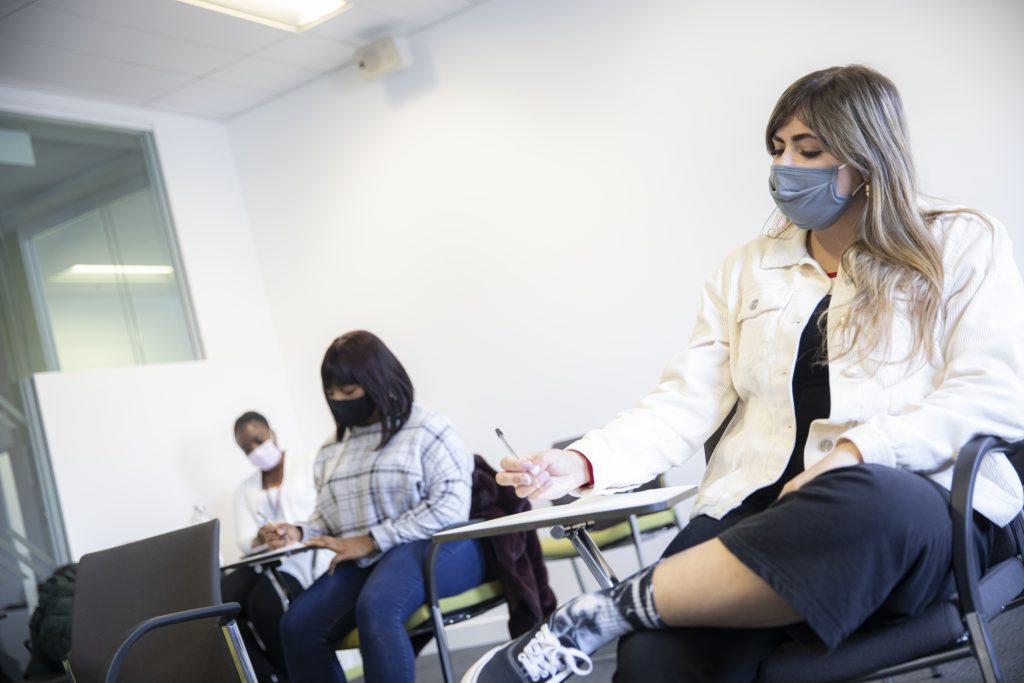 Once you have completed your induction during the registration process, you will receive access to your student email and the Blackboard platform (which you can download on your mobile app stores). These will be the tools that will give you access to your timetables, your reading list, your coursework, and information on your module leaders. If you have any issues accessing these after registration, contact Salford IT Support.
You should also get to know who your tutors are and how to contact them for any enquiries. Your lecturers are your first point of contact for academic support, and they are dedicated to seeing you succeed, so it is a great idea to familiarise yourself with them.
TIP 4: HEALTH IS WEALTH
The University of Salford's Sports Centre is located on the Peel Park campus and has five fitness suite rooms, a 25-metre swimming pool, a dance studio, 30+ fitness classes a week, a six-court sports hall, two squash courts, a health hub, a floodlit 3G pitch and two grass pitches. Students can get an annual or monthly membership at a low cost compared to other gyms in Manchester.
If you are having any issues with mental health or need counselling on any issues whatsoever, you can contact the University's confidential Wellbeing and Counselling team, who are on-site to support you in looking at your options and help you to take any next steps to overcome your challenges.
You can also register to receive medical services at the University's medical centre.
TIP 5: BRITISH CULTURE
Before coming to the UK, it is best to do your research on British culture, as it would lessen the amount of culture shock that you experience, and also allow you to not inadvertently offend anyone or be misconstrued.
Queuing is key: in the UK, you queue for everything; entering the bus, a restaurant, a bank – literally anywhere that is queue-able. So, PLEASE, do not cut in line because that comes off as rude.
Opening the door: when you are entering a room and you notice someone coming in behind you, you should keep the door open for them. This is not an ultimate rule but, it is just a nice thing to do that EVERYBODY does.
Say please and thank you: I did not realise how much I did not do this before I came to the UK. British people say 'please', 'thank you', 'sorry', 'excuse me' A LOT. It is just a matter of manners.
Do not be late for anything: No one is going to wait for you. If you are later than 10-15 minutes your appointment (whether at the dentist, hairdresser, skydiving, etc) it will be cancelled and anything you have paid in advance may not be refundable. If you cannot make the appointment cancel it at least 24 hours in advance or call an hour ahead to let them know that you are running late. Try to give time for traffic or emergencies, so you can avoid missing appointments or being late to classes.
TIP 6: IMMIGRATION ISSUES
If you have any questions about visas or you are confused about the immigration rules, you can make an appointment with the University of Salford's Home Office Compliance team.
You will receive your CAS (Confirmation of Acceptance of Study) from the Home Office Compliance team once you fulfil the initial requirements of accepting your place on your programme. However, throughout your stay at the University, they will always be available to answer your queries about immigration rules, ATAS requirements or visa extension options.
You can also book a free appointment with the team to have your future visa applications reviewed and sent on your behalf. The University of Salford's Home Office Compliance team is located in University House on Peel Park campus.
TIP 7: BANKING
When you get to the UK, one of the first things you will want to do is sort out your finances to ensure that you have easy access to your cash. There are a variety of banks located in the Salford area, so you should do your research online and read about the options available at each bank. You will also be able to easily find the telephone number or email of any bank on their website, so you can contact them if you have any queries. You should contact the banks before going to a branch so you can save your waiting time or to avoid a situation where the expert in the information that you are concerned about is not available.
TIP 8: EXPLORE!
My final tip is to explore as much of the city as you can. I once took a bus from the first stop till the last stop in Greater Manchester and I saw areas of the city that I had never realised existed before. Manchester is the third most populated city in the UK. There is a wealth of diversity, culture and attractions in the city that you will only be able to fully appreciate when you explore on your own. You can book a place on the Manchester tour bus or keep an eye out on your student emails for the excursions that the University organises for students. You can also explore the city on foot (if you have the endurance!).