In an increasingly connected world, there's never been a better time to grow your global mindset. Having a global mindset is a key skill for your personal and professional growth, and it doesn't always have to involve lectures or library books. Read on to learn five ways that you can develop your international outlook and take steps towards global citizenship.
WHAT IS A GLOBAL CITIZEN?
Being a global citizen means working to understand the wider world, and your place in it. You're curious, adventurous and open to different cultures. You listen to experiences that are different from yours and appreciate the need to have those experiences represented. There are lots of ways to grow your global mindset and experience the world around you. Here's five to get you started…
STUDYING OR WORKING ABROAD
One of the best ways to become a global citizen is spending time in another country and immersing yourself in the culture. During your studies, you have the opportunity to work or study abroad at our partner institutions around the world, from Australia, Canada and the USA to Hong Kong and South Korea. Experience firsthand how other communities live, work and interact with each other and get involved in their local traditions. There's no better way to develop your global mindset than being right in the heart of another community! 
Salford alumnus, Prathmesh learned this first hand. While studying for his undergraduate degree in Audio and Acoustical Engineering, Prathmesh opted to take his 10-month work placement all the way to Gibson's Innovations Lab in Leuven, Belgium. You can read more about his experience in our blog.
WATCH, READ AND LISTEN
Next time you're scrolling through Netflix or searching for your next holiday read, why not pick something about a community you're not familiar with? Watching, reading or listening to media from different cultures is a great way to expand your knowledge and understanding of the world (from the comfort of your sofa!). This is an easy, enjoyable, and sometimes subconscious way to grow your global mindset as you learn about the history, traditions and current events that impact different communities. 
Not sure where to start? Our friends at the Clifford Whitworth Library have pulled together a reading list with their top recommendations that includes podcasts, biographies, newspaper articles and more.
LEARN A LANGUAGE
Learning a new language is a great way to become a global citizen. It will not only help you to communicate with people from around the world, it will also help you connect with different cultures. If you're studying, working or travelling abroad, it's always a good idea to learn simple greetings and phrases to help you make the most out of your experience. It'll make chatting to locals, navigating a new place and getting involved with local customs a lot easier.
Why stop at simple phrases? There are so many ways to gain a deeper understanding of languages. From free apps like Duolingo to the University Wide Language Programme, there are lots of ways to kick start your language learning journey.
COOK SOMETHING NEW
Food is an easy and delicious way to explore different cultures and expand your palate. Trying out new dishes from different parts of the world will help you gain an understanding of different traditions and grow your international outlook. It's also a great way of bringing people together from different communities and who knows… you might even find your new favourite dish! BBC Good Food has some great recipe inspo, and articles like 'Student Recipes for National Curry Week' from the Student Food Project are perfect for amateur chefs on a student budget.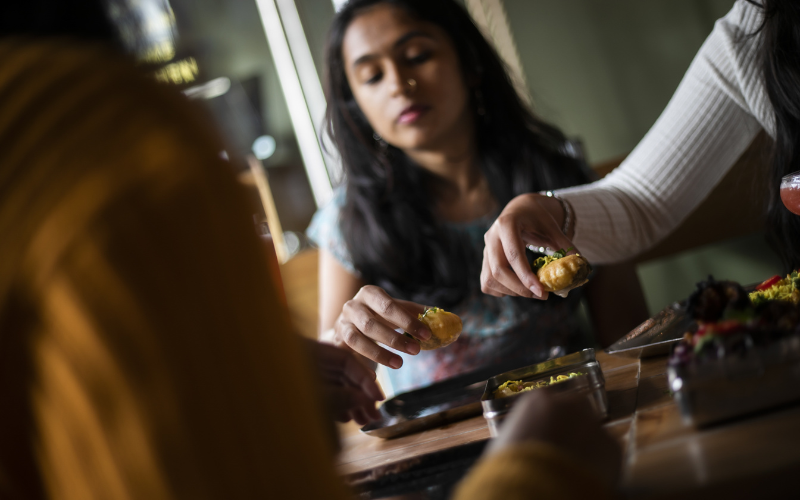 GET INVOLVED WITH GLOBAL CAUSES
Staying up to date with international events helps you to understand the world and different ways of life. Thanks to the internet and social media, it's also never been easier to find out what's happening around the world. If you find a global cause that you feel particularly strongly about, don't stay silent. There will be lots of opportunities for you to make a difference (even from right here in Salford!). From expanding your knowledge, raising awareness and collecting donations, getting involved with global affairs can be an inspirational way to grow your global mindset that can have an impact beyond your local community.
Here are a few trusted world news sites for you to explore:
We hope this blog has given you some practical tips that will help you to grow your global mindset. Your international outlook will not only help you personally, but professionally too as it will make you stand out to future employers. Don't believe us? Check out our blog post to find out how you can ace every interview with a global mindset. You'll learn the benefits of becoming a global citizen, ways to stand out in an international job market and how to connect with different cultures right here in Salford.