Meet Alexander Lehman, final year BEng Acoustical and Audio Engineering student.
How would you start your morning when you come to university?
I drive into university normally. On the days it's sunny, I try to walk as it only takes 25 minutes.
How are your lectures during the week?
I have three lectures per week on Mondays, Tuesdays and Thursdays which are typically two or three hours long. Although they are delivered in person, you also have the option to join online which is convenient. However, I do always try to get in because you don't get the same detailed group discussions online as you would in person. Occasionally, the lecturer will mention something that will always prove to be handier than you think, and you don't want to necessarily miss that.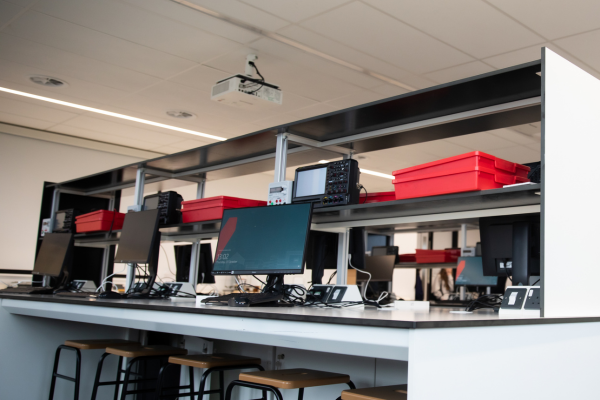 Tell us a little bit about your practical sessions!
Using the facilities and labs really depends on which projects or modules you choose to specialise in. The Digital Signal Processing (DSP) and Musical and Psychoacoustics modules don't really use many facilities as they focus more on the digital modelling. With my projects, I use the electronics lab for prototyping and electronic measurements.
We also have computer lab sessions which are tutorials, mainly for us to work on assignments. Sometimes, we'll have tutorials in the musical acoustics lab which also feels relatable to a DSP lab or project. Although there's not a structured direction for these sessions, it's always fun to go to because it's open ended and you can work on something that is useful to you.
I think that's one of the big differences for being a final year student, the course leaders know that it's up to you, so they provide an environment that helps you slightly self-direct your tasks and schedules. Our lecturers really understand that we're independent adults and give us the opportunity to work by ourselves with the scope of having support if needed.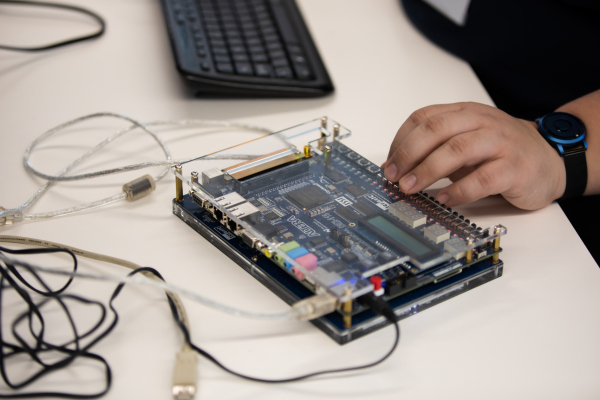 What do you enjoy about working on group projects?
For our final year modules, we don't have group projects. We did have quite a lot of group work in the second year relating to a design project. Last year, our brief consisted of designing a recording studio complex and we were able to work with sound engineering and production students as well as acoustic students.
It's quite fun to work with those who have a different contextual study background because essentially, we approached the same brief with different perspectives. I really enjoyed the project work because it's sort of like bouncing off each other's ideas and discussions which is a real benefit of coming onto campus that doesn't come with distanced learning.
What do you do on your day off?
I dedicate my day off to my final year project. On average, I'll spend about an entire Wednesday afternoon on it following my project meeting. Usually, I stay in there for a long period of time because it's easier to retain the information if I work on it straight after my meeting. I think it's important to do this in the third year because it's so important not to fall behind.
What do you enjoy the most?
Most of our lecturers are basically the industry standard for research consultancy and they are highly recognised in the acoustics field of work. For instance, an international student on our course came to Salford because he had read so many research papers written by three of our lecturers. So, I'd say regardless of the course content, we have a gold standard of teaching because our lecturers have authority and a voice in the world of acoustics.
If our lectures are talking about specific topics such as pitch perception or the human ear, I know I am having conversations with those who are doing cutting-edge research and have years of experience in engineering. It's a sense of relief because I know I don't need to do a PhD to get the same quality of teaching as I'm already equipped with lots of information.
"So, I'd say regardless of the course content, we have a gold standard of teaching because our lecturers have authority and a voice in the world of acoustics."

Alexander Lehman, Acoustical and Audio Engineering student
Even though I felt unprepared going into my placement with Alpine, I quickly realised that you accidently become an expert without even trying when you study an acoustics course at Salford. Throughout my placement, I played a big role in designing a demo car for a next generation specific brand audio under a tight deadline. I also had people asking me for advice on audio related topics and that's something I appreciated.
I also feel like the opportunities you get at Salford, being so close to Manchester, are endless. I received a shadowing opportunity from a guitar technician the night before a fairly big gig for Academy One, and that was exceptional.
Where is your favourite place to study on campus?
When I'm on campus, I'm always at the library. I like working with my coursemates who have the same assignments to work on. But sometimes, I work on assignments under pressure, and when I have a deadline or I need to finish referencing, I'm on the quiet floor to get my head down. Occasionally, I do work in the electronics labs if I need a change of scenery.
I eat lunch at university quite often. I get in before my lunchtime lectures, with the intention of going to the library. Most of the time, I'll be in Maxwell for Subway.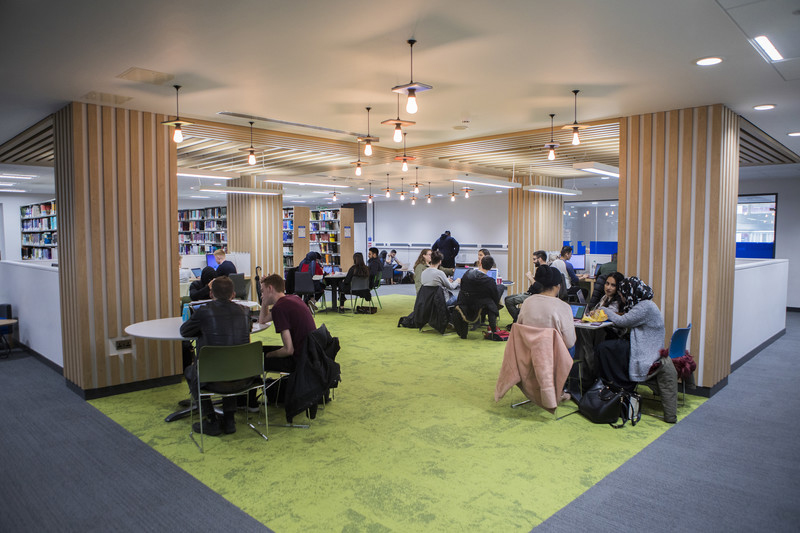 How do you spend your evenings and when do you socialise?
When I'm finished for the day, I tend to go home and cook to wind down/switch off which is a little bit like post work therapy because it's almost mindless. I'll sit and watch Netflix or go to gigs with my friends who play around town. It's quite a nice way of resetting for a few hours before starting work again.
In the summer, Peel Park almost becomes a festive ground for socialising. Me and my friends will stop by the student store and get drinks and sit at the park when it's sunny.