Graduate Ben Hodge, spoke to us about his Salford experience studying BA (Hons) Media and Performance and how this has benefited him in his recent graduate positions.
HI BEN! SO, WHAT WAS THE HIGHLIGHT OF YOUR COURSE?
The highlight of my course was during my first year where I went to the Edinburgh Fringe as part of the SalFUNNI show. I managed our fundraising, and we were able to raise enough money to completely cover the cost of our trip. We also had notable alumni such as Jason Manford donate, which gave us a lot of hope for the project. Going to Edinburgh Fringe for two weeks and performing was a fabulous experience. I was able to go back with ComedySportz last year, and this year I am taking my own show!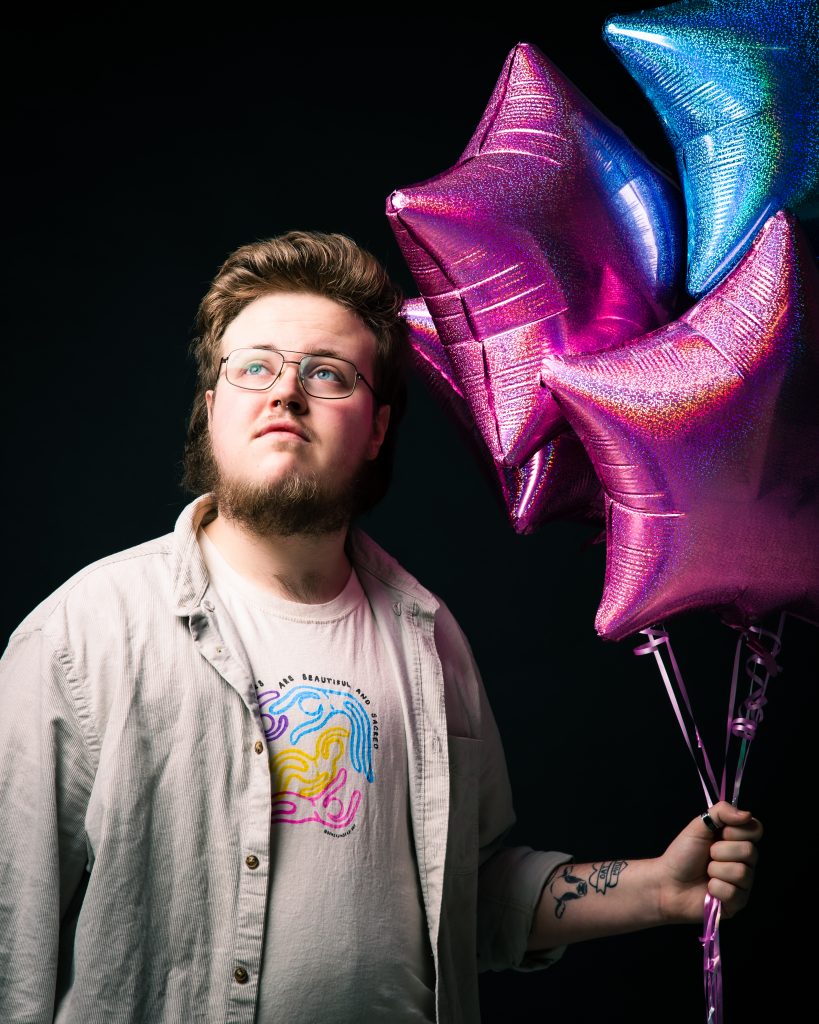 WHAT IMPACT DID THE COURSE HAVE ON YOU AS A STUDENT AND CREATIVE?
I started comedy about a month before auditioning for the programme, and getting a place really drove me to perform at more gigs and be as ready as I can be for the Fringe. I found a real passion for the comedy improvisation module as well as the stand-up module, therefore I was constantly developing throughout my course. I also found that the Theatre and Communities module helped me greatly as once I graduated, I started to teach comedy within schools and community groups. Therefore, learning more about the practice of taking performance techniques into non-performance settings was useful once I graduated.
WHAT WAS THE MOST SURPRISING THINK YOU LEARNT?
The most surprising thing I learnt on the course was that everyone started somewhere, and you never know what learning a skill or practice can lead to. Before going to University, I thought you were either an actor in amateur dramatic or on-stage at The National Theatre, or comedians would just somehow appear on stage at Live at the Apollo. I didn't fully realise the years of graft and hard work that it took to get to that point. I knew there was a starting point of course, I just didn't fully realise what that was. Learning more about where to start my practice really helped make a career within the creative industries more achievable and real for me.
WHAT HAVE YOU DONE SINCE YOU GRADUATED?
Since graduating, I had the role of Associate Artist at the University of Salford from 2021-2022. Through this, I developed my show as well as research around learned masculinity. I'm also a stand-up comedian and improviser with ComedySportz. I am currently working on a work-in progress stand up show which I'm taking to the Edinburgh Fringe this summer. I have acted in theatres such as Hope Mill Theatre and Liverpool Playhouse and we have worked on TV productions for BBC, ITV and Channel 4 and I also teach comedy in schools (I like to keep myself busy!). I'm also in the process of applying to go back to the University of Salford to study the MA Contemporary Performance Practice to develop my skills in theatre further.
WHAT IS SOMETHING THAT YOU LEARNT FROM THE COURSE, THAT YOU HAVE/WILL CARRY WITH YOU IN YOUR FUTURE CAREER/JOBS?
Something I learnt through studying was that you're not alone in this industry. All the lecturers that taught me had built their careers up in the creative industry from the same point I'm at, and were great in sharing their knowledge and learnings. It can be a ruthless industry and sometimes you're on your own. But whilst at the University of Salford, enjoy the freedom of experimenting with different forms, styles and performances with other people. It's been great to graduate and find friends in comedy who have helped me massively. There's a place for you within creativity.
WHAT WOULD YOU SAY TO SOMEONE THINKING ABOUT DOING THE COURSE?
You should absolutely do it. I LOVED it the whole time I was there. The course is very practical and hands-on, and the access to industry that you get is so helpful for your own development whilst studying as well as your future after graduation. I can't speak more highly of it, the skills I gained in filmmaking, acting, theatre and comedy have helped me greatly. If you were like me in college/sixth form and battles with your enjoyment of being both behind and in-front of the camera as well as on-stage, this is definitely the course for you.