How can a business school teach entrepreneurship? Can you learn how to develop a business model or a marketing plan from a book? Meeting and hearing from successful international entrepreneurs sharing their real life stories, gaining feedback on ideas and establishing new links are all great ways to learn about entrepreneurship and grow your network.
At Salford we recognise the importance of strong links with industry. They help us keep our teaching relevant to the real world and mean we can offer great opportunities to help our students to get employment-ready.
Our Creative Entrepreneur event is a key example of this in practice. At the event, held annually at our state of the art campus at MediaCityUK, individuals from partner organisations volunteer their time and share their experience with students at the University of Salford.
At the latest event, on 25th of November 2015, we welcomed over 40 guest speakers who delivered an exciting programme of master-classes, panel sessions and installations to inspire, inform and entertain over 460 attendees. These were a combination of local businesses, University staff, students and local colleges. Several of our courses and modules were present, creating great opportunities for our students. Read on to find out more about key points from the event and what happened.
1. Find a gap in the market and double your rates
The opening keynote address was delivered by Cindy Krum, founder of Mobile Moxie. Cindy flew in from Denver, Colorado especially for the event. Her inspirational talk on her entrepreneurship journey and advice for the next generation was well received by a capacity crowd in our Digital Performance Lab. You can watch Cindy's talk here.
Among some of the tips Cindy shared were,
Find a hole in the market and fill it – this will give you your unique offering
When everyone turns left, you turn right – always be looking to be different and stand out
Double your rates for new customers – startups in particular tend to undercharge and end up working long hours for low pay.
2) EU referendum panel: stay and influence don't quit the EU
Yes, the European Union and the European Commission are slow, bureaucratic and do have some very peculiar judgements which raise the issue of competitiveness of Europe in the digital landscape. The consensus from our panellists is that even if the UK were to leave Europe, we would still have to implement all the legislations and the consequences of the rules without a say in how this is to be done.
New digital agenda policies and laws are being drafted and developed and there is potential for Europe to have the most advanced international trade system in the world. These new policies and laws are being drafted and developed and there is potential for Europe to have the most advanced international trade system in the world.
3) The growing importance and opportunity in digital marketing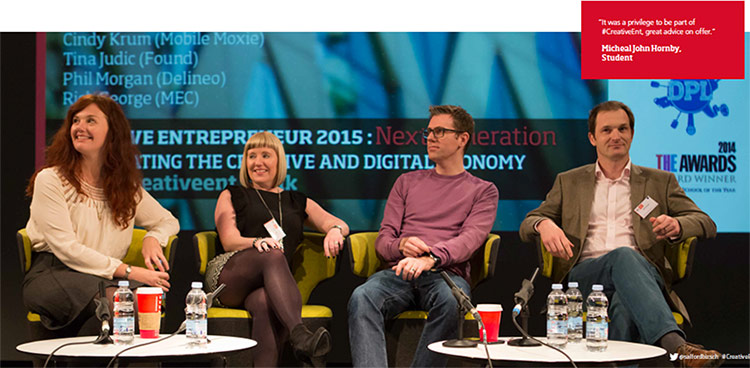 Our digital marketing panel was again one of the most popular sessions. Our experts focused on the growing importance of smartphones and video. These are the two key areas of growth in digital marketing both as individual channels and as in combination as mobile friendly video content.
Click for #Digitalmarketing trends of video and mobile marketing: #CreativeEnt 2015″
The key take away? each organisation needs to make sure that they consider the mobile customer journey as well as think about developing engaging video as part of an integrated digital marketing communications strategy. You can view the whole digital marketing panel session video here:
4) Use internships and placements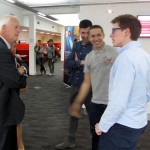 Research, innovation and skills gaps can cause real issues for Small to Medium Sized Enterprises (SMEs). Having access to bright, enthusiastic talent can really make the difference. At Salford Business School, there is a very strong commitment to employability skills and emphasise on activity-based learning with real world application.
The key message from the day was that if you are a student and going to start a business make sure you have some work experience. If you are a business – think about the time when you were thinking of starting a business or even a new job – help and engage with your local university. Internships and placements are a proven way to inject new ideas and experience into a business – both the student and business benefit hugely. The event represented another opportunity to join the dots in style.
5) Digital Sport Business: creative digital content is a key factor for sports clubs at any level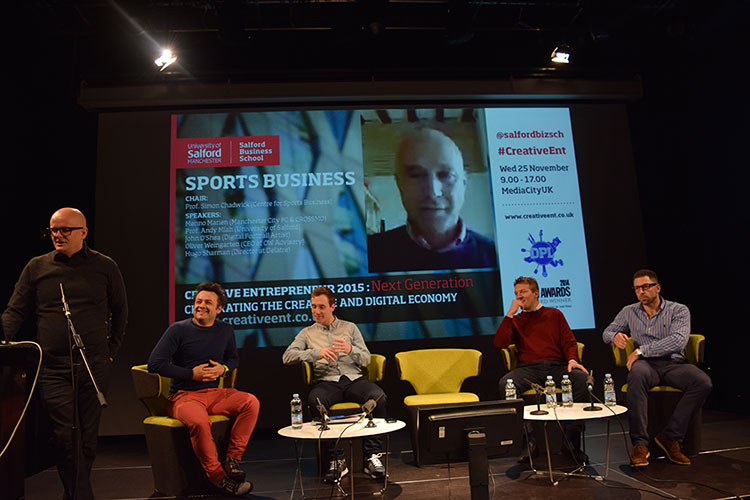 The world of sport is highly complex but digital innovation and creative content is crucial to engage modern fans. This means tapping into social media and smartphones, which are ubiquitous for today's sports fans. No matter the level or budget of the sports club, clubs can use these technologies to engage with its fans. Channels such as YouTube, Twitter and Facebook can be used to engage current fans and reach new fans locally and globally, as well as giving them space to converse with each other. Watch the whole sports business video panel session here.
6) Personal brand – get yourself a good profile picture and Google yourself
Our personal brand online masterclass and professional photographer at the event was incredibly popular. Employers are increasingly using social media and Google to look for and evaluate prospective job candidates.
Make sure you are one step ahead by having a professional photograph, using your privacy settings and populating professional networks and websites with professional content where possible. Watch our video on personal branding online for more information.
7) Seed funding and competitions are a great way to get a new business started
At the event, we ran a Dragons Den for grand ideas. The successful day concluded with five finalists competing for £1,500 of grants in the Grand Ideas competition. Also on offer – £2,000 a month, premises and business support courtesy of Web Apps UK in partnership with the University of Salford.
We are now working with our staff and students on a new competition: Inbubox, Kickfactor. This is now open for entries – a great opportunity for someone with a great idea for a new business idea.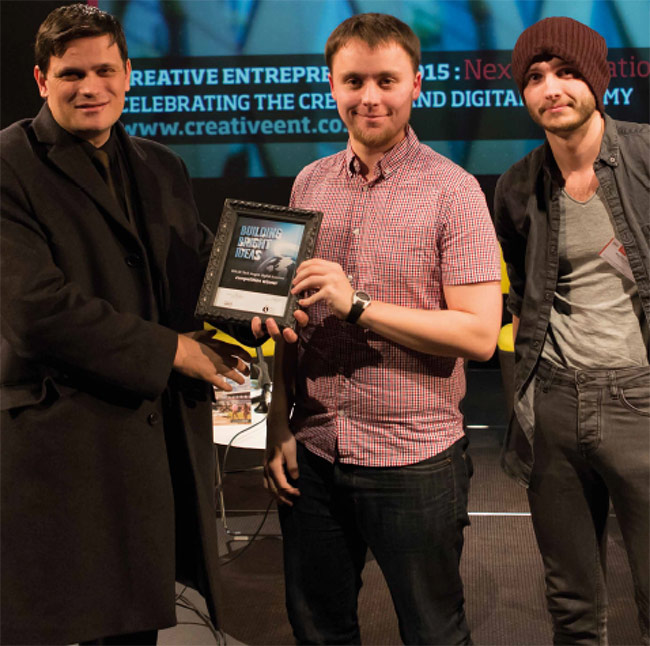 Business school students receiving their £1000 prize
Salford Business School students Michael Hornby and Martin Griffiths won the £1000 first prize with their innovative idea Gigamagig. You can see the winning Tech Angels pitches video here.
We are now working with our staff and students on a new competition: Inbubox, Kickfactor. This is now open for entries – a great opportunity for someone with a great idea for a new business idea.
What did people think of the business event?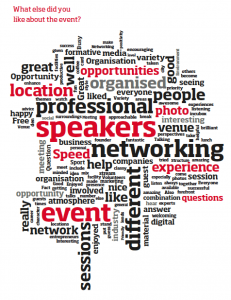 The event was really well received by over 460 staff, students, expert speakers and local companies, delivering a world class experience and connecting with the student and business community. Here are some of the comments we received after the event:
"

Very professional. Our interests were number 1 priority"

"Very good atmosphere. Busy. Good venue. Friendly"

"Everyone was really welcoming"

 

"The speakers were more than happy to take questions even on their break times."

 

"An all around really well put together event; a great combination of professionalism and positivity."

"The campus is amazing. The surroundings are brilliant, media city has a great buzz"

"All visitors say WOW when they come in!

"Structure and organisation. – It was both very classy and thoughtful"
Online Buzz
There was an incredible buzz on social media, before, during and after the event with over 500 original #CreativeEnt Tweets, reaching almost 300,000 Twitter users. Some of the highlights were captured on Storify here.
A Christie tile wall displayed social media updates and photographs of the day and YouTube, LinkedIn and Facebook were also used to add photographs and video. Some sessions were streamed live using Periscope and all sessions were professionally recorded.
If you have any further questions or comments about our Creative Entrepreneurship event, please get in touch with us, we would be happy to hear from you.
Comments Off

on Creative Entrepreneur – Next Generation business event
---