As I was about to embark on my final year at university, typically, more and more graduate unemployment statistics kept creeping up. I say 'typically' because naturally when you don't want to think about something there it is, constantly in front of you.
Social media was a great reminder of how tough the job market was and I always knew I had to stay ahead of my competition to stand out from the crowd.
I was always presented in class, gained 1st class marks in all my academic years, did a 12-month professional placement and  had two part-time jobs in the marketing and communications field in my final year, not to mention how hard I worked on my online personal brand.
Getting started: Make networking part of your action plan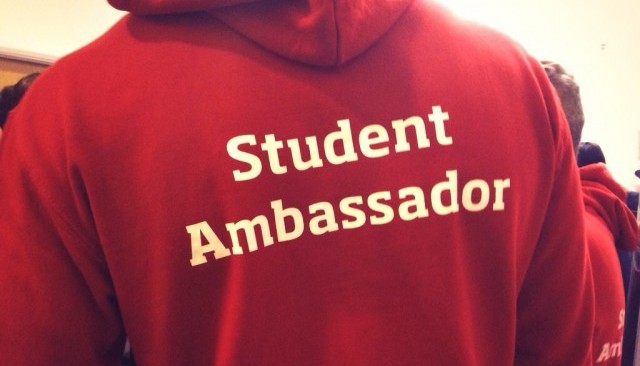 Student Ambassador hoodie

Networking played a big part of my plan-of-action to tackling my post-graduate future, and it worked! Whilst working for the University of Salford as a student ambassador, the Alumni Officer for Salford Business School asked if I would give a campus tour to a fellow Salford graduate, Bob Hope.
Bob is the CEO of a leading architecture and engineering company in the Middle East, SSH. He gave a presentation about working and living in Kuwait, the company, and its' plans for growth and expansion, which I attended prior to taking Bob on the nostalgic tour of our university.
Elevator pitch: 'You don't have a second chance to make the first impression'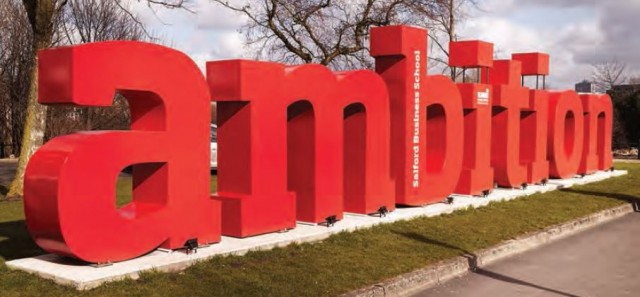 Salford Ambition
'You don't have a second chance to make the first impression' and with this in mind I dressed appropriately, did my research and after watching his (very interesting) presentation, I knew I had to make the best of this opportunity by networking.
As the tour ended I told Bob of my interests within the marketing and communications field, including my work experience, working for a globally known engineering firm and my interests in the field before giving him my business card. And as the saying goes 'the rest is history'.
Build lasting business relationships
Working for SSH is rather challenging, especially as we have trebled in size in a short period of time, but really rewarding and exciting too. I was the first Public Relations Officer in the company, and one of the best parts of my job is the role development side of it. I also adapted really well to the market and the industry with major achievements including
increasing press releases and editorials output with industry-content,
growing our media contacts from 7 to over 170,
the development of our presence on social media, and
gathered a much-larger database of industry events, awards and exhibitions.
The above allows our senior management to align the company's strategy and complement our focus markets, divisions and capabilities. I have also worked with my manager to breakdown the previous general marketing and communications plan into multiple plans by market, divisions and areas of focus.
Successful networking is an ongoing career activity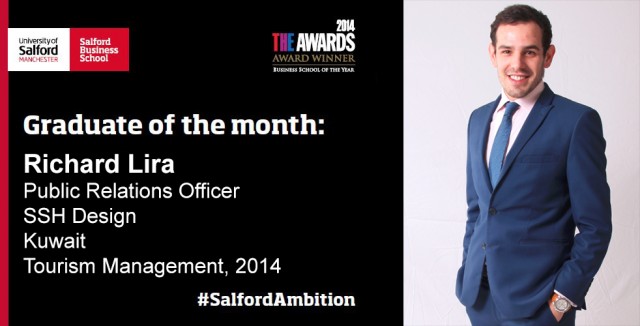 Richard Lira, Tourism Management graduate
My experience in the Middle East has just started, but I have adjusted rather well and I hope to start travelling often to our markets to better understand their marketing and communication needs, and work on them.
My university experience installed life-long skills that I am now able to apply from a western perspective in an Arab-dominated team, which is equally challenging as it is rewarding. I have proven to be an asset to my team and look forward to playing a bigger part of SSH's future.
How to network with your alumni community?
Make the most of your online presence!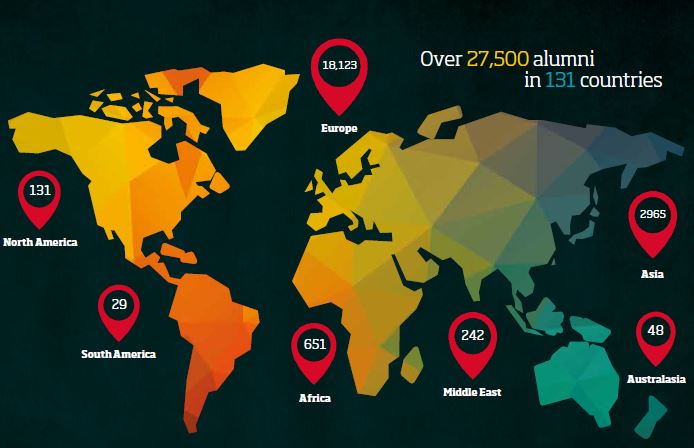 Salford Business School worldwide alumni members
As an alumnus of Salford Business School, I am happy to help and advice anyone moving to Kuwait or the Middle East. If you'd like to keep up with my Middle Eastern experience, make sure to follow me on Instagram @lirarichard.
Salford Business School's alumni network is a growing community. With over 27,500 alumni in 131 countries you have the opportunity to enhance your networks with fellow graduates.
Why don't you join the global community of experts on LinkedIn?
Comments Off

on How to network: Make the right first impression
---